Country logs highest Covid cases in a day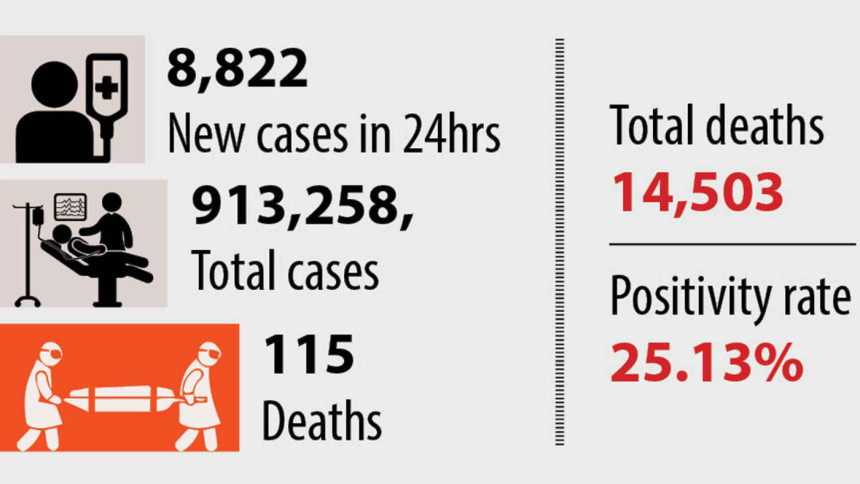 The health directorate yesterday reported the country's highest single-day Covid-19 case count of 8,822 and the second-highest death toll.
The total number of confirmed cases now stands at 9,13,258, according to a press release from the Directorate General of Health Services (DGHS).
With 115 deaths being recorded in the 24 hours till 8:00am yesterday, the country enters a new month with fresh cases and deaths trending upwards.
Yesterday's death toll is second only to the 119 recorded on June 27.
A total of 1,809 people lost their lives in June -- the second-highest monthly death toll so far this year after the 2,400 Covid-19 fatalities in April.
With the latest count, the total number of deaths due to Covid-19 in the country reached 14,503 --around 1.59 percent of all cases detected so far.
The DGHS also reported a positivity rate of 25.13 percent against 35,105 tests in during the 24 hours -- the highest daily positivity rate since June 19.
Of the 115 deceased, 72 were male and 43 female.
Nine died in their homes and the rest passed away in hospitals.
Khulna division saw the highest 30 deaths yesterday, followed by 23 each in Chattogram and Rajshahi divisions.
Among other divisions, 17 died in Dhaka, 11 in Rangpur, six in Mymensingh, three in Sylhet and two in Barishal.
Since Covid-19 cases were first reported in the country on March 8 last year, Bangladesh saw the first peak in July 2020 and the second peak in November last year. After cases and deaths came under control in January and February, coronavirus transmission continued rising from the second week of March this year, with a small dip from late April to mid-May.
Due to the spread of the Delta variant – first detected in neighbouring India -- Khulna and Rajshahi divisions have become the hotspots of the latest virus surge across the country.
According to the DGHS data, more than 50 districts have been recording positivity rates above 20 percent recently.
To curb the transmission, the government has imposed a countrywide lockdown from today for a week.