Cumilla mayhem: A chronicle of hate unleashed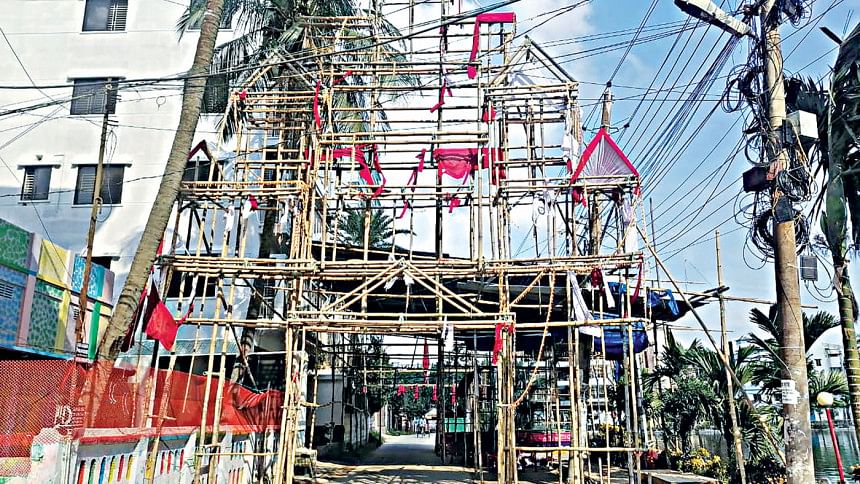 "Hindus are the majority in our neighbourhood. But that never caused any problem for us. We have been living in harmony for over 100 years. In my entire life, I did not see any such incident in Cumilla."
Around 7:00am on October 13, a 30-year-old Ekram Hossain dialled 999 and reported to the police about an alleged defamation of the Holy Quran at Nanua Dighir Par puja mandap in Cumilla city.
Within minutes, the officer-in-charge of Kotwali Police Station showed up at the mandap in plainclothes. He went there alone.
Sometime between 7:00am and 7:30am, a man named Foyez Ahmed went live on Facebook from the site and urged people to wake up and protest the alleged defamation. He also showed OC Anwarul Azim in his 56-second live video.
Soon a few groups of young men got into the act. They started sharing the video on Facebook. By around 8:00am, people started streaming into the mandap. And within the next hour, the crowds swelled to their hundreds.
Meantime, Ward Councillor Emran Bachchu erected a bamboo fence around the mandap to keep the crowds from entering.
As the situation threatened to spiral out of control, Deputy Commissioner Md Kamrul Hasan and Superintendent of Police Faruk Ahmed arrived at the spot with 40 to 50 policemen sometime between 10:00am and 10:30am.
Monirul Haque Sakku, the mayor of Cumilla, who lives only 300 yards away from the mandap, was conspicuously absent at the site. Although people of the Hindu community implored him to visit the site and officials called him, he didn't arrive until around 10:00am.
The DC, SP, the councillor, a panel mayor named Syed Ahmed Sohel, and several imams of local mosques were trying to calm things down. But a group of six to seven young men, some wearing red sports jerseys, got into a fierce argument with them.
They demanded that worshipping be stopped right away, the idols be smashed into pieces, and the marquee pulled down. They chanted: "Bondho Bondho, Puja Bondho [stop worshipping]", "Legechhe Re Legechhe, Rokte Agun Legechhe [our blood has been set on fire]".
They kept whipping up a mob that started hurling stones at the mandap around 11:00. Meantime, the mob grew, and by 11:30, they started vandalising the mandap.
A few minutes later, additional police forces were called in. Policemen opened fire to disperse the crowds. Around 50 people received minor injuries. The DC, SP and the mayor took shelter at a nearby house during that time.
Chase and counter-chase between police and the crowds went on until 4:00pm.
Both Foyez and Ekram were arrested that morning and are now behind bars.
Between 12 noon and 2:00pm, processions from at least 10 areas on the outskirts of Cumilla marched to Pubali Chattar, considered the city centre. They fanned across the city and vandalised three temples -- Kalighat Tola, Chanmoyee Kalibari Mandir, Anandamoyee -- and 14 puja mandaps.
The Daily Star has pieced together the sequence of events after talking to at least 50 locals and watching over a dozen video clips.
Some clips show the processions being spearheaded mostly by teenagers. They went around vandalising temples and mandaps chanting blood-curdling slogans.
Achintyo Das Titu, general secretary of Cumilla City Puja Udjapan Parishad, said the mayhem started around 11:00am and went on until midnight. There were 91 puja mandaps in the city this year.
WHO ARE THE ATTACKERS?
Locals of Nanua Dighir Par, where it all started, said the attackers were outsiders and mostly teenagers. They came from the city outskirts.
Amanat Majumdar, 90, a resident of Majumdar Bari adjacent to Nanua Dighir Par, told The Daily Star that many locals tried their best to stop the attackers but failed, as they came like a deluge.
"Hindus are the majority in the neighbourhood we live in. But that never caused any problem for us. We have been living in harmony for over 100 years. In my entire life, I did not see any such incident in Cumilla," he said.
Another resident of the area, Islam Ahmed, said the alleged demeaning of Islam couldn't have been done by a Hindu person.
"It [the alleged demeaning of Quran] seems pre-planned. Some people might have done it to destroy harmony," he said.
Puja at Nanua Dighir Uttar Par Mandap has been held since 1990.
The Daily Star talked to the caretaker of a building a few yards away from the mandap to know what happened on the morning of Ashtami, the third day of Durga Puja.
"I joined duty at 7:00am every day. When I came here, I saw two women and two young men. One of the youths called 999 and the OC of Kotwali Police Station came within 20 minutes. As there is a curtain to prevent outsiders peering into the mandap, I did not see exactly what happened inside," he said.
Dozens of people gathered there after 7:00am, he added.
Ekram Hossain, who dialled 999, lives one and a half kilometres away from the spot, and Foyez Ahmed was an expatriate who came home from Saudi Arabia a year ago. He now owns two shops selling clothes and mobile accessories in Sattar Khan area of Cumilla city, said locals.
Ekram's mother Selina Akther told The Daily Star, "My son has gone astray. He left home after a fight in the family on October 12. On October 13, we learned police arrested him."
Supervisor of the mandap told The Daily Star that he left the mandap at 2:30am on October 13 after wrapping up worship formalities. At 7:30am, he came to know over the phone that someone placed the Holy Quran at the pantheon of Ghanesh.
"I immediately informed the high-ups of the puja committee. When I reached the mandap, I saw the OC and two people talking. A crowd soon gathered on the west and east sides of the Dighi [pond]," he said.
"Given the bonding and harmony between Hindus and Muslims in our area, no CCTV was installed at the mandap. we never thought extra security would be needed. Some people took the opportunity," he added.
MAYOR ARRIVED LATE
Contacted, Mayor Monirul Haque Sakku said, "I usually get up at 8:00am. I could not receive a call from the OC at 7:00am."
He said the OC requested him to come to the spot when he called him back at 8:00am.
"I said it would take me an hour and half to come. In the meantime, some of the puja committee members came to my house and described the incident. I requested them to stay at the spot. I went there around 9:30am. There were 100 to 150 people. I requested them to stay calm, tried to convince the crowd in the presence of DC and SP, but in vain.
"At one stage, as the situation started deteriorating, I called 40 workers from the city corporation and removed what remained of the mandap. There was no CCTV though I asked the puja committee to set up some."
Asked why he came so late even though he lived so close, he could not say anything clearly.
"I had to get up, bathe, dress up and step out of home and it all takes time," he said.
DELAYED POLICE ACTION
The Kotwali OC reached the spot alone between 7:00am and 7:30am. The SP went to there around 10:00am. The attack started at 11:00am. In between, the mob grew bigger and got organised.
After the attack, Rab forces and additional police forces dispersed the attackers.
Asked why it took four hours to draft in more forces, Faruk Ahmed, SP of Cumilla, said they had enough forces to contain the situation and then he declined to elaborate on the issue.
Anwarul Azim, Kotwali OC, told The Daily Star both Ekram and Foyez, who were on the spot before the others, have been arrested.
"We are trying to glean information on why they went there so early and the motive behind the Facebook live," he said.
Asked why he could not stop the man from filming him and the mandap, he told the correspondents, "Collect information, but don't ask any question."
Police filed four cases and Rab filed one case over the attacks. One case was filed for hurting religious sentiment, one under Digital Security Act while two others under Special Powers Act.
Police said they have arrested 39 people as of 16 October.