A business to give back
4 Jashore youths initiate insallment sale of beef for the poor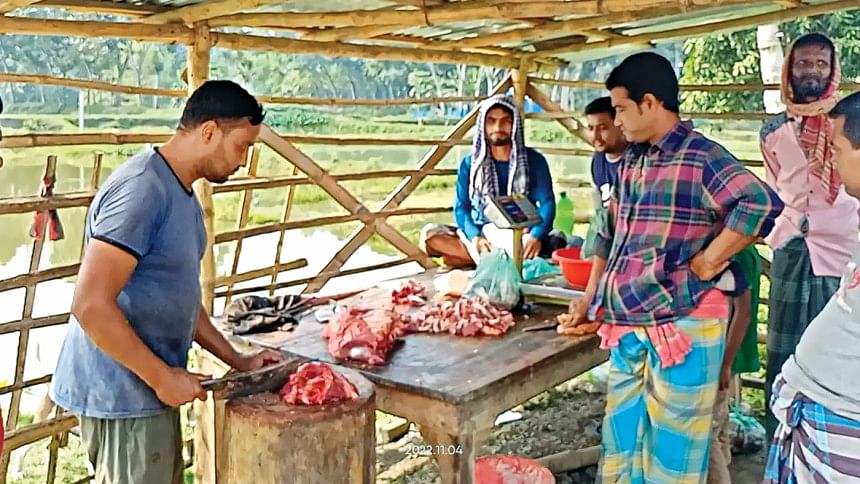 In the small Kazipara village of Jashore's Sadar upazila, people even from the poorest of the families are now being able to afford beef amid continuous price hikes of commodities.
This became possible only when four young men joined forces to help their people.
Nahid Hasan, Lalon Hasan, Zahid Hasan, and Abu Syed, all aged between 25 and 35,  were trying to find their calling and passions. They had decided to start a business but were in a fix about what it should be.
After seeing the plight of the poor in their village, especially with the price hikes of food and other essentials, they decided to start selling beef to them by taking payments in installments.
The four sit together in front of the Kazipur school in the village every morning with the meat, as the villagers gather to take their pick.
By 11:00am, all the beef for the day is sold out.
Speaking to The Daily Star, Lalon said many poor people in his village only get the chance to consume beef when it is donated by those from upper classes during Eid-ul-Azha. 
"Most of the villagers are either day labourers or farmers. They have been struggling with the recent price hikes. However, they are now happy to be able to buy beef easily."
The four had come up with the plan a few years ago and turned it into a reality after discussing their idea with mentors and social leaders of their village.
Every Friday morning, they slaughter cows and begin selling the meat at market price – Tk 650 per kg. The difference is that they take payments in installments.
Their buyers have the option to buy what they need according to their needs and capabilities, and are not required to make immediate payments.
"We usually ask our customers to try and complete their payments in two weeks. But sometimes, months pass by. Still, at the end of the day, knowing that we are doing something for them and that they are happy brings us immense joy," Lalon said.
Zahid Hasan and Abu Sayed said it is a big deal for them to be able to do something for the people with whatever means they have. 
Alfaz Hossain, a villager, "I work as a security guard in the town. With my measly salary, I could barely ever afford beef for my family.
"After the boys took this initiative, I am finally able to buy some beef for my family at least once a month. Sometimes I pay in two installments, sometimes in three."
Tariqul Islam, another villager, said, "This is the first such initiative in our village. I don't know if there is any such initiative anywhere else.
"Just a few days ago I bought four kgs of meat and paid Tk 800 on the spot. I will pay the remaining amount in three weeks."
Mahmud Hasan Jibon, chairman of Ramnagar Union Parishad, said, "It's a very good thing that these boys are doing."