An overnight brawl, daylong battles
1 dead, 50 hurt as Dhaka College students, shopkeepers clash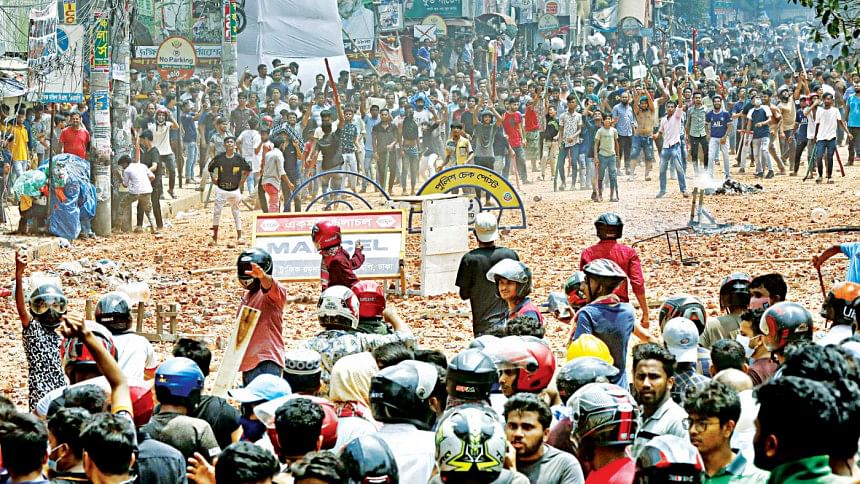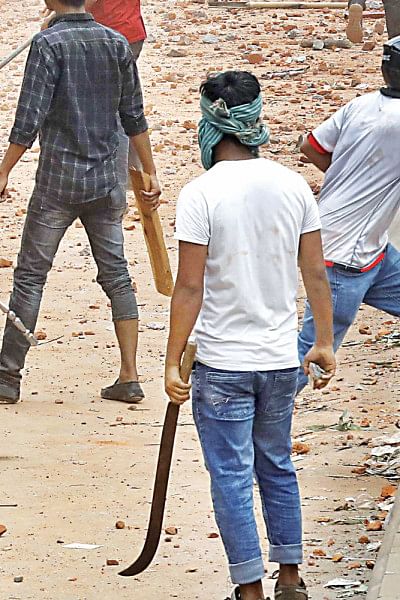 Shopkeepers in the capital's New Market area and Dhaka College students fought pitched battles all day yesterday over a brawl that started on Monday night centring an argument at a fast food shop.
After suffering injuries during the clashes around noon yesterday, 18-year-old courier service employee Nahid Hasan died at Dhaka Medical College Hospital at 9:35pm, said Dr Tawfique Elahi, an emergency unit doctor at DMCH.
Nadim Hasan, father of the deceased, said his son was injured in the morning while going to work in the Bata Signal area from their home in Kamrangirchar.
More than 50 people were injured, including journalists and students, while five shops of Nurjahan Supermarket were gutted during the clash.
The Daily Star's photojournalist Prabir Das was among those beaten up by agitators.
The clashes brought the city's traffic to a standstill for hours, causing untold hardship for commuters.
It also led to closure of shops on both sides of Mirpur Road stretching from New Market to the Science Laboratory intersection amid the busy shopping period ahead of Eid-ul-Fitr.
Locals alleged that lack of prompt action by police allowed the violence to continue for hours.
As the two sides clashed, Dhaka College authorities in the afternoon announced closure of hostels until May 5, asking students to vacate the dormitories by today.
The clashes ended around half an hour before iftar, said Harun Or Rashid, Additional Deputy Commissioner (ADC) of Dhaka Metropolitan Police. However, the usually bustling area was quiet as tensions prevailed late into the night.
Clashes between Dhaka College students and traders of nearby shops, including New Market, are nothing new.
Locals said Monday's incident occurred when some students interfered in a dispute between staffers of a fast food shop and others near the second gate of New Market around 10:00pm.
At one stage, a rumour did the rounds in the campus that students were stabbed by the storekeepers. Students then arrived in groups and attacked the staffers, who also retaliated.
Police dispersed them around 2:00am by firing tear gas shells.
Witnesses said students barred traders from opening their shops early yesterday. The traders then banded together and engaged in chase and counter-chase with the students from 11:00am to 1:00pm.
Both sides threw brick cheaps at each other and also hurled crude bombs in full view of police. At one stage, a fire broke out at a ground-floor shop of Nurjahan Supermarket, witnesses said.
Md Shuvo, who took Nahid to hospital around noon, told reporters at the time that the 18-year-old was lying on the road after being critically injured during the chase and counter-chase.
Agitators also set fire to an ambulance that was carrying a patient from Anwar Khan Modern Hospital to Dhaka Medical College Hospital. They injured the patient too, witnesses said.
Traders alleged that this incident was an outburst of their pent-up grievances over "rampant extortion" by a section of Dhaka College students.
Students however termed it as a protest against harassment by shop owners of the area.
There were clashes between Dhaka College students and traders in 2008, 2009 and 2015.
In the past, traders claimed that many such incidents originated from customers underpaying at food stalls and other shops, while students alleged that the shopkeepers often misbehaved with them and harassed them if they did not agree to buy products.
Home Minister Asaduzzaman Khan told reporters yesterday that the incident had started over a trifling matter.
"Those who did this will surely face the law. Our law enforcement agencies have been monitoring and taking action with utmost patience. We heard that some people were injured in the clashes," he said yesterday afternoon.
Hours after the home minister remarked that the situation would come under control, police chased both parties and used tear gas shells. At about 2:45pm, they were found taking position to disperse the crowd.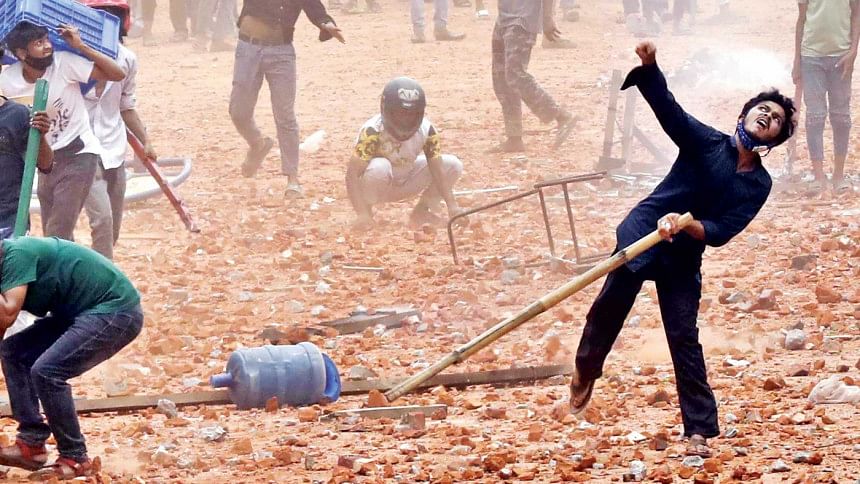 FIVE SHOPS GUTTED
Our correspondents found five shops completely gutted and six others partially damaged by fires.
After two years of losses due to Covid-induced restrictions and closures, traders were hoping to rebound through this year's sales.
"I've invested Tk 20 lakh and stacked clothes for Eid … all were burnt down," said Mir Sentu, one of the victims of the fire.
"I was robbed," he said, bursting into tears.
DMP Commissioner Md Shafiqul Islam said students threw bricks and stones on the road from a 10-storey building. "We are trying to convince the workers [traders] to return to the market."
"Not just New Market, workers from all nearby markets joined the clash. The situation is not as simple as it seems. Police are trying to deal with the students delicately."
BOTH AGGRIEVED
Protesting students said the traders misbehaved and charged high prices whenever the students visited the shops.
Helal Uddin, president of Bangladesh Shop Owners Association, said some students involved in politics have long been extorting traders in the area.
"About two months ago, they stabbed and wounded five traders. A vendor had supplied faulty air conditioners to Chistia Market and so the traders refused to pay. They [students] came to settle it on behalf of the vendor," he said.
"Traders were not able to operate businesses because of Covid in the last two years. Today's agitation is an outcome of their accumulated grievances," Helal said.
Meanwhile, Education Minister Dipu Moni said if law enforcers had reached the spot earlier, the situation might not have turned so serious.
"It is very sad…. We often see there are arguments between students of Dhaka College and other establishments nearby and it turns into a conflict.
"The college and hostels will reopen on May 5. We'll solve the issue through discussions by then."
She also said that Prime Minister Sheikh Hasina gave directives to ensure treatment of all injured.
"I request everyone not to listen to any rumours. Don't get excited by any kind of provocation. Any kind of problem can be solved through discussion," she said.