To boldly climb where no one has climbed before
Bangladesh, Nepal joint expedition to scale unconquered Himalayan peak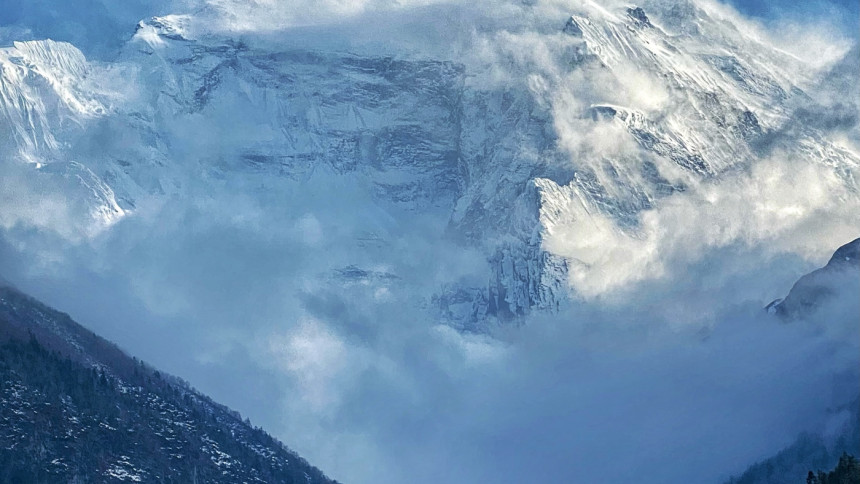 An eight-member team of Bangladeshi and Nepali mountaineers will attempt to scale a 21,443 feet peak named Dogari Himal in Nepal, which has so far been unconquered, in a bid to celebrate the golden jubilee of Bangladesh-Nepal friendship.
The team includes four Bangladeshi mountaineers and will be led by MA Mohit who has climbed the Everest twice. The Nepal team will be led by Mingma Gyaije Sherpa, said members of the team at a press conference held at Jatiya Press Club yesterday.
Three members of the Bangladeshi group will leave for Nepal on October 3 while the fourth member Ikramul Hasan Shakeel will join at Kathmandu from his ongoing trekking of the Great Himalayan Trail.
Mountaineers of the two countries are expected to summit the peak in 28 days.
Addressing the event, economist and chairperson of Brac Dr Hossain Zillur Rahman said, "Sports is not only medium of entertainment, it can also help develop our spiritual, moral and ethical values. We should think about rebranding sports so that it can highlight the country in the global arena."
Nepalese envoy to Bangladesh Ghanshyam Bhandari expressed hope that this initiative will help strengthen the diplomatic relationships between the two countries.
Mountaineer MA Mohit, the second Bangladeshi to have conquered Mount Everest, said since the peak is unclimbed, the risks involved in the expedition are still unknown.
At the beginning of the programme, the guests handed over flags of Bangladesh and Nepal to the leader of Bangladeshi team.