Biden's Summit for Democracy: Bangladesh's exclusion bewildering
Say analysts, experts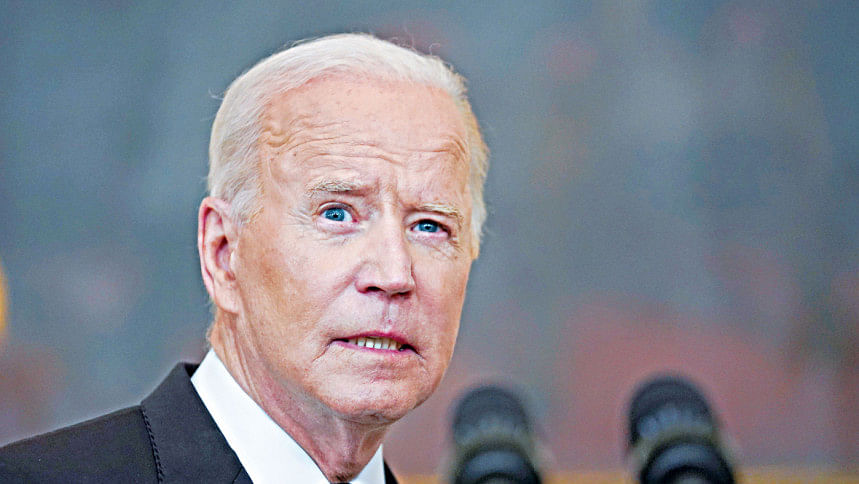 The exclusion of Bangladesh from US President Joe Biden's Summit for Democracy has triggered surprise, questions and caution among foreign relations analysts, especially as there is no clear explanation given though Washington considers Dhaka its strategic ally in the Asia-Pacific.
They say there could be flaws in the democratic practices in Bangladesh, and the US should have engaged Bangladesh. Excluding Bangladesh from the list of invitees is also intriguing as there are a number of countries, whose democratic process is highly questionable, but were invited.
Analysts say Biden's initiative to improve democracy, curb corruption and promote human rights, if sustained, will have far-reaching implications in global governance, trade and diplomatic relations.
Therefore, it is crucial for Bangladesh to keep a close watch on the initiative and plan measures to deal with the implications in the coming days, they said.
According to the State Department, India, Pakistan, Nepal and Maldives were invited to the virtual summit on December 9 and 10, which aims at defending against authoritarianism, addressing and fighting corruption and promoting respect for human rights.
A US Embassy spokesperson in Dhaka said they have followed the UN's approach in determining the countries to be invited, but spoke nothing about why Bangladesh has not been invited.
"Our goal is to be as inclusive as possible, within logistical constraints," she said, adding, "In the long run, we seek to engage any and all countries that show a genuine willingness in making commitments that support the Summit's goals."
Former Ambassador Shamsher Mobin Chowdhury said the US and Bangladesh have a very strong relationship, which is even going to be stronger given the fact Bangladesh is in a strategic location in the Asia-Pacific and that the US is looking at Bangladesh to boost trade, defence and security relations.
Also, Bangladesh is a major Muslim country whose core values are democracy and human rights. It is also making a significant contribution to world peace, including in the UN and other multilateral bodies while sheltering more than a million Rohingyas that drew applauds globally.
"Bangladesh might have flaws in democratic practices…whatever, the US could have engaged Bangladesh before the exclusion," Chowdhury said, adding, "Not including Bangladesh suggests a contradicting and confusing US stance."
Also, he said, Washington has created a scope for Dhaka to complain if the US speaks of democracy later.
He suggested that Dhaka seeks to know the factors that led to Washington's exclusion.
Bangladesh Enterprise Institute President Humayun Kabir said the Summit for Democracy, as pledged by Biden before the elections, will have significant implications in the wake of deteriorating democratic and human rights values globally.
It is not only the US but also Europe that will be strongly supporting the initiative, which is part of the US's policy of return to global leadership to face down authoritarian forces led by China and Russia, he said.
This initiative will be stronger if Biden is elected in the next elections, he added.
"It seems Biden administration is going strongly and institutionally against the authoritarian regimes," said Humayun Kabir, a former ambassador.
He said analysis of the list of the invitees reveals it has two types of countries -- strong democracies and the US' strategic allies, whose democracies are, however, questionable. Some of the US's strategic allies, including Egypt and Turkey have not been invited.
"This could be a comfort for Bangladesh," he said.
However, one needs to keep in mind that the Summit for Democracy will be a trendsetter in the future. This can also contribute to who's a US friend and who's not.
"Though not invited, we need to take note of what's happening and the implications of the summit. Accordingly, we need to act," Humayun Kabir told this correspondent.