Action will be taken if rallies held without permission: DMP commissioner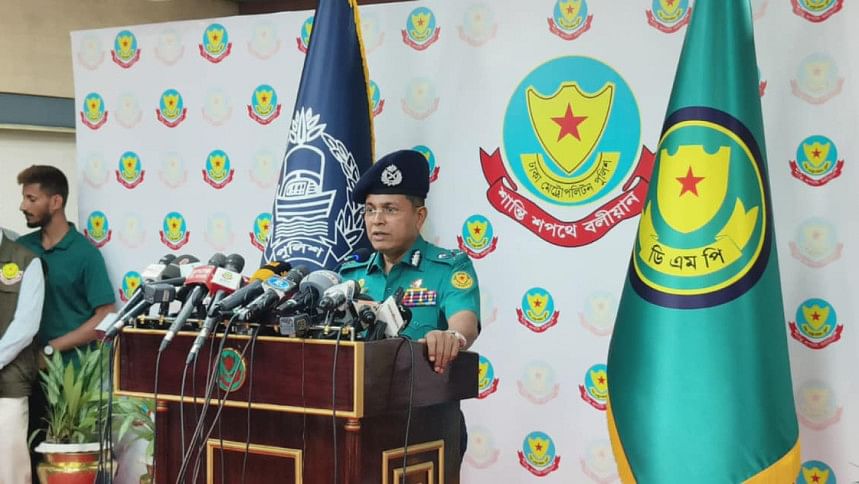 Newly appointed Dhaka Metropolitan Police (DMP) Commissioner Habibur Rahman today said police will take lawful action if any political party gathers without prior permission.
He made the comment during a press conference at the DMP media centre when asked about BNP's declaration that it would hold rallies without permission.
"Law and order situation is our main concern, we wouldn't allow anything that will harm public security and safety centring the national polls," the commissioner said.
Regarding the US visa restrictions ahead of the upcoming polls, the DMP boss said it would not affect any visa policy within the DMP as it's the country's internal matter.
"I do not think Bangladesh police have anything to worry about. I have not seen any concern in my police regarding visa policy after joining," said the DMP boss.
As an organisation, DMP is always working for the people of Dhaka and for a safe Dhaka, said Rahman.
Rahman further said that traffic congestion is not the problem of only the traffic police, other agencies are also involved here.
"We have already formed a coordination committee and we will start operating the signal light system soon, where available," added the DMP boss.
He also stressed on strict vigilance to prevent criminals from carrying illegal weapons in the capital ahead of the upcoming election.
"DMP is fully committed to doing whatever is necessary to maintain the safety of the city," he affirmed.
He acknowledged the unique challenges of policing a megacity like Dhaka, where the population density exceeds 73,000 people per square kilometre. Despite these challenges, DMP remains dedicated to providing essential civic services to the city's residents.
In line with this commitment, a dedicated phone number will soon be launched, allowing citizens to directly report complaints to the commissioner. This initiative aims to make policing services accessible to every citizen, facilitating the reporting of concerns and grievances.
Citizens will have the ability to file complaints directly by sending a "Message to Commissioner", as outlined by the DMP chief.
However, Commissioner Rahman clarified that instructions have been issued at various levels within the police, including police stations, zonal assistant commissioners, additional deputy commissioners, and deputy commissioners.
These instructions are given to ensure that complaints are received, addressed, and resolved promptly at the appropriate level, before they reach the commissioner's office, he said.