Vote for AL, ensure prosperity
With an eye on polls, Hasina urges people at her reception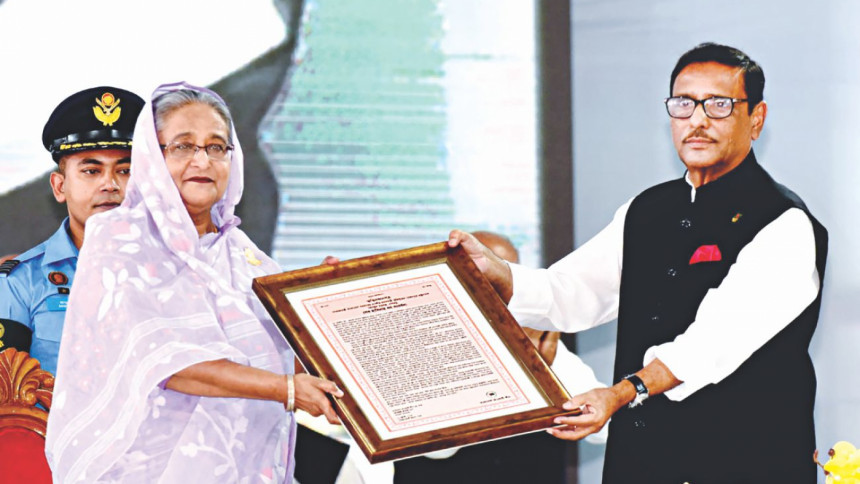 Prime Minister Sheikh Hasina yesterday urged people to vote for "boat" for a poverty- and hunger-free Bangladesh by 2021. She urged them to vote like they had done to liberate the country.
"Bangladesh has become self-reliant in food, entered the nuclear energy club, launched its first satellite, and brought down poverty to 22 percent as the people gave the mandate to boat," she said.
Hasina said in the last 10 years of the AL-led alliance rule, the lost pride of the country has been restored.
"Today's Bangladesh is heading forward. But there is a lot more work to do. We have a plan to develop the country," she said in a grand reception at city's historic Suhrawardy Udyan.
The AL accorded her the reception for her leadership in getting Bangladesh qualified to become a developing nation, launching Bangabandhu Satellite-1, and her getting the Global Women's Leadership Award and D.Litt from Kazi Nazrul University of Asansol of India's West Bengal.
The satellite was launched on May 12. On March 16, a UN panel said Bangladesh met the criteria for becoming a developing country. On April 27, Hasina was conferred with Global Women's Leadership Award for her leadership in women's education and entrepreneurship in Bangladesh. On May 26, Kazi Nazrul University authorities conferred her with the honorary D.Litt degree recognising her outstanding contributions towards building exploitation- and disparity-free society.
Amid clapping of thousands of people, the PM yesterday criticised the people behind the "prevent boat" campaign ahead of the general elections slated for December.
"There is a quarter in the country who doesn't see any development and some are saying that the boat will have to be resisted … those who want to thwart boat, want to bring the Rajakars and war criminals to power."
Hasina, also the Awami League president, said the "oust boat" campaign did not suit those who believe in democracy and independence; but "these words suit those who grew up eating leftovers of military rulers".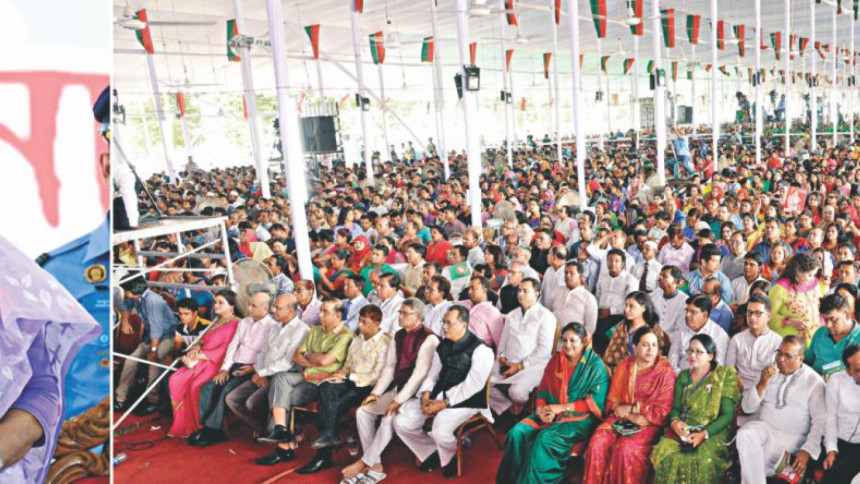 The PM in her around an hour-long speech said she was not ready to die before her actual death and that she wants to work for the people and fulfil Bangabandhu's dream of a hunger- and poverty-free Bangladesh.
"Death will come in its own way and time, but I'm not ready to embrace it before it comes," she said, adding that she would serve the people and work to change their fate until her death.
"I'm a servant of the people. My concern is what the people are getting. I don't need receptions."
"My father's soul will be in peace ... I know from the heaven he will see the people of his country are now in a good shape ... positive changes have come to their lives ... I want just that."
Hasina said she wants to see a hunger- and poverty-free Sonar Bangla (Golden Bangla), the dream of Bangabandhu Sheikh Mujibur Rahman.
"My only aim is to fulfil my father's dream," she said.
Hasina said she sleeps only five hours a day and spends every other moment for the welfare of Bangladesh's and its people's development.
"I have no work other than this. I don't go to any festivals. I work all the time … ," she said.
AL General Secretary and Road Transport Minister Obaidul Quader read out a letter of felicitations and handed it over to Hasina .
In the letter, Quader praised the PM for her leadership. "You've made us stand taller, you've made us look brighter, you've made us feel safer, you've made us feel stronger."
Since 11:00am, leaders and activists of the AL and its front organisations were seen carrying colourful banners and playing drums and trumpets on the thoroughfares of the capital on their way to the venue.
Nomination seekers of the 2018 general elections from Dhaka and its adjacent districts staged a show of their popularity to woo party highups.
The entire park was decorated and illuminated. A huge L-shaped podium was set up.
Before the premier started her speech at 4:40pm, a cultural programme highlighted the country's achievements and development under Hasina's leadership.
AL's Senior Presidium Member and Deputy Leader of Parliament Syeda Sajeda Chowdhury presided over the reception.