People suffer for hours
Processions, road restrictions for AL rally cause traffic chaos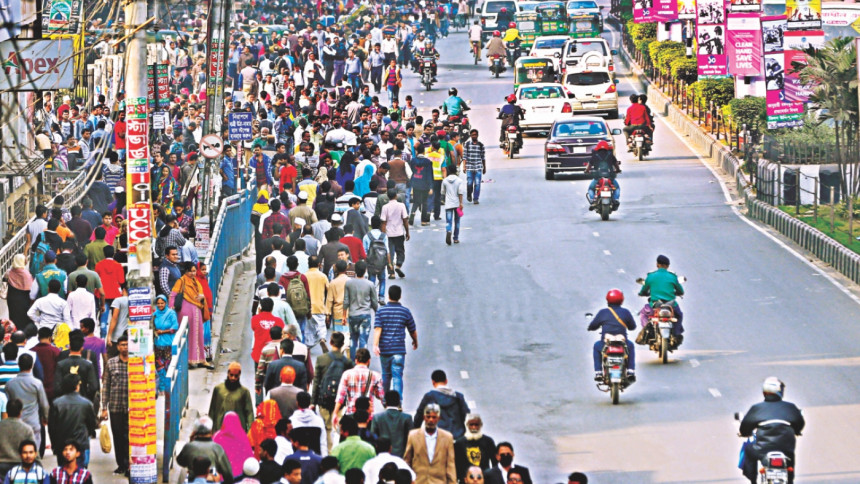 Thousands of commuters suffered long delays yesterday as they had to endure gridlocks on different city roads due to a grand rally of the ruling Awami League at the Suhrawardy Udyan. 
The roads leading to the meeting venue were choked with processions by AL activists. The party organised the rally to mark the Homecoming Day of Bangabandhu Sheikh Mujibur Rahman.
The gridlock on Kazi Nazrul Islam Avenue was so bad that even the motorcade of Prime Minister Sheikh Hasina had to take the wrong lane on way to the meeting venue around 3:00pm as the left lane was clogged with vehicles, said witnesses.
Residents use the road to commute between the northern and southern parts of the city. Traffic on the road was halted when the PM's motorcade used it to get to and from the venue. The halt in vehicular movement ultimately affected the traffic in other parts of the capital.
All major roads stretching from Matshya Bhaban to Shahbag and Purana Paltan intersection remained gridlocked since 2:00pm. Traffic almost came to a standstill on Mirpur Road and Bijoy Sarani and also in Kakrail, Farmgate and Shantinagar areas.
The situation got worse in the evening when people left offices for home.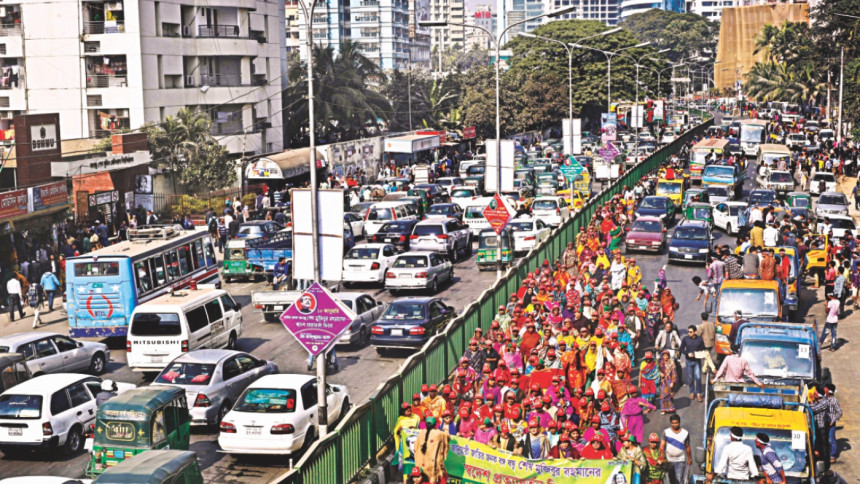 "I had to walk for one and a half hours to reach Farmgate from Motijheel at 6:15pm," said Shikder Abir Mahmud, an employee at a multinational company.
Another commuter Akram Hossain said even walking along roads was not very easy yesterday as thousands of people hit the streets to go home.
Some residents said although the rally started in the afternoon, suffering of commuters began in the morning when the ruling party men headed for the venue with processions.
Police were seen struggling to manage traffic throughout the day.
"The whole day is lost in traffic jam. Its effect would continue until midnight," said a traffic constable at Bijoy Sarani intersection.
He lamented that although they try hard to keep traffic disruption at a minimum, things become quite difficult for them when VVIPs move around the city or a rally is organised.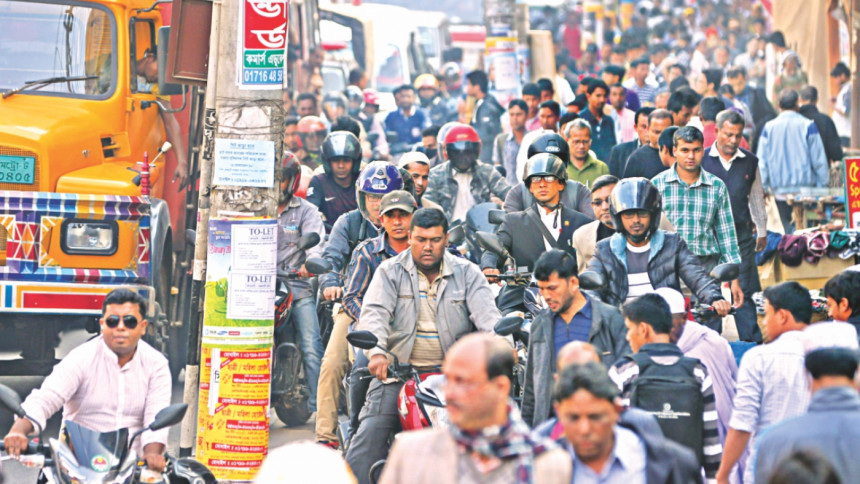 A correspondent of this newspaper found the motorcade of Dhaka South City Corporation mayor stuck in a gridlock near a gate of the Supreme Court.
A security staff at the motorcade said the mayor left for the rally on a police motorbike.
PATIENTS SUFFER
Traffic was a nightmare for many people who were taking their relatives to hospitals by ambulances.
Ambulances bound for Dhaka Medical College Hospital (DMCH) had to negotiate long tailbacks on roads in Chankharpool, Doyel Chattar and Central Shahid Minar areas.
Al-Amin, 18, was hit by a train in Khilgaon around 1:30pm. Doctors at a nearby hospital referred him to the DMCH. His uncle Enamul Haque hired an ambulance to take him to the public hospital.
"We had to take several detours to reach the hospital after one and a half hours. I can't make you understand how anxious I was during that period," he added.
Aminur Rahman from Mirpur-10 set off for the DMCH at 1:00pm on a bus to visit a patient. But the vehicle was diverted from Karwan Bazar to Tejgaon.
The bus driver tried to go to Shahbag via Moghbazar, but he was redirected to Rampura via Hatirjheel.
Aminur got down from the bus near Rajarbagh as it was moving very slowly. "I started walking to the hospital and finally reached there at 5:30pm," he added.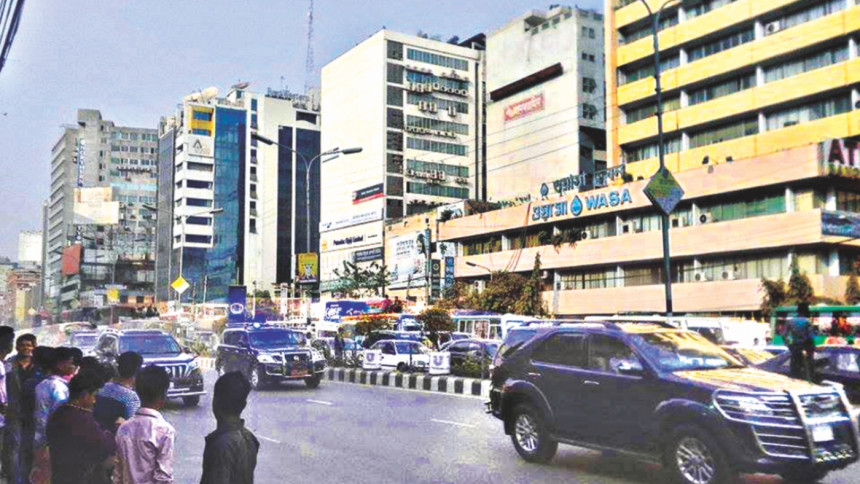 Md Sajan Mia along with his mother, daughter and grandson left Shantinagar around 4:00pm on way to Gabtoli to take a bus to Faridpur.
He was seen carrying a luggage and his six-year-old grandson at Farmgate around 5:30pm. "We have been walking from Shantinagar as we could not catch a vehicle," he said.
An employee at a private firm said he started around noon from the Science Laboratory intersection for Panthapath by a motorbike. It took him about one and a half hours to reach the destination barely three kilometers away.
"As I reached Kalabagan, I got stuck in a long tailback. I was stranded near Kalabagan Playground for around half an hour," he noted.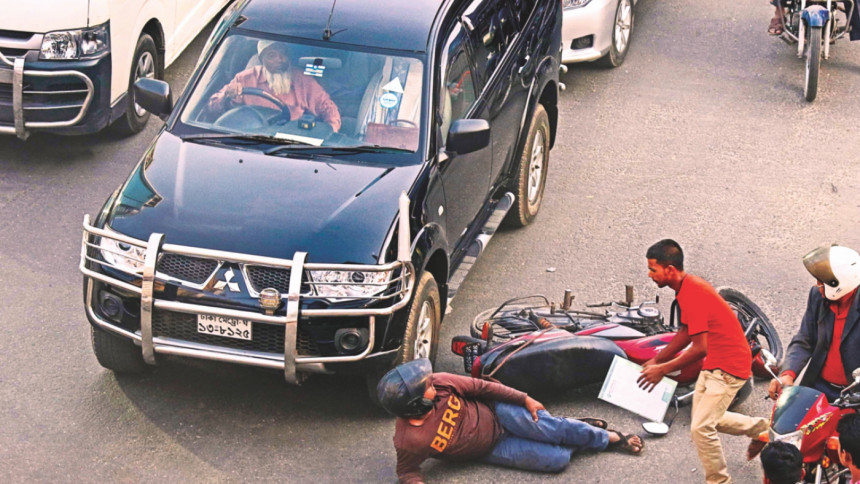 Many commuters expressed frustration over the sufferings caused by the rally.
"Common people are involved in politics. The government should not make them suffer in this way by creating gridlocks on the streets for hours," said a commuter on condition of anonymity.