9th anniversary of Rana Plaza tragedy:  Workers demand trial under Speedy Trial Tribunal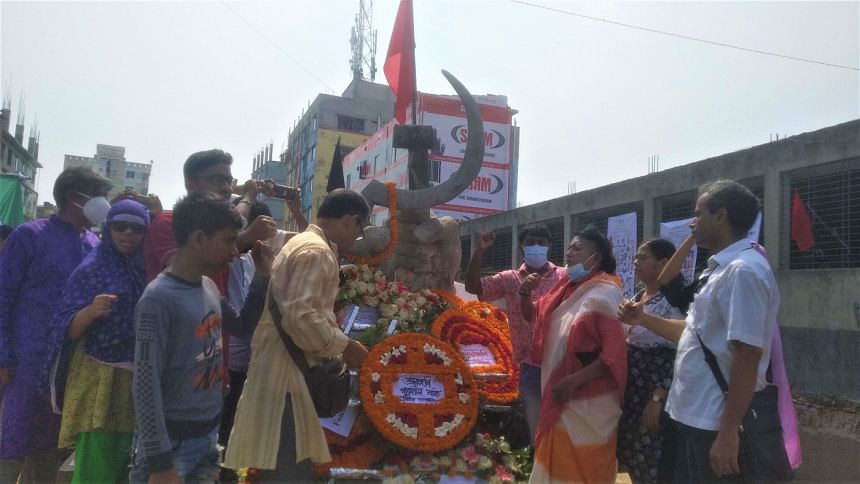 The 9th anniversary of Rana Plaza collapse, the deadliest garment factory accident in the history that took over a thousand lives, is being observed today.
In remembrance of the day, workers' organisations, injured workers, relatives of the dead victims and various government and non-governmental organisations gathered at the site in Savar and placed wreaths at the base of a temporary memorial monument where at least 1,138 people were killed and 2,438 injured following collapse of Rana Plaza building on April 24, 2013.
At that time, various demands were raised by the leaders of the workers' organizations, the injured workers and the relatives of the deceased workers.
The workers' organisations, however, claimed that the punishment of those whose negligence led to the accident was not confirmed even after nine years. The affected families have not yet received proper compensation, our Savar correspondent reports quoting the victims and their families.
Workers' organisations have been demanding maximum punishment of the responsible persons including building owner Sohel Rana, compensation and rehabilitation for injured victims and deceased's families, providing life-long free treatment to injured workers, building a hospital for workers at the site and declaring April 24 as "National Workers' Mourning Day".  
Expressing disappointment over the "slow pace of trial", Rafiqul Islam Sujan, president of Bangladesh Garments and Industrial Workers Federation, said, "In nine years, only one of the 594 witnesses testified. If the trial continues like this, it will not be disposed of in a thousand year. The trial can be run under the Speedy Trial Tribunal."