5 hurt as BNP leader Noman's motorcade attacked in Khagrachhari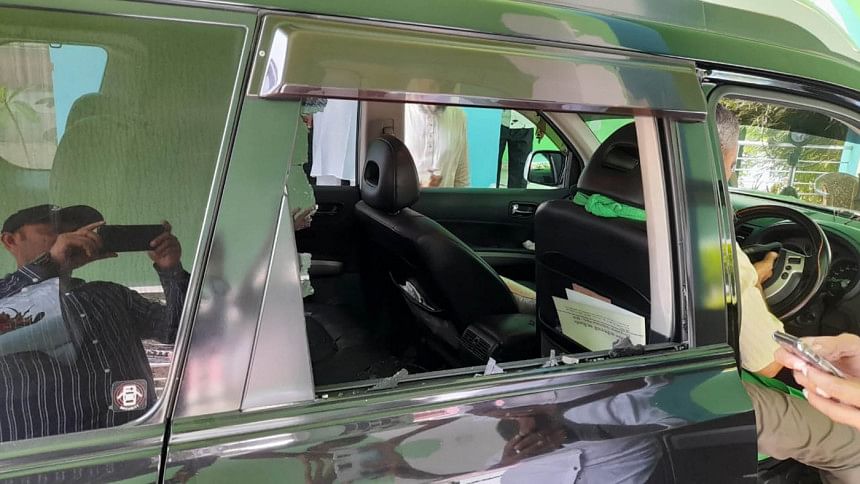 BNP Vice Chairman Abdullah Al Noman's motorcade came under attack allegedly by ruling party activists on the way to a protest rally in Khagrachhari this morning.
At least five people, including Khagrachhari district unit BNP Vice-President Khetro Mohon Royaza, were injured in the attack that took place in front of the municipal unit Awami League office around 11:30am, reports our Chattogram staff correspondent quoting BNP leaders.
At that time, the SUV carrying Abdullah Al Noman and some motorcycles were vandalised. However, Noman was unhurt in this attack.
Abdullah Al Noman told The Daily Star that he was going to join the nationwide protest rally announced by BNP.
Noman also said that the Awami League has realised that the ground has shifted under their feet and people are rejecting them.
"So they started assault cases for survival in the last minute, but it will not save them," he said.
He said, AL wanted to sabotage the rally but couldn't go through with it.
Jatiyatabadi Chhatra Dal leader Sheikh Russell, who was injured in the attack, claimed when 20 to 25 motorcycles and five to six private vehicles entered Khagrachhari, AL men attacked with sticks and brickbats while the police played a silent role. "About five to six people were injured in the attack."
BNP President of Kharachhari district unit Wadud Bhuiyan alleged that activists of AL attacked and obstructed the houses of ward and union level BNP leaders last night.
He said their programme was supposed to be held at 2:00pm but due to the attack, they were compelled to start the programme an hour later.
Contacted, Naimul Haque, superintendent of Police at Khagrachhari said he did not know about any such incident in the district.
"No one came to us with a complaint," he said.
Both AL and BNP organised programmes in Khagrachhari today and both the programmes were held peacefully, he said.
"If we get any complaint, legal action will be taken after investigation," he said.