2013 video being circulated as "recent fuel price hike protests in Bangladesh"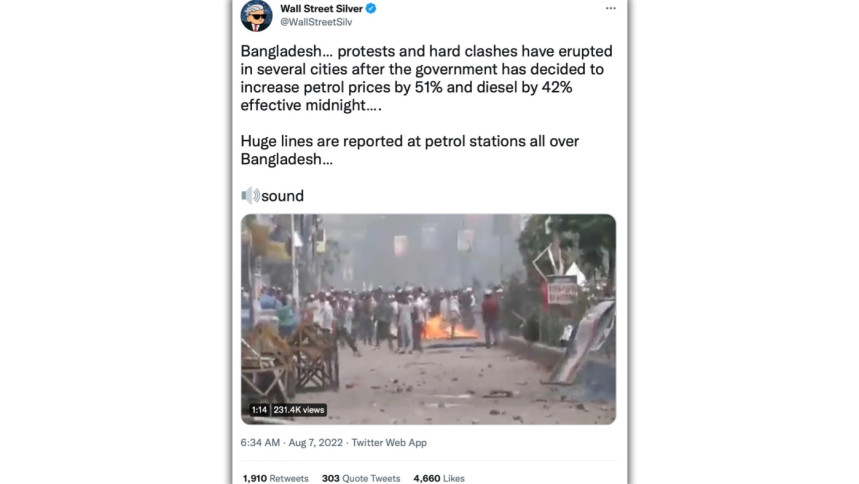 Bangladesh recently saw a massive hike in fuel prices at the retail level, which sparked widespread protests and rallies. During this time, a video showing violent protests and vandalism spread over social media, reports India Today.
The minute-and-a-half-long video clip has been widely circulated online, claiming it captured national outrage.
This video was published on Twitter by "Wall Street Silver", a verified user, with the caption: "Bangladesh. Protests and hard clashes have erupted in several cities after the government decided to increase petrol prices by 51 per cent and diesel by 42 per cent effective from midnight. Huge lines are reported at petrol stations all over Bangladesh."
These images were also featured in recent news reports on the Bangladesh issue by ABP News and India News. A screenshot from the same video was also used by Zee News Gujarati to describe recent protests in Bangladesh, the article said.
According to India Today Anti Fake News War Room (AFWA) investigation, this video is from 2013 during a nationwide protest. It was unrelated to the most recent protests.
AFWA PROBE
Reverse-engineering the keyframes from the popular video led AFWA to a May 6, 2013, YouTube video. This video was posted by the UK-based news source Channel 4 News.
The video's description read, "Bangladesh riots: Islamist hardliners battle with police". Islamist hardliners had then demanded an anti-blasphemy law which led to a violent confrontation with the police, according to the video's caption.
AFWA discovered a report in The New York Times that was published on May 6, 2013, thanks to further searches. Conflicts reportedly broke out on May 5, 2013, in Dhaka, the country's capital. At least 22 individuals died as a result of this. According to the story, a dozen other people were also injured while three security personnel were beaten to death, reports India Today.
The same video was uploaded to the official YouTube channel of The Telegraph on May 6, 2013, which confirms that this clip was nearly nine years old.
"Thus, we can safely conclude that the viral video does not show recent violent protests in Bangladesh against the massive fuel price hike," said India Today's fact checkers.