Autogas consumption rising amid higher fuel costs
Station operators planning expansion for added demand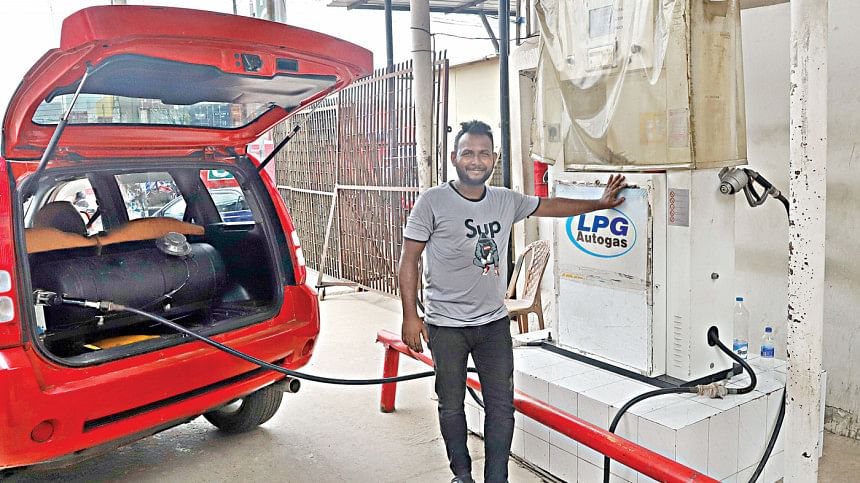 The number of filling stations that dispense liquefied petroleum gas (LPG), also known as Autogas, is on an upward trend across the country as consumption is growing amid government efforts to cut dependency on  compressed natural gas (CNG) and fuel oil.
According to station operations, the number of LPG filling stations hit 700 in August, up 75 per cent from 400 during the same month last year.
Another factor behind the increased demand is consumers have been eyeing ways to decrease their fuel costs following the recent hike in fossil fuel prices, which made LPG comparatively cheaper that petrol and octane.
LPG costs about Tk 60 per litre while the price of octane is Tk 130 per litre, making the green fuel about 54 per cent less expensive, they said.
The Ministry of Energy and Mineral Resources has so far given 14 LPG operators approval to set up around 3,000 stations across the country.
Ruhul Amin, senior manager and head of Autogas at JMI LPG, said they will set up 200 stations in Chattogram and Sylhet by next year, bringing the total number of their LPG dispensaries in the two regions up to 260.
Another factor behind the increased demand is that consumers have been eyeing ways to decrease their fuel costs following the recent hike in fossil fuel prices, which made LPG cheaper than petrol and octane
Amin went on to say that they will fast track the establishment of these filling stations in order to increase the market rapidly.
The use of LPG to power vehicles is on the rise as people have realised that sources of CNG will decrease in the near future. Besides, LPG does not impact engine longevity unlike its CNG counterpart.
"LPG is risk-free for vehicle use as it is a liquid while CNG is dry gas," he said, adding that the fuel is also comparatively eco-friendlier.
Jakaria Jalal, executive director of Bashundhara LP Gas, said they have already set up 120 LPG filling stations in different parts of the country.
"We have approval to set up a total of 400 LPG stations and so, the rest will be established within the next two years," he added.
Jalal then said that it costs between Tk 50 and Tk 60 lakh to set up an LPG station, including the required machinery.
Autogas consumption by vehicles currently stands at about 6,000 to 7,000 tonnes per month, which is around 5 per cent of the total monthly consumption of 120,000 tonnes.
Jalal then pointed out that CNG is now costlier than LPG even though the latter fuel is safer for engines and the environment.
Md Kamal Hossain, general manager (Autogas) of Omera Gas One, said they have established 40 LPG filling outlets.
Omera Gas One is a joint venture between Omera Petroleum of Bangladesh and Saisan Co of Japan.
Citing how LPG demand is increasing due to higher petrol, octane and diesel costs, Hossain said they have plans to expand the number of their outlets five-times to 200 within the next two years.
"Besides, the cost of converting cars to run on a top-quality LPG system is just Tk 50,000 while converting to a CNG system costs Tk 90,000 at present," he added.
G-Gas LPG, a concern of Energypac Power Generation, has already set up 60 Autogas stations and aims to reach 300 stations within the next two years.
Naweed Rashid, chief strategy officer of the company, said LPG is a pollution-free product that can be shifted without the use of pipelines.
In addition, the price is still reasonable, he added.
Rashid also said there is no possibility to increase the price of LPG abnormally in either the local or international market as it is a by-product of petroleum.
Noman Ahmed Taffader, company secretary of Padma Oil Co Ltd, said that till date, 1,114 station operators have signed deals with them to set up LPG outlets.
Padma Oil, a state-owned company under the Ministry of Power, Energy and Mineral Resources, has taken initiatives to ensure that LPG is available as an alternative energy source for vehicles in Bangladesh.
Shaheena Khatun, joint secretary (development) of the Energy and Mineral Resources Division, which deals with the sector, said some other station operators are currently waiting for permission to set up LPG outlets as well.