Rogue IPTVs on the prowl
They masquerade as news channels with little or no regulatory watch, letting loose thousands of freewheelers with boom and cam to make a living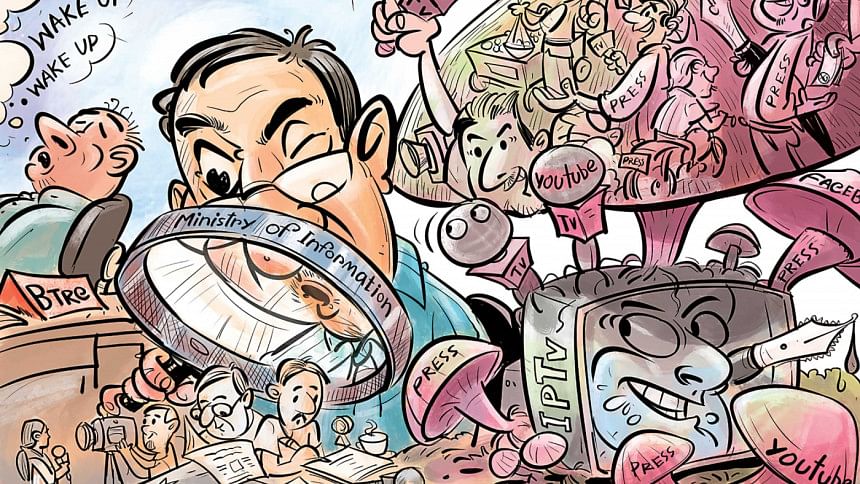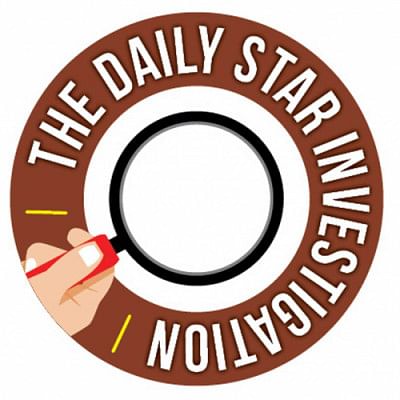 Right opposite the Gabtoli bus terminal, there is a blue building squeezed between bus counters -- a hotel as seedy as it gets. A narrow flight of stairs takes customers up to the bare-bones rooms.
Hotels like these are the chosen venues for sex workers to practise their trade, which makes them susceptible to police raids, and naturally, extortion.
But the hotel's regular roster of extorters include an unlikely bunch of people -- self-proclaimed journalists.
The hotel's manager, a squat middle-aged man, pulled out a bunch of business cards from his shirt pocket.
"The reporters ask for Tk 200-Tk 500 depending on the situation. The editors have to be given Tk 1,000. Every day I get upwards of 10 such visits from these people. If I don't pay them, they will call the police to conduct a raid. Then they will film the raid and broadcast it," said the manager, who requested anonymity for both himself and his hotel.
These so-called reporters and editors belong to a special breed of new media -- online television channels, broadcast out of a cheap server set-up, and can be viewed either on their websites or on dedicated streaming applications and websites.
Colloquially, they are called IPTVs, in reference to the technology being used for the broadcast, which is internet protocol.
Industry insiders will say with conviction that the main revenue model for a lot of these online television channels is sponsored programming, and often extortion.
Legally, IPTVs cannot broadcast news. The National Online Mass Media Policy 2017 (amended in 2020) outright states that IPTVs can only broadcast other sorts of entertainment or information-based programmes.
However, by tuning into the channels for a few weeks, one would realise that most of the IPTVs and online channels are clearly violating this rule.
"News" makes up a sizable portion of the contents of many of these IPTVs with several having full-fledged news segments complete with newscasters, studios and correspondents carrying boom mics.
HOW ARE THEY RUN?
"Correspondent business" is the main revenue model for a majority of these channels, confirmed multiple owners of IPTVs, all of whom vehemently insisted that they are not a part of this. They also requested anonymity, fearing reprisal from their colleagues.
So, what is "correspondent business"? It is the practice of using an organisation's correspondents to gather sponsored news and advertisements -- but all done under the desk -- from which correspondents receive a cut.
But it can go the other way as well -- correspondents receive money from a party to get a news item aired and pay the editor for the coverage.
All these organisations run on a workforce of two-three people including an editor, but employ freelance correspondents often down to the upazila level. They are armed with business cards and press cards, but since there is no contract, they work on an as-needed basis. There is no way to know the exact number of these "journalists" active for over 600 channels known to be in operation. However, in a conservative guesstimate, the number would be several thousands.
At authorised mainstream organisations, sponsored contents come with a tagline such as "done in partnership with", "sponsored by", or "powered by", or are published outside the regular news platforms, in the form of supplements. This is to maintain transparency.
The management of IPTVs this correspondent spoke to said they do not pay their correspondents any salaries, so it is up to the correspondents to earn their keep.
"I used to have correspondents but I don't anymore since the information ministry has said we cannot broadcast news. I don't have any revenue coming in, so I cannot pay my correspondents," said Jamal Uddin Zaman, a retired military officer who now runs AlifTV.
"All the correspondents worked for me as volunteers. If they came to me and asked me if they could air a news piece, I gave them space," said Zaman.
He was speaking out of his Mirpur office, in a building with bare cement walls, whose stairs are still under construction. The rest of the five-storey structure is rented out to low-income tenants.
AlifTV's office also doubles as an ad studio and production house. "I have one producer, one director who works both as a cameraperson and an editor. My two news presenters have full-time jobs and work here voluntarily. One works in a bank," he said.
Asked about his revenue model, Zaman said, "I get all my earnings by making dramas and ads." He pulled out a bunch of leaflets to prove his point.
Ubaydulla Rumi, AlifTV's Mymensingh district's Ishwarganj upazila correspondent, explained why he continues to work for free for the organisation. "It is because I am still learning. I was told I will get some honorarium, but I have not received any yet. If I wanted to join an organisation as a correspondent, I would have needed to pay them, but I didn't need to pay AlifTV."
For most IPTVs, promotional PR content accounts for the bulk of news programming.
For example, there seems to be a lot of coverage on the personal achievements of political candidates and party members -- small events like distribution of blankets or distribution of rice under the government's Vulnerable Group Feeding (VGF) scheme.
"I am Haji Md Moktar Hossain, Taranagar union chairman candidate. We had no roads before. I built two roads…" Hossain droned on for 12 entire minutes about his initiatives in the area, in a video published by an online television on September 7, 2021.
The television's business card was among those found at the Gabtoli hotel's reception desk, but we are refraining from naming the television channel to protect the source who gave us the card.
The channel has nearly 56,000 subscribers on YouTube, and has an office on Hatkhola Road in Tikatuli. It is full of videos similar to that of Moktar's -- lengthy personal interviews that can only be categorised as self-marketing.
Similarly, most of AlifTV's Ubaydullah Rumi's bylines are PR coverage of events or activities organised by local representatives, like the farewell ceremony for the UNO, or food and fish-fry distribution.
"I do positive news to inspire people to do positive activities," Ubaydullah claimed.
Voluntary correspondents and a lack of transparency about sponsored content leaves space for conflict of interest, opined Robaet Ferdous, an associate professor of Mass Communications and Journalism at Dhaka University.
For example, when JATV ran a three-minute report on June 23, 2021, about a local school's headmaster in Mirzapur union of Birampur upazila of Dinajpur, the school cried foul.
The headmaster, Abdul Motaleb Babu Master, had taken Tk 450 from the students as registration fees, said the report. The headmaster claimed those were session fees that accumulated during the time of the pandemic.
The report interviewed several locals who said that was extortion in the name of registration fees. One of the interviewees included a guardian who said he was told by the headmaster, "If you cannot pay the school fees and keep your daughter in school then you should marry her off to someone who can."
The headmaster, however, kept insisting to the television on camera that the money is for session fees, and that he was being framed by a group with whom he is currently in conflict over a plot of land.
This hyper-local issue about a disagreement between guardians and teachers was covered by a reporter of the television who travelled from Dhaka, confirmed the television's editor Kibria Chowdhury.
Following the airing of the piece, the local union parishad chairman, Faruk Azam, hosted a press conference, accusing the journalist of having an ulterior motive. "None of the local journalists knew this reporter. The local reporters did not cover this. This journalist from Dhaka was paid off," he said.
Kibria Chowdhury countered the allegation. "We maintained everything. I spoke to the headmaster himself. I spoke to everyone in the locality. I sent a reporter to the locality for this news because local correspondents often do not have the capacity to cover news like this," he said. When asked about whether the office bore the travel costs, he declined to comment.
The whole debacle about IPTVs first came to the spotlight when a businesswoman named Helena Jahangir was arrested, and one of the charges brought against her was that she was operating Joyjatra TV as an extortionist outfit.
The Rapid Action Battalion (Rab) found upon interrogation that in 50 districts, Helena appointed representatives from whom she collected Tk 50,000 to Tk 1 lakh each at a time, and Tk 10,000 to Tk 20,000 monthly.
The investigators said Helena also collected Tk 10,000 to Tk 20,000 from different upazila representatives at a time and monthly charges ranging between Tk 2,000 and Tk 3,000.
High officials in the police said they have often received complaints of extortion by these media platforms, but Jahangir Alam, an additional secretary at the home ministry, said taking action against any unlicensed media organisations was not necessarily in their jurisdiction.
A SILENT DIGITAL REVOLUTION
IPTVs are all unlicensed. To their credit, many had applied for licences after the information ministry invited them to get registered, but the ministry has been sitting idle for the last four years.
The deputy secretary (TV-2) of the information ministry, Ruzia Sultana, said that right now around 600 applications for IPTVs are pending with the ministry.
The National Online Mass Media Policy 2017 clearly states that no media can operate without a licence from the relevant body. All of the organisations this correspondent spoke to said they have applied for registration and have been waiting between several months to several years for a decision.
Both JATV and AlifTV claim to have applied for a licence to operate.
Information Minister Hasan Mahmud said on Tuesday that the ministry has already taken many initiatives, including giving registrations to IPTVs, to bring discipline to the unregulated sector.
However, before the information ministry could take a decision about the licences, BTRC closed down 59 internet protocol televisions (IPTVs) on Sunday for not possessing valid licences to operate.
This was done without the knowledge or consultation of the information ministry, confirmed several ministry officials. In addition, the information minister also pointed fingers at BTRC.
Mahmud said his ministry only gives registration to the IPTVs, but they get domain allocation from the BTRC. "The question is how they got the domain allocation. I think one has to be very careful from now on before allocating a domain."
But even inviting IPTVs to get registered in 2016 was too little too late.
The first IPTV was established in as early as 2011, claimed Emrul Kaysar, general secretary of IPTV Owners' Association. "I bought the domain Bangla21tv, and then later on, we launched JagoBD," he said. JagoBD is one of the most well-known platforms for streaming television channels at the moment.
"Our national television was the first satellite channel to adopt the internet protocol technology in 2014, and stream their content online," he claimed. Since then all satellite channels have started internet streaming services.
In addition, in the last one decade, the number of IPTVs has exploded from one to over 600.
It would be unfair to assume without sufficient evidence that extortion is the revenue model for all unlicensed media. The underbelly of the media world, internet televisions cater to audiences that traditional media skips out on -- and with that comes new business.
Emrul Kaysar, for example, runs Times24TV by providing technological and media support to programmes by the Bangladeshi diaspora.
"We gave the Federation of Bangladeshi associations in North America the technical support to run their virtual convention last time," explained Kaysar. FOBANA's annual convention is year-after-year, the biggest Bangladeshi gathering in the US.
"Most of my programmes target the diaspora, so I don't have any correspondents or reporters," he explained. The TV, which has been in operation since 2014, airs shows with titles like "Australia Times".
Kaysar is a broadcast engineer by training and education, and has been working with this technology since 2011. People like Helena and Jamal turn to tech experts like Kaysar to set up these online TVs.
There are less than a dozen professionals in the market who can set up IPTVs professionally and provide server space and streaming services, said industry insiders.
Nazmul Hasan, who goes by the moniker IPTV Techmaster, has a fascinating video titled "Launch an IPTV for Tk 20,000".
"You need a PC with good configuration and a good internet connection," he explained.
"Then there are a few types of software that you need to install. These include encoding software, a switching software and a streaming software. Then you will need a streaming server. From your PC you will push content to the streaming server. The streaming server will give an output to your website or other platforms," said Hasan.
"The streaming servers in Bangladesh are not very good. We provide you with servers outside the country. We can guarantee that you will get buffer-less streaming," said Hasan.
"If you have a computer already, then you will need Tk 50,000 to set it all up. For the server space you will need to pay Tk 20,000 every month," he added. And so for pennies and peanuts, you too can have your own television channel.
DU Associate Professor Robaet Ferdous appreciated the plurality of media that IPTVs provide. "We need freedom of expression, but with that freedom comes the responsibility to be an ethical media."
Veteran journalist Amanullah commented that extortion was always there in journalism. "It is just that the nature of it has changed.
"If one is to be ethical in one's professional pursuits, one has to be moral, honest and fair as a journalist. To be ethical, one has to be moral, truthful and objective in reporting facts, incidents, speeches and remarks of news sources. If the journalist is not ethical, there will be confusion resulting from false news as is now happening in the present day world."