Edn Institutions: Anti-bullying guidelines issued
Victims now can file criminal cases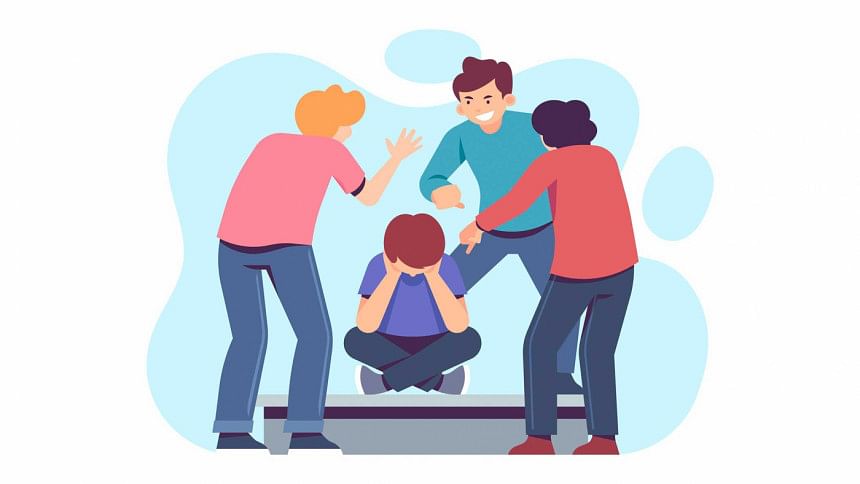 The government on Tuesday issued an anti-bullying policy for educational institutions, with provisions that allow the filing of criminal cases against individuals responsible.
The policy contains the definitions of verbal and physical bullying along with cyberbullying, with a provision for punishing students, teachers, and members of the governing body for indulging in any form of aggressive behaviour that may have negative impacts on the victims.
It also has provisions to form "bullying and ragging prevention committees" in all public and private secondary schools, colleges, universities, madrasas, and technical educational institutions.
Titled "Policy for the Prevention of Bullying and Ragging in Educational Institutions 2023," it was issued by the education ministry and will be applicable to all educational institutions in the country.
Speaking to The Daily Star yesterday, Prof Nehal Ahmed, director general of Directorate of Secondary and Higher Education, said, "Student can now feel safer at their educational institutions and also gain the courage to speak out against bullying and ragging as the policy will protect them."
The policy comes around four and half years after the High Court asked the authorities concerned to formulate an anti-bullying policy following the death of Aritry Adhikary, a ninth grader of Viqarunnisa Noon School and College, in December 2018, the official said.
Aritry died by suicide after teachers insulted her parents in front of her because she had cheated in an exam, said family members and police.
Brac University Professor Emeritus Manzoor Ahmed said, "Formulating a policy is not enough, its proper implementation is very important to fight against bullying and ragging."
Bullying, prevalent at educational institutions, goes mostly unreported due to victims fearing they might not get help from authorities. This leads to consequences such as trouble concentrating on studies, absenteeism, and more.
A Unicef study in 2019 said one in every four students was bullied by their peers in Bangladesh.
WHAT IS IN THE POLICY?
Hitting, slapping, kicking, pushing, punching, and spitting on others are included in the definition of physical bullying.
Meanwhile, cyberbullying and cyber-ragging mean demeaning someone by writing or posting indecent content about them on social media.
Deliberately touching or attempting to touch one's private parts, offensive signs and gestures, and forceful stripping of clothes are considered sexual bullying and ragging.
Insulting and humiliating someone based on their race, caste, tribe, religion, profession, skin colour, and region are also considered bullying.
Furthermore, the policy proposes setting up CCTV cameras, installing complaint boxes, and observing anti-bullying and anti-ragging days on campuses. Meanwhile, it directs hall authorities to inform the higher authorities about any incident of ragging and bullying or else they will be held responsible for their inaction.
If any member of the government and other bodies, teacher, non-teacher, official or student of an educational institution are found directly or indirectly involved in such incidents, disciplinary action will be taken against them according to the prevailing laws and rules, while action under the CrPC can be taken if necessary.
The complainant will need to submit an application to the head of the institution, after which an investigation committee must be formed.
The probe team will then need to submit a report within seven days, and the head of the institution will then submit it to the higher authorities and take the next steps.