BCL stays off the leash
Its members increasingly getting involved in crimes, dragging the organisation further down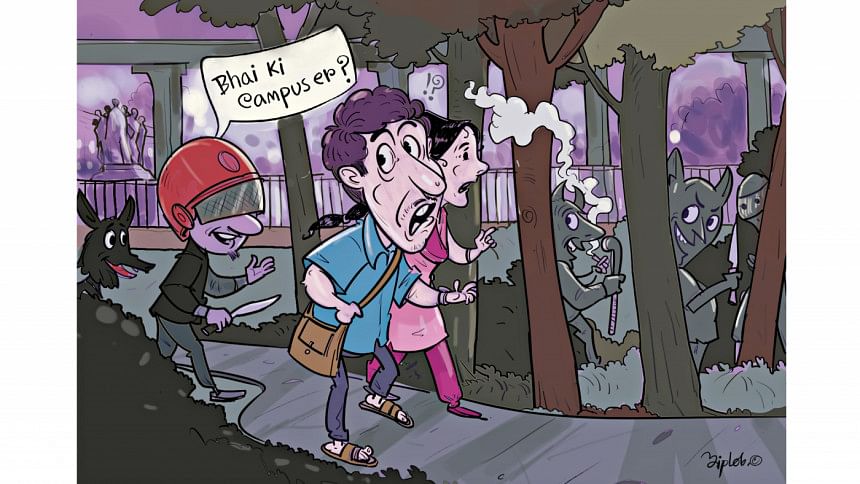 Bangladesh Chhatra League will regain its past glory. This was what Sheikh Wali Asif Enan pledged once he became the general secretary of the pro-Awami League student organisation in December last year.
"We will work to make the organisation free from all controversies … ," he said in his first interview with a national daily a few days after the new central committee was unveiled.
Two months later, his promises now ring hollow as the organisation constantly hogs the headlines for all the wrong reasons.
From extortion and mugging to assaulting students and even teachers -- they continue what they had been doing for years. Internal feud and oppressing the activists of other student organisations went on as before.
After formation of the new committee, many hoped that the student organisation may gradually be able to shed the unenviable tag -- a student organisation infested with rogue elements.
The new leadership did initiate some steps to this end, taking disciplinary actions against 23 leaders and activists involved in misdeeds across the country.
For example, it relieved Imdadul Hasan Sohag, general secretary of DU Amar Ekushey Hall BCL, of duties on charges of extortion.
But these actions seem inadequate for reining in the errant activists and  restoring its former glory.
According to media reports, BCL activists were involved in at least 25 crimes of various types at 13 educational institutions after the new central committee was announced on December 18 last year.
Incidents of torturing students, assaulting teachers and occupying seats in residential halls were the most frequent ones.
Besides, intra-organisation clashes over extortion and establishing supremacy took place at various educational institutions, including DU and CU.
The recent torture of a female student at Islamic University by two female BCL activists for staying in a dormitory without informing them, drew widespread condemnation, and the issue even reached the High Court.
According to the complaint filed by the victim, Sanjida Chowdhury, vice-president of IU BCL, and Tabassum Islam, an activist of the same unit, tortured and humiliated her for nearly four hours.
On February 6, police arrested three DU Chhatra League activists when they tried to escape after beating a lorry driver and snatching Tk 15,000 from him on Buet campus.
They were later suspended from the organisation and the university.
Police on February 11 arrested a leader of Rajshahi city BCL, Parvez Ali Hridoy, on  charges of demanding ransom after kidnapping a student who came to visit the RU campus.
On February 12, BCL leaders allegedly tortured Krishno Roy, a first-year student of RU mass communication and journalism department, confining him to a room at Hossain Shaheed Suhrawardy Hall.
The RU BCL issued show-cause notices to two activists.
In January, its activists drove at least five students out of dormitories and occupied the seats.
In another incident on January 19, a resident student of Shah Makhdum Hall was beaten up by the BCL men as he refused to pay extortion money they demanded.
The BCL did not take any action over these two incidents.
In last week of January, BCL men vandalised a shop at Bangabazar because its owner refused to pay extortion money. Later, the then general secretary of Amar Ekushey Hall Imdadul Hasan Shohag who led the attack was removed from his post.
INTRA-PARTY CLASH
On February 7, a clash broke out between two factions of DU Fazlul Haque Muslim Hall unit BCL over occupying seats in the dormitory.
In recent times, incidents of factional clashes between BCL activists were reported at Chittagong University, Sylhet Agricultural University, Ananda Mohan College in Mymensingh, Bangabandhu Sheikh Mujibur Rahman Government College in Shariatpur, Shahjalal University of Science and Technology, and Jahangirnagar University.
Issues like establishing supremacy, extortion, tender manipulation and occupying hall seats were behind the feuds.
TEACHERS NOT SPARED
Rakib Haider, general secretary of Double Mooring BCL, physically assaulted a female teacher as she did not allow him to deliver a speech inside the classroom while she was taking a class. 
The incident took place at the Chattogram's Omargani MES College on February 7.
Later, the BCL leader apologised to her and faced no organisational action.
On February 9, a group of BCL activists at Government Hazi Muhammad Mohsin College in Chattogram verbally abused Mujahidul Islam, a lecturer of accounting department.
The BCL men threatened the teacher with transfer and hurled abuse at him as the latter obstructed one of their leaders from cheating in an exam.
A few days before this incident, on January 30, Amit Dutta, assistant provost of Bangabandhu Sheikh Mujibur Rahman Hall at Comilla University, was assaulted by a group of BCL leaders and activists.
His "fault" was that he tried to take action against some BCL activists who evicted a student from the hall.
Also, three teachers of Bangladesh Agriculture University (BAU) in Mymensingh were assaulted by the unit's President Khandaker Taifur Rahman on February 7.
All the three teachers were members of pro-AL Democratic Teachers Forum and they just tried to save a former BCL leader named Aftab Durbar from an attack led by Taifur when Aftab appeared for an exam.
MUGGING
The name of the organisation came into discussion even in connection with petty crimes like mugging.
According to Shahbagh Police Station officials, mugging incidents on DU campus have increased significantly in the past few months. BCL men's involvement was found in most of these cases.
They mostly target non-students passing through the campus. They start with "Bhai ki campus er? [Are you from the campus?]". If they reply in the negative, they fall prey to BCL men, said DU sources.
For example, on February 4, a group of 10-12 activists mugged a married couple, and beat them up mercilessly near the Central Shaheed Minar area.
Besides, on February 17, two BCL leaders were held for mugging people visiting Amar Ekushey Boi Mela and were sent to jail in a case.
In last two months, the DU authorities suspended at least five BCL men for their involvement in two incidents of mugging.
THE ROOT OF THE PROBLEM
To find out the reasons behind BCL men increasingly getting involved in crimes, The Daily Star talked to some former student leaders.   
Of them, Haider Mohammad Jitu, ex-training affairs secretary of central BCL, said, "A large number of Chhatra League men nowadays think getting a post means they can do anything using the power.
"Nobody joins Chhatra League as a criminal. We have to find out the reasons behind their involvement in such criminal activities. If needed, we should bring them under counselling."
Rakib Hossain, a former vice president, said, "We have to establish the culture of rewarding Chhatra League men for doing something good and punishing them if they commit any crime."
BM Muzammel Haque, organising secretary of the Awami League and also a former BCL leader, told The Daily Star, "We will sit with them [BCL leaders] and discuss the recent activities of the organisation.
"I hope Chhatra League will be more disciplined as soon as we can declare a full fledged committee."
Asked what can be done to improve the image of the organisation, Awami League's Cultural Affairs Secretary Ashim Kumar Ukil said, "Things did not come to this overnight and so it will take time to change it.
"Chhatra League by itself can't do anything in this case. Their president or secretary can't change the situation. The Awami League has to intervene as the parent organisation."
Ashim Kumar, one of the top BCL leaders during the movement against Ershad's military regime, added, "It has now become a social problem, so everyone has to come forward to solve it."
Talking to The Daily Star last night, General Secretary Enan admitted that "Some Chhatra League men have become involved in controversial activities recently."
"However," he said, "at the same time, we have been taking up more positive programmes than the past."
Talking about the root of the problem, noted academic Prof Anu Muhammad said Chhatra League activists get away after committing crime as they are backed by the government, police and the university administration.
The inaction on the part of the university authorities is also a key factor behind it. "Due to this inaction, Chhatra League can set up torture cells in residential halls. The Awami League also instructs them to suppress dissent," he added.
Comparing Chhatra League with NSF, the notorious student organisation during Ayub Khan's regime, Anu Muhammad also said a government is bound to show autocratic tendencies if it stays in power for a long time without any accountability and transparency and without elections.
In line with that, some kind of recklessness is also seen among the BCL activists, said the former economics teacher of Jahangirnagar University.   
"The situation would not have been this bad if the government had not used Chhatra League as a striking force and if it had brought the errant activists to book after crimes, and if the university administration had been able to work independently."
[With inputs from Arafat Rahaman]