Parties sitting together hallmark of democracy
Says US ambassador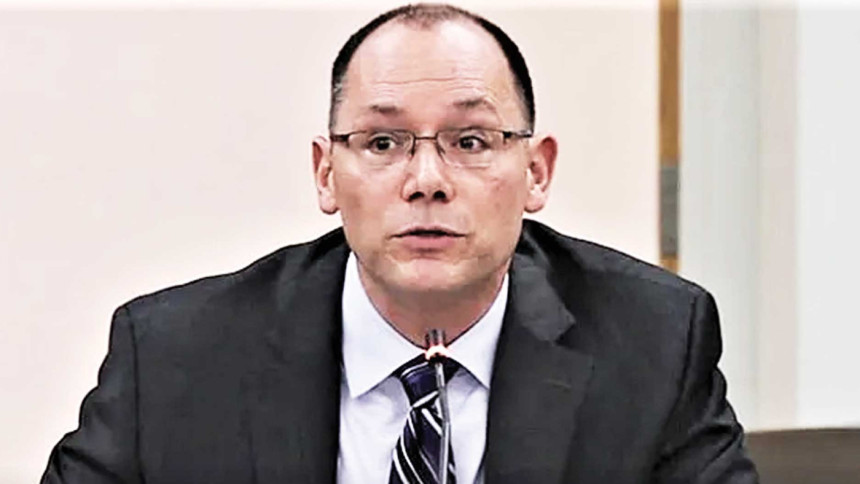 US Ambassador to Bangladesh Peter Haas has said it is necessary for political parties to sit together despite differences of opinions.
Speaking at an event at a city hotel yesterday, he said, "Just to be clear, the US does not favour any political party in Bangladesh over any other."
The envoy said he was happy to see leaders of three major political parties -- Awami League, BNP and Jatiya Party -- sitting at a table together for discussions at the event.
The progamme was organised marking the launch of the e-learning platform "Politics Matters" (politicsmatters.com.bd).
USAID's "Strengthening Political Landscape" project, implemented by Democracy International, launched the platform to bring political knowledge and skills to the fingerprints of Bangladeshi political leaders and enthusiasts across the country.
Information and Broadcasting Minister Hasan Mahmud, also the Awami League joint general secretary, BNP Standing Committee Member Amir Khasru Mahmud Chowdhury, and Jatiya Party Presidium Member Shameem Haider Patwary were present.
Haas said that since his arrival in Bangladesh, he has met many political leaders and parties, and he will continue to meet more as he wants to learn more about the country.
He happily meets political leaders individually, but he is happier to see them together -- sitting, learning and talking -- despite different political ideologies.
"This is the hallmark of democracy," he said.
Haas said the fundamental way of improving people's lives is to give them the opportunity to vote in a fair and transparent election. But from US experience, he knows that it is difficult to do so.
He said such an election requires involvement of the Election Commission, political parties, civil society and law enforcement agencies. If any one of them fails to fulfil its responsibilities, or if one intimidates another, fair elections become difficult to hold.
Speaking about the e-learning platform, Haas said it provides different courses of international standards on leadership, strengthening democracy, conflict resolution, and communications.
He said one of the modules targets women leaders, as they want women to be present in all tiers of leadership -- local, national and even in the international level -- to flourish democracy.
Hasan Mahmud said promotion of democracy is not the work of any single political party, but of all. In the last 50 years, democracy has been threatened whenever arms were used to control power.
He hoped the next election will be fair and transparent with the participation of all parties.
Amir Khasru said grooming and development of political parties is crucial for better politics.
It is not only those who have money, political family background or muscle power who should join politics; ordinary people need to be trained and be engaged in politics for proper public representation, he said.
Shamim Haider said all parties have to take responsibility for the current situation, a time when people are worried about the transparency and neutrality of elections.
Democracy International Chief of Party Dana Olds said the political parties having differences of opinion does not mean they are enemies of each other. "You can work together for common causes."