Bangladesh not in any Chinese debt trap, Ambassador reiterates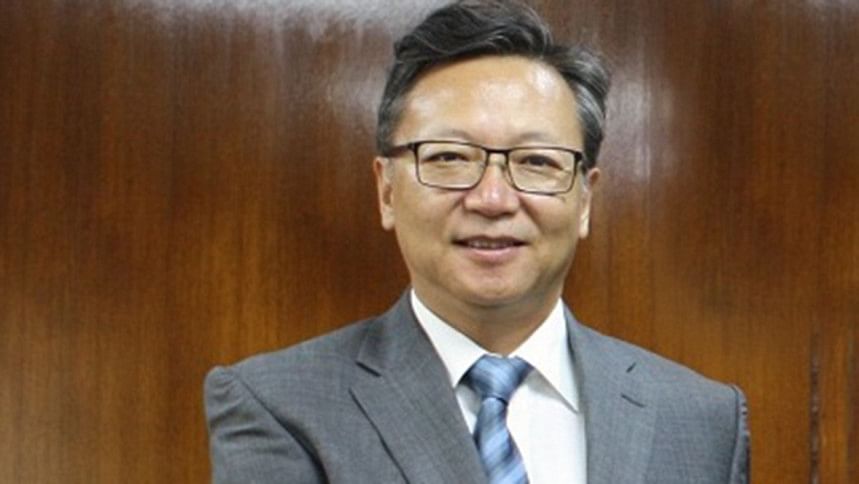 Chinese Ambassador to Bangladesh Li Jiming today (May 11, 2022) reiterated that Bangladesh is not in any Chinese debt trap.
He said this in his short statement to journalists after a meeting with Foreign Minister AK Abdul Momen at the foreign ministry today.
"I can confirm that Bangladesh is in no Chinese debt trap," he said.
He made the remarks as the topic of the debt trap has been discussed widely, especially since Sri Lanka has been facing the worst financial crisis in recent times triggering a political crisis.
In June last year, the Chinese ambassador also said Bangladesh should never worry about bad debt or the so-called debt trap.
"I would say that you've managed foreign debt very, very well, and there's no such bad debt so far at all. You've earned a very, very high credit [recognition] internationally in terms of [managing] international debts. So, never worry about that," Jiming had said at the time.
Sri Lanka's Mahinda Rajapaksa already resigned from the prime minister post in the wake of violence that left seven people dead and dozens more injured this week.
According to analysts, cronyism and corruption of the Rajapaksa family, flawed economic policies and debt burden led to today's crisis when the country faces shortages of dollars, fuel, food, and even medicines.
Foreign Minister AK Abdul Momen said the comparison between Bangladesh and Sri Lanka is improper because Sri Lanka's major income comes from its tourism sector which was heavily affected, but Bangladesh's export and remittance earnings are quite big.
Bangladesh's annual export earning is over $40 billion, while remittance earning was over $25 billion even during the coronavirus pandemic. Bangladesh's capacity to repay loans is also much better, he said.
"We are very calculative in terms of foreign loans. We don't take loans for any project if it is not beneficial for us," Momen said.
He said Bangladesh's major foreign loan comes from the World Bank, Asian Development Bank and Japan. Bangladesh's loan from China is only five to six percent of the total foreign loan, he added.
Bangladesh signed a number of MoUs with China but did not take many loans. Many Chinese contractors are working for Bangladeshi projects because they won in the bidding, he added.
Momen said he discussed restarting the tripartite discussion involving Myanmar and China on Rohingya repatriation, which remained stuck for long.
He said Myanmar appears to be more accommodative now and insisted that China revives the tripartite discussion.
When asked about the current crisis in Sri Lanka, the foreign minister said Bangladesh wants restoration of stability in the island nation.
Bangladesh has already provided some assistance to Sri Lanka and is considering more, he said.
"We have not yet discussed the Sri Lanka crisis. We have sent medicines and are considering sending food to Sri Lanka," he said.
Bangladesh's economy is largely dependent on the stability of other countries. If the markets of the Americas and Europe are good, Bangladesh can export more. Also, if the Middle Eastern economies prosper, they can hire more migrant workers from Bangladesh, he said. 
"So, we want peace everywhere."
Meanwhile, Bangladesh launched a hotline for the Bangladeshis in Sri Lanka.
"In case of emergency, Bangladesh nationals in Sri Lanka may contact the following mobile numbers – 074 215 8750 or 071 240 6313," said a foreign ministry official.