Migration integral part to development: Momen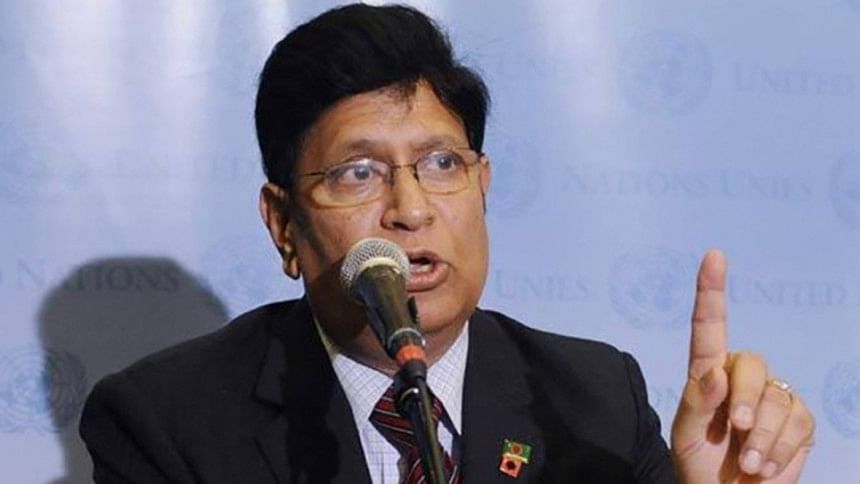 Indicating that migration is an integral path to development, both for the host as well as the country of origin, Bangladesh foreign minister yesterday said the country is a leader in adoption of the Global Compact on Migration (GCM).
Speaking at the Policy Forum on 'Road to Implementing Global Compact on Migration' at Ecuador, Foreign Minister AK Abdul Momen said Bangladesh was at the forefront of any effort or action regarding migration, and GCM was no exception.
The Global Compact on Migration (GCM) has been designed to, support international cooperation on the governance of international migration; provide a comprehensive menu of options for States from which they can select policy options to address some of the most pressing issues around international migration and give states the space and flexibility to pursue implementation based on their own migration realities and capacities.
The foreign minister also said that the country should implement GCM soon to reap its benefits and added that Bangladesh does not consider migration as just another international issue.
"The cities and towns that are built in the Middle East or the factories and services that are being rendered or innovations in USA, are largely the contributions of migrant and expatriate workers," he said.
"Of late, Bangladesh has been a source, transit and destination country for migration."
 "With more than 1.1 million Rohingyas at hand, we understand very well the mayhem if such unsafe, disorderly and irregular movement of people takes place anywhere. On the other hand, we have several hundred thousand foreign nationals working in Bangladesh in various industrial sectors."
Bangladesh is actively participating in regional and sub-regional platforms according to GCM Objective 23. The foreign affairs ministry, in collaboration with International Organisation for Migration and the International Labour Organisation, organised Regional Consultation on GCM implementation on May 4, 2019. 
Bangladesh United Nations Network for Migration was launched in July 2019, the first in the world, he said adding "It has developed a review template to identify ongoing-efforts supporting for GCM actions to determine a way forward."
The foreign minister ended his speech reiterating the need for active support and cooperation from all relevant stakeholders to ensure smooth implementation of GCM.