Chattogram Hill Tracts to come under railway network
Small airport to be constructed to boost tourism in the hilly region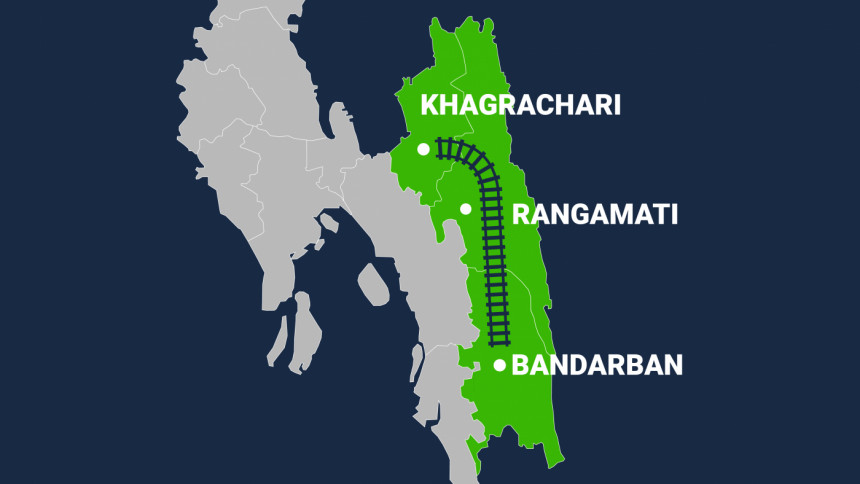 Bangladesh Railway has undertaken a masterplan to bring the three districts of Chattogram Hill Tracts (CHT) under its railway network in order to improve connectivity in the hilly region.
The information was disclosed at the 11th meeting of Parliamentary Standing Committee on CHT Affairs Ministry, held with its chairman Md Dabirul Islam in the chair, at the Jatiya Sangsad Bhaban yesterday.
The meeting discussed development of the railway network and setting up a small airport in the CHT area to develop the tourism industry there.
Besides, other issues related to the CHT area came up for discussion in the meeting.
The meeting was informed that Bangladesh Railway has taken a masterplan for introduction of railway communication system in the three CHT districts and the government has a plan to bring the districts under the railway network.
The parliamentary committee recommended the ministry to ensure presence of the deputy commissioners of CHT districts in its next meeting to inform the latest status of the lands, which were leased out for individual-level forestation, but not used for forestation yet in the three hilly districts.
The committee also asked the ministries concerned to take steps for bringing 100 percent areas of the hilly districts under electricity coverage, construction of houses and quarters for the government officers and employees in the three districts and taking planned housing projects.
Committee members CHT Affairs Minister Bir Bahadur Ushwe Sing, ABM Fazle Karim Chowdhury, Kujendra Lal Tripura and Basanti Chakma attended the meeting.
The CHT Affairs Secretary, the Housing and Public Works Secretary and the Railways Secretary, among high officials, were present, said a press release.