Passerby now on life support after murder suspect attacked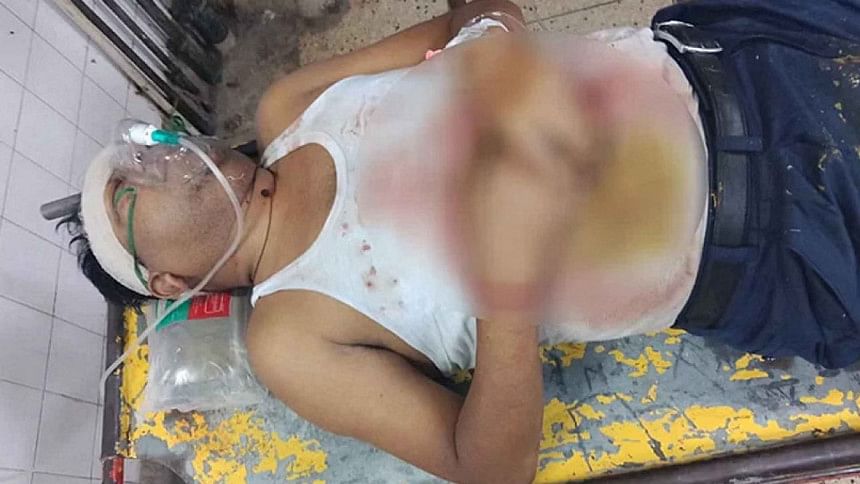 Criminals fired at and stabbed a suspect in the film actor Sohel Chowdhury murder case in the capital's Tejgaon Industrial Area on Monday night.
Their knife and gun attack on Tariq Sayeed Mamun, 54, also left two people injured.
Bhuban Chandra Shil, 55, a lawyer, was passing the area on a motorbike when a stray bullet hit his head. He is on life support.
Jayshree Rani, a sister-in-law of lawyer Bhuban, said Bhuban hails from Noakhali and lives in a hostel in Arambagh.
"We came to know about him getting shot from police," she said.
Pedestrian Ariful Haque was tabbed.
Mamun got out of jail on bail about three months ago. He had been in prison for 26 years.
Sources said Mamun was returning to his Tollabagh home from a bar in Moghbazar and when the car he was travelling in reached BG Press area, seven to eight criminals on motorbikes intercepted the vehicle.
Mamun got out of the vehicle amid the hail of bullets and ran but the criminals chased him down and stabbed him in the neck and back, said Mazharul Islam, officer-in-charge of Tejgaon Industrial Police Station.
Mamun was taking treatment at Dhaka Medical College Hospital on Monday but police did not disclose where he was yesterday.
Police officials suspect that the attackers are loyal to top-listed criminal Sanjidul Hassan Emon, who is now serving a 17-year sentence and is also an accused in the Sohel Chowdhury murder case.
Mamun was once Emon's partner in crime, they said, adding that they had a fall out after Mamun got out.
Talking to reporters at his office, Harun-Or-Rashid, chief of Detective Branch of DMP, said Emon appeared before a court on September 12 where he met Mamun. Emon threatened him then.
"Within a week, Mamun was attacked. Mamun is under our watch. We talked to him. Initially, it is believed that Emon might have had the attack carried out," he said.
The government on December 27, 2001, published a list of 23 most wanted criminals. Emon topped the list.
Following the publication, Emon fled to India but the Indian police arrested him and handed him over to Bangladesh authorities.
Based on Emon's information, police recovered a revolver and 33 bullets from a market in the capital's Rayerbagh on March 16, 2008.
Later, an arms case was filed against him and the police submitted a charge sheet against Emon on April 5, 2008.
A Dhaka court in 2015 sentenced Emon to 17 years' rigorous imprisonment in the case.