'MPs, ministers make fun of our tears, police mentally torture us'
Families of missing lament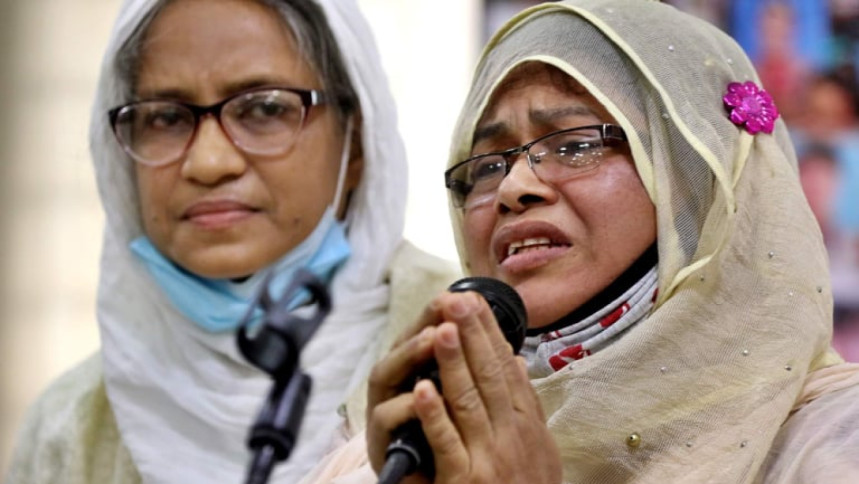 "MP-ministers make fun of our tears. They say our husbands married again and moved away and that there is no enforced disappearance in the country."
Nasima Akter Smriti, wife of timber trader Ismail Hossain Baten, said these while talking at a programme organised by her at Jatiya Press Club this afternoon.
"Doesn't our word reach to the prime minister? Does nobody's heart cry for us? We are dying every moment. We are living corpses. We never have smiles on our faces."
In a choked voice, she said, "No ceremony takes place in our house. My kids ask, everyone has a father, why don't we have a father? I can't answer. If you have killed my husband, give us his body, we will bury him. We want to hold a milad. And if he is alive, tell us where he is."
Rapid Action Battalion-4 allegedly picked up Ismail Hossain Baten from his place of business on June 19, 2019. He has been missing since then.
Baten's wife said, "After my husband was picked up, I went from door to door. Police declined to record GD (general diary) against Rab. After three years, police come and ask if it is true that my husband has disappeared."
"There is no rule of law in this country. We are hostages of the Rab," she added.
Farzana, the wife of Parvez who went missing from Bangshalof Dhaka, said, "after my husband went missing, we are being harassed in various ways. Police come to our house regularly. A few days ago, a police official in uniform, and some others in plainclothes came to my house along with a leader of Awami League around 9:30 of night. Police called me from my mother-in-law's phone. I was asked to go and meet them at the police station. After I refused, I was asked to meet at a restaurant. This is how we are constantly being harassed."
"The police also told my mother-in-law that her son's wife deliberately separated him from you. She knows where your son is. This is how police are mentally torturing us," Farzana said.
Shilpi, sister of missing Farid Ahmed Raju of Laxmipur, Ayesha Ali, mother of Abdul Quader Masum, who went missing from Bashundhara residential area, and family members of several other missing persons were present at the programme.