Misbehaviour With Judge: HC summons B'baria bar president, secy
Issues contempt of court rule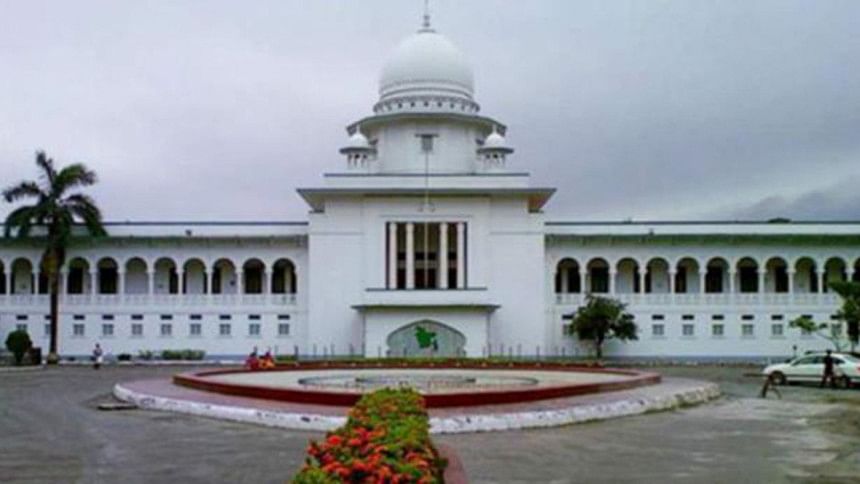 The High Court yesterday summoned the president of Brahmanbaria Bar Association and two other lawyers in connection with misbehaving and scolding the judge of Nari O Shishu Nirjaton Tribunal-1 and creating chaos in the courtroom on January 2.
The three -- association President Tanbir Bhuiyan, Secretary (administration) Akkas Ali and lawyer Zubayer Islam -- have been asked to appear before the bench of Justice JBM Hassan and Justice Razik-Al-Jalil on January 17 to explain their conduct.
The bench also issued a rule asking the three to show as to why a contempt of court proceedings should not be initiated against them for their misconduct.
The HC issued the summons and the contempt of court rule after Chief Justice Hasan Foez Siddique sent the matter to the bench, Deputy Attorney General Tushar Kanti Roy told The Daily Star.
A section of lawyers, led by Tanbir, Akkas and Zubayer, went to the court of Nari O Shishu Nirjaton Tribunal-1 of Brahmanbaria on January 2 regarding a case, he said.
The lawyers requested the tribunal judge, Mohammad Faruque, who is a district and sessions judge, to hear the case, but the judge refused as his court hours had ended, Tushar said. 
The lawyers then started shouting in the courtroom and scolded the judge and the court officials, prompting the judge to send a letter to the Supreme Court registrar general seeking a necessary decision to this effect, he said.
Tushar added that documents, including footage of the incident, have been sent to the SC registrar general's office.
On November 15 last year, the same HC bench blasted and rebuked Pirojpur Public Prosecutor Khan Md Alauddin for misbehaving and threatening the district's chief judicial magistrate in the courtroom during the proceedings of a criminal case on July 25.
Meanwhile, footage of the lawyers misbehaving with the judge went viral on social media.
The lawyers, who have been boycotting the court of the judge since January 2, yesterday noon announced that they would continue their programme until Monday, alleging that the judge made offensive remarks against all lawyers and lawyers' association.
During a protest rally in front of the association building, they also demanded withdrawal of the judge, and District Judge Sharmin Nigar and Nazir (court official) Mominul Islam Chowdhury.
On Wednesday, the judiciary employees' association observed a work abstention, protesting the misbehaviour with Judge Faruque.
The judicial proceedings of all courts in Brahmanbaria remained suspended due to the boycotts, putting the litigants in trouble.
[Our Brahmanbaria correspondent contributed to this report.]