Masked men pick up two near jail gate
Claim families; the duo acquitted in militancy case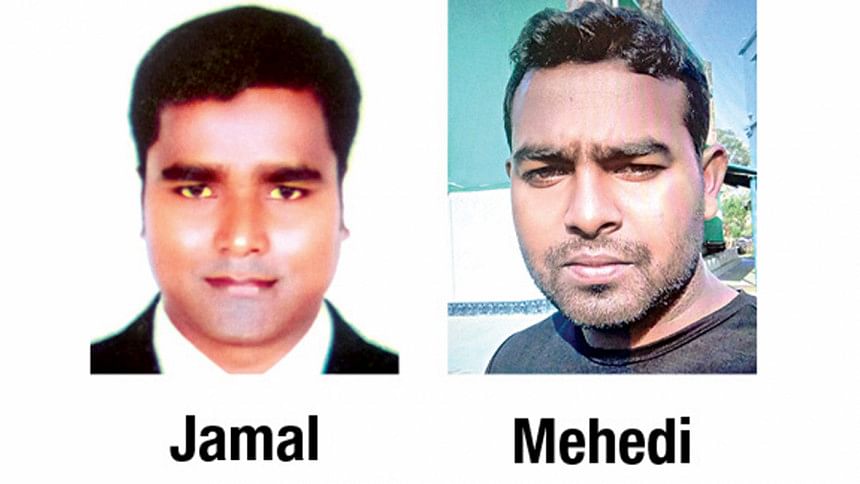 Two men, recently acquitted of militant involvement, were abducted by masked men soon after they were released from Lalmonirhat jail on Tuesday, claimed family members.
Mehedi Hasan, 27, and Jamal Uddin, 32, are residents of the district's Hatibandha and Kaliganj.
In November 2017, the two along with four others were sued for their alleged involvement with the banned Islamist militant organisation Jama'atul Mujaheedin, Bangladesh (JMB).
Five men, including Mehedi and Jamal, were arrested in the case while the six accused remained absconding.
At that time, Jamal was a post-graduate student in Dhaka and Mehedi was a Fazil student in Lalmonirhat.
Of the five, one secured bail in 2018, while Mehedi, Jamal, and two others remained in jail since November 2017, according to sources in Lalmonirhat court.
Last week, a Lalmonirhat court acquitted Mehedi and Jamal in the case and sentenced the other two accused to 42 years in prison each.
On February 21, Mehedi and Jamal were released from Lalmonirhat jail.
Mehedi father's Abdul Latif said, "We were waiting for Mehedi at the gate of the Lalmonirhat District Jail. As Mehedi and Jamal crossed the jail gate, a black microbus suddenly stopped in front of them.
"Some 8 to 10 masked men got down and grabbed Mehedi and Jamal and shoved them inside the vehicle. The microbus then fled the scene."
"We started shouting. But the microbus fled before we could realise anything," said Jamal's brother Abul Kalam Azad, while giving a similar description of the incident.
"We have no idea who abducted them (Mehedi and Jamal). We just want them back as soon as possible," he added.
Contacted, Shafiqul Alam, jailer of Lalmonirhat District Jail, said it was not their jurisdiction to see what happens once the inmates were released from jail.
He, however, said that he heard some unknown people abducted Mehedi and Jamal from a place which was some 100 metres from the jail gate.
Family members of both men filed missing person complaints with the local police station on Thursday and held a press conference at  Lalmonirhat Press Club on the same day, demanding the whereabouts of the abductees.
Contacted, Lalmonirhat Sadar Police Station Officer-in-Charge Ershadul Alam said police were working to find the two men who went missing.