Changes must be brought to laws for children's development: Law minister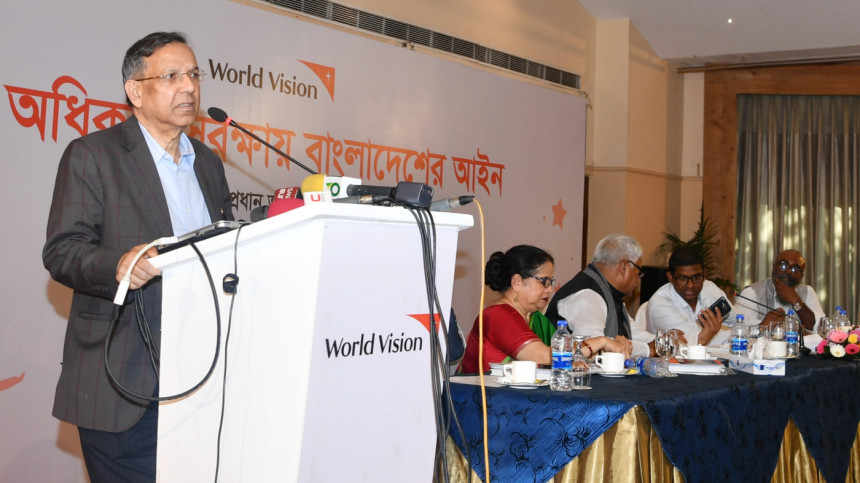 Law Minister Anisul Huq today (August 11, 2022) said the government wants to formulate such laws which are realistic and useful for the welfare of society.
"The government does not want to make such laws, which are not implementable. Changes must be brought to the laws, if needed, for the development of children," he said.
He said this while speaking as chief guest at a meeting on "Shishu Odhikar Surokkhay Bangladesher Ain Porjalochona (Review of laws of Bangladesh to protect children's rights)" organised by World Vision Bangladesh at Hotel Lakeshore in capital's Gulshan area.
Minister Anisul Huq said there should not be any difference between the rich and poor children.
"Children are the future of the country. All the children must be given facilities so that they can grow up in a very healthy and safe environment. The government is trying its best to remove the discrimination among the children. A law titled as 'Anti-Discrimination Act' is going to be formulated for eliminating the discrimination," he said.     
The law minister also said holistic efforts will have to be given and social awareness should be built up in order to establish the rights of the children.
Anisul Huq said the government had no way to increase the prices of fuel products in the perspective of global reality.
Tony Michael Gomes, director of World Vision Bangladesh, presided over the meeting where Shamul Haq Tuku, chairman of parliamentary standing committee on home ministry, Jatiya Party lawmaker Shamim Haider Patwary, Law Secretary Md Golam Sarwar and Rasheda K Choudhury, executive director of Campaign for Popular Education (CAMPE), also spoke, among others.