10 years after Rana Plaza disaster: Memories of horror
A volunteer for CRP shares stories of survivors of the tragedy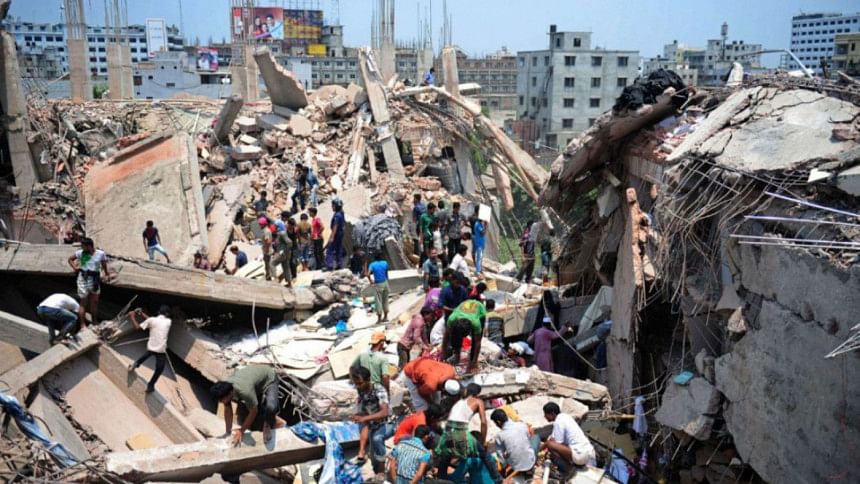 On the morning of April 24, 2013, Babul began his day working as a machine operator on the seventh floor of a garment factory at Rana Plaza in Savar. From his workstation, he could see his wife at her workstation.
A few short hours later, when the Rana Plaza collapsed, Babul, just 17 at the time, managed to free his trapped leg and crawl through the rubble to her. The collapse had not killed her initially, but she died in her husband's arms by the time rescuers could reach them, around nine hours later.
His wife was one of at least 1,136 workers who lost their lives in the collapse. Babul is among the more than 2,438 who were injured, and survived with physical and emotional scars that continue to shape their lives 10 years later.
A lot of the survivors were treated and rehabilitated at the Center for the Rehabilitation of the Paralysed (CRP), which is located a short distance from the site of the country's worst industrial tragedy.
Since 2013, CRP staffers have been visiting over 40 survivors and recording their progress. Assisting them in this endeavour is Carolyn Scott, who has been a part-time volunteer at the CRP since 1994. She shared the tales of some of the survivors with The Daily Star after her recent meetings with them.
"Babul received treatment and training on electronics at the CRP for six months. Back home, he set up a successful electronics repair shop, earning enough to remarry. He enjoys being his own boss and keeping his own schedule. He did not receive compensation for the death of his first wife; rather, her family was given Tk 12.5 lakh."
Babul's sister Saima was also one of those who survived the collapse, but her life was changed forever by the events of April 24, 2013.
She was 25 at the time of the disaster, which left her a paraplegic, Scott said. While she got a "considerable" financial compensation which allowed for the construction of a new wheelchair-accessible home for her and her extended family, it also left her vulnerable to loss of money by theft and deceit.
"During this most recent visit, we found she needed a much-improved mattress which will be arranged. Over the years, she tried to keep her two daughters in school as long as possible, but at our visit this year, we found her older daughter (17) to be five months pregnant while her younger daughter already had two children. Brac assistance within recent months has resulted in improved facilities in her home, including a modern and appropriate bathroom, and a new CRP-built wheelchair."
Sobujan was on the path to rehabilitation until the pandemic struck.
She was rescued from the ruins of the building after nine long hours. Sobujan was first taken to Lab Zone Hospital but her stay there was cut short because her husband found the costs too high. He took her home but the laceration on her right leg from the hip to the ankle became infected.
"She was 40 when we first met in CRP's patient hostel in November 2013. After having received antibiotic treatment and an improved diet, she recovered to the level where she was able to participate in therapy and the one-month shop-keeping training at the CRP's vocational training institute.
"Once established at home with funding to develop an inventory, her shop became a popular addition to their village. With her husband and her adult son, she managed it successfully for several years. Sadly, Sobujan's husband died of cancer a few years ago and the Covid epidemic negatively impacted the income from the shop, as it has done for so many shopkeepers. Many other RPD [Rana Plaza Disaster] survivors in her village have benefitted from assistance from Brac but she has not and her situation is currently very fragile," Scott said.
Rubina, who was working at Rana Plaza as a garment finisher at the age of 30 for Tk 7,000 a month, lost consciousness for about four hours before she was rescued. She required surgery and skin grafts to her leg and foot at the National Institute of Traumatology and Orthopaedic Rehabilitation.
"The results are imperfect and she has recurrent pain as well as problems sitting, squatting and standing for any length of time. In November 2014, we met Rubina in her home on the day following her return from the CRP after a long absence … With compensation money, they bought cows and the land on which their very modest house sits."
She opted to take no vocational training during her time at the CRP.
"Sobujan, Saima, and Rubina had a long friendship and left their village to go to work in Savar at the same time, sharing accommodation and experiences," Scott said.
"The differences each experienced as a result of their injuries, and the differences in compensation caused great stresses in their relationships. Only recently have we noticed improvements."
When still a teenager, Jehanara started working as a "helper" on the eighth floor of Rana Plaza, earning about Tk 6,500 a month. Her mother also worked there.
Jehanara was rescued after three hours. Her mother's body was recovered 18 days later.
"Jehanara suffered a lumbar spinal cord compression injury and spent two months in treatment at the CRP. After returning to her village, she married and the couple lived with his parents and began planning for a family.
"Unfortunately, she has experienced multiple miscarriages. During our visit in January, she was about three months pregnant. Her father received Tk 3 lakh as compensation for the loss of his wife," Scott said.
Al Amin has to live with the memory of spending two and a half days under the rubble before he was rescued.
He was then just 23 years old. Although university-educated, he was unable to find a good job, so he took the work at Rana Plaza earning Tk 4,500 per month for a 10-12-hour work day, Scott said.
He had been working there for only 23 days when the disaster occurred and was taken to the Cantonment Hospital where he was diagnosed with potential spinal damage and, after about six hours, transferred to the CRP.
"He spent one month under treatment and then one month in vocational training. Both he and his wife completed their studies and tried, unsuccessfully, to find local work as primary school teachers or in government service.
"Their 10-year-old daughter lives with her grandparents while they work in the garment industry near the Dhaka EPZ. Like so many others, their shop failed during the Covid epidemic. He still suffers physical pain from his injuries but earlier this year, Al Amin was planning to find work in Malaysia," Scott said.
She said, "These are only a few of their stories; several live in one very small and remote village in Naogaon. Others were interviewed in and around Rajshahi, Gazipur and Savar. It is estimated that almost all of these survivors demonstrate symptoms of Post-Traumatic Stress Disorder (PTSD) including depression, anger, poor memory, anxiety and hyper-vigilance as well as insomnia."