Raising fertiliser prices: Govt in spot of bother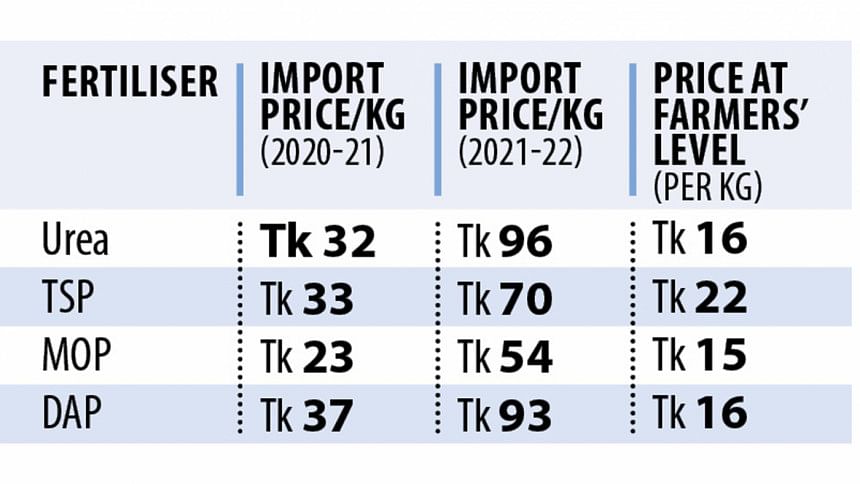 Agriculture Minister Muhammad Abdur Razzaque yesterday said the government is in a fix over increasing fertiliser prices to manage a huge amount of subsidy.
"We are well aware that a rise in fertiliser prices would have ripple effect on the economy. It will cause further sufferings to the farmers, increase production cost and ultimately, food prices as well. But at the same time this huge subsidy will hamper the development works," he told reporters at his Secretariat office.
"The subsidy allocation for fertilisers was Tk 9,500 crore for the 2021-22 fiscal year. But we have spent Tk 19,000 crore, and by the end this fiscal year, we will need Tk 28,000 crore if we are to sell fertiliser to the farmers at the current price."
He further said government high-ups have been working on how to manage the subsidy burden due to a two/threefold rise in imported fertiliser prices.
The prime minister is concerned about it, he said, adding, "The finance ministry is putting pressure in this regard as they are struggling with the budget," he said.
According to finance ministry officials, a decision is expected by March when the current budget is to be finalised.
The agriculture minister said the import cost of the widely-used urea fertiliser has increased to Tk 96 per kg this fiscal, which was Tk 32 in the last.
The government is selling urea at Tk 16 per kg to the farmers at a subsidised price. He also said the government is providing subsidy on TSP, MOP and DAP fertilisers.
The demand for fertiliser this fiscal year is 57.5 lakh tonnes, of which urea accounted for the highest -- 26 lakh tonnes -- followed by DAP with 16 lakh tonnes, according to the agriculture ministry. 
Of the total annual demand for urea, state-owned factories provide around 8.77 lakh tonnes while the rest are imported.
Razzaque said they were spending the additional money from the block allocation in the budget. 
Asked whether they are planning to reduce the subsidy, he said, "We are thinking about it. We are also monitoring the international market price of fertiliser."
The minister said they were taking inputs from intellectuals, civil society members, and economists on how to overcome it.
"We are also expecting people's opinion through media."
Quazi Shahabuddin, former director general of Bangladesh Institute of Development Studies, suggested that the government could increase the subsidy by trimming the revenue budget. 
"At the same time, the government can slightly increase the price of fertiliser. But it should not be more than five percent."