Aus acreage shrinks for dry weather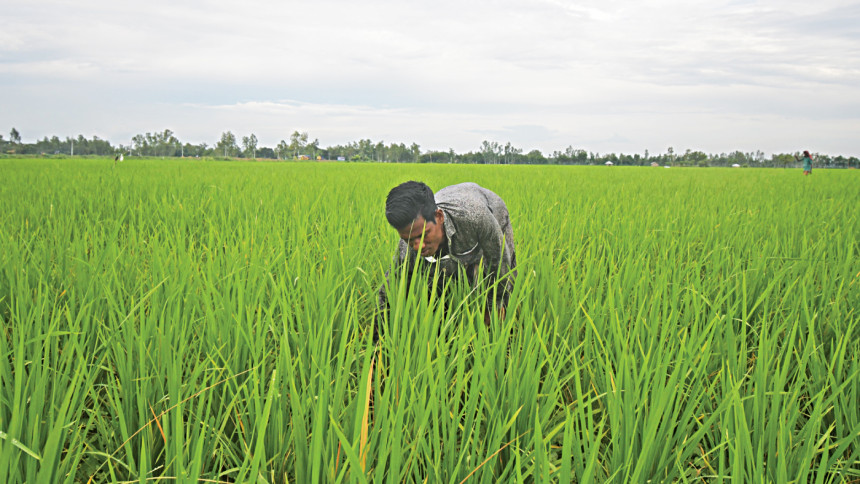 Farmers cultivated Aus paddy on a reduced area in Bangladesh this year because of dry weather during the main transplantation season, said farmers and officials.
The risk of pest attacks, lower yield and higher production cost also discouraged growers from cultivating the crop.
So, the acreage of Aus fell 10 per cent year-on-year to 11.65 lakh hectares in the fiscal year of 2021-22 from 13 lakh hectares the previous year, data from the Department of Agricultural Extension (DAE) showed.
Because of the shrinking of the cultivation area, the total yield of the rice is likely to be 3.5 lakh tonnes lower than the previous year, said DAE Director General Md Asadullah.
Farmers produced 32.9 lakh tonnes of rice from Aus harvest in FY21, up 19 per cent a year ago, according to data of the Bangladesh Bureau of Statistics (BBS).
Harvested during monsoon, Aus contributed 9 per cent to the total annual rice output of 3.85 crore tonnes in FY21, BBS and DAE data showed.
The concern about the reduced yield of the crop came when the price of rice was increasing owing to a slow release of the staple from the saleable holdings by farmers and increased stocking by seasonal stockists, traders and millers.
Prices of coarse rice edged up 4 per cent to Tk 46-Tk 50 a kilogramme in the markets in Dhaka yesterday, up from Tk 44-Tk 48 a month ago, according to the state-run Trading Corporation of Bangladesh.
In order to increase the supply in the market, the food ministry earlier this month decided to allow private traders to import 10 lakh tonnes of rice at a 25 per cent tariff in place of 62.5 per cent.
"The rainfall in the April-May period had been very low, and it affected the timely transplantation of seedlings. Seedlings are required to transplant in a month," Asadullah said.
Belal Hossain, a farmer at Haatlalpur of Bogura's Nandigram, said he cultivated Aus on eight bighas of land this year, which was 11 bighas the previous season.
"We have to invest Tk 9,000-Tk 10,000 per bigha, but we get only 14-16 maunds of paddy per bigha. So, the profit is very marginal."
"Also, there is a risk of crop losses for many reasons, including pest attacks."
Last year, Aus was grown on a combined area of 65,036 hectares in Bogura, Joypurhat, Pabna and Sirajganj. This year, farmers in the same northern districts cultivated the crop on 49,267 hectares.
Md Monju Mia, a 37-year-old farmer in Nandigram, said the pest attack had become a matter of concern this year.
"Therefore, we cannot hope for a good yield this year. We have to spray pesticides frequently. As a result, the production cost is going up."
The cost of irrigation had also risen for a lack of rainfall, said Md Mojibur Rahman, another farmer in Haatlalpur.
Now, the DAE is concentrating on attaining the transplantation target of Aman, the second-biggest crop in Bangladesh after Boro, on 55.77 lakh hectares of land this year.
"We have already achieved 90 per cent of the target on seedbed preparation," Asadullah said. Seedbeds will be prepared on 2.62 lakh hectares of land.