"Puja's birthday today": Laments father of deceased Atomic Energy official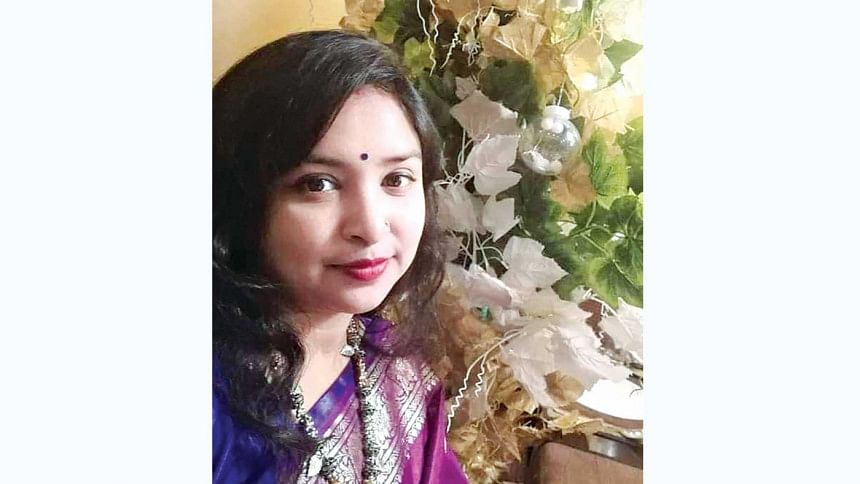 The family of Puja Sarkar, a scientist at Bangladesh Atomic Energy Commission, who was killed in a road accident last Sunday at Boliarpur on the Dhaka-Aricha Highway in Savar, is still lamenting the untimely death of their daughter as today was her birthday.
Atul Sarkar, Puja's father, lamented, "Today is my daughter Puja's birthday, and when she was six years old, her mother Alpona died at the age of 29.
She died at the same age as well."
"Puja was six months pregnant, and my entire family was gearing up to celebrate her birthday. But my daughter's death has dashed all of our aspirations," he said.
"She (Puja) was passing hectic days in her office as she was scheduled to go on maternity leave recently," he added.
Like every day Puja was heading towards her office at Bangladesh Atomic Energy Commission (BAEC) from her Hatkhola Road residence in the capital, he said.
"After the demise of her mother from Cancer, I brought her up alone. She was a student of Viqarunnisa Noon School & College. She was a meritorious student. She obtained first-class and earned the second position in Physics while studying at Jahangirnagar University," said Atul, a retired deputy general manager of Janata Bank.
"She worked as a faculty member at Daffodil University for eight months and during the teaching profession she got the job at BAEC," he also said.
"If my Puja had survived she would be a successful scientist," said Atul.
He also claimed that the bus was unfit and the driver had no driving licence. Besides, the bus was plying on the road without any route permit.
 "How can a driver drive a bus on the road without any route permit? Is there any law in the country?"
 Expressing wonder, Atul also said no one has raised a movement protesting the accident. "No child should die like this," he prayed.
Six people including Puja were killed when a speeding bus ploughed through a road divider after its driver lost control over the steering and then crashed into a minibus carrying BAEC staffers and a cattle-laden truck at the same time on that day, SI Sabur Khan, in-charge of Aminbazar police outpost said.
Forty people were injured during the accident.
Maruf Hossain Munna, driver of the Safe Line Paribahan bus from Jhenaidah, succumbed to his injuries on Tuesday.
Later, another BAEC official Farhana Islam succumbed to her injuries at Combined Military Hospital on Wednesday.