Probe report of Mirsarai tragedy finds gateman, microbus driver responsible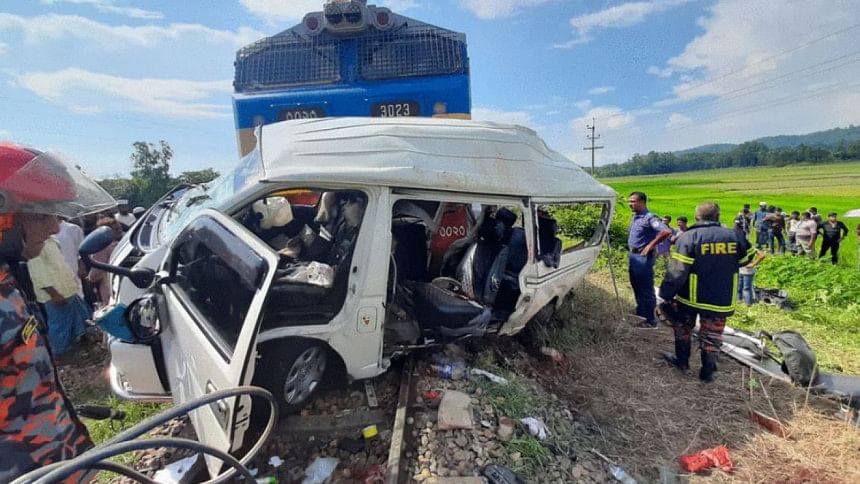 The gateman of the rail crossing and microbus driver are responsible for the train-microbus collision at the Mirsarai Borotakia rail crossing that killed 13, a probe committee has found.
The committee, led by divisional traffic officer (DTO) of Railway of Chattogram Ansar Ali, submitted its report on Monday (August 15, 2022).
The report also included 8 recommendations, reports our Chattogram staff correspondent.
The report said Saddam Hossain, gateman of the Borotakia rail crossing, who is now in prison, and Golam Mostafa, driver of the microbus, who was killed in the accident, are responsible for the collision and subsequent deaths.
On July 29, a train hit a microbus on a level crossing in Mirsarai upazila and 11 people died on the spot and seven others were injured.
Of those injured, two died while undergoing treatment. So far, 13 people have died in this incident.
The Bangladesh Railway (BR) formed two committees to investigate the accident.
Gateman of the rail crossing was not present at the time of the accident and driver of the microbus was negligent, according to the report.
The probe committee recommended that the gateman be punished for not being present at the time of collision.
The report said, the gateman put up the barriers on both sides before the train arrived. Then he went to the mosque to perform Jumma prayers. At this time the microbus tried to cross the rail tracks as someone removed the barrier on one sid in absence of a gateman. But the microbus wasn't able to cross in time as another barrier was lowered on the side.
Seeking anonymity, a member of the probe body said that the gateman is not the railway's own employee and recommended his termination.
Muhammad Abul Kalam Chowdhury, divisional railway manager (DRM) of Chattogram, said the probe committee has formally submitted its report.
Once the probe report is approved, "we will implement the recommendations," he added.
The survivors are currently undergoing treatment at the Chattogram Medical College Hospital (CMCH).
The railway police filed a case against Saddam Hosen, the gateman of the level-crossing, and later arrested him in connection with the accident.
A Chattogram court already ordered the accused gateman Saddam be sent to prison and the Bangladesh Railway suspended Saddam due to negligence in duty.