Panchagarh boat capsize: Death toll rises to 41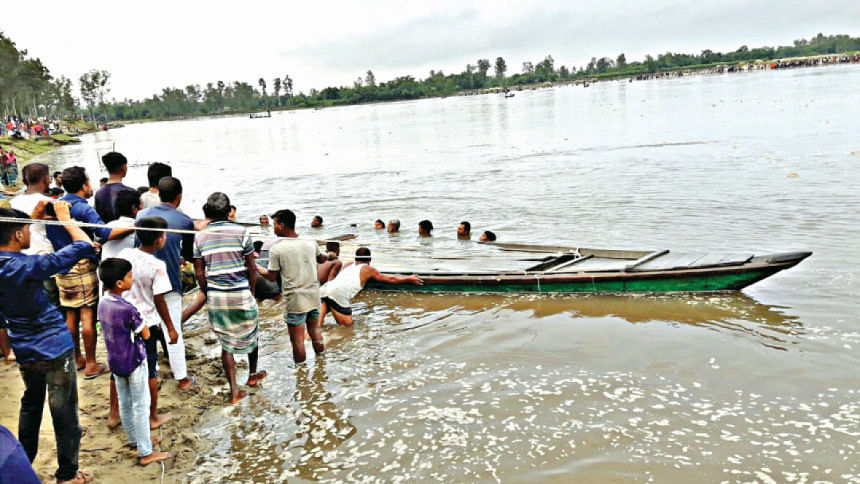 Death toll from the boat capsize in Karatoa river in Panchagarh rose to 41 with the recovery of 17 more bodies from the river this morning (September 26, 2022).
Deputy Commissioner of Panchagarh Zahurul Islam told The Daily Star that 24 bodies were recovered yesterday while the rest 17 were found today.
Brozendra Nath (55), Jharna bala (50), Dwip Babu (10), Suchitra Rani (22), Kabita Rani (50), Bezobala (50) and Dwipshikha Rani (10) are among the 15 people whose bodies were recovered today, reports our Thakurgaon correspondent.
Dipankar Roy, additional deputy commissioner of Panchagarh and also the head of the rescue operation control room, said, "Yesterday, a list of 65 missing people was prepared based on information given by their relatives."
Of them, 17 bodies were found today and around 40 remain missing. he said.
The engine-run trawler packed with over hundred passengers capsized around 1:30pm at Aulia Ghat in Madea union of Boda upazila, reports our Thakurgaon correspondent.
Officer-in-Charge (OC) of Boda Police Station Sujoy Kumar Roy said the boat was on its way to Badeshwari temple in Barashashi union when the accident occurred.
The DC yesterday told The Daily Star yesterday that at least 70-80 people were rescued alive in the incident.
Witnesses and survivors said there were more than 100 passengers on the boat that had a capacity of 50.