Narayanganj food factory fire: Skull, hair, bones recovered after two months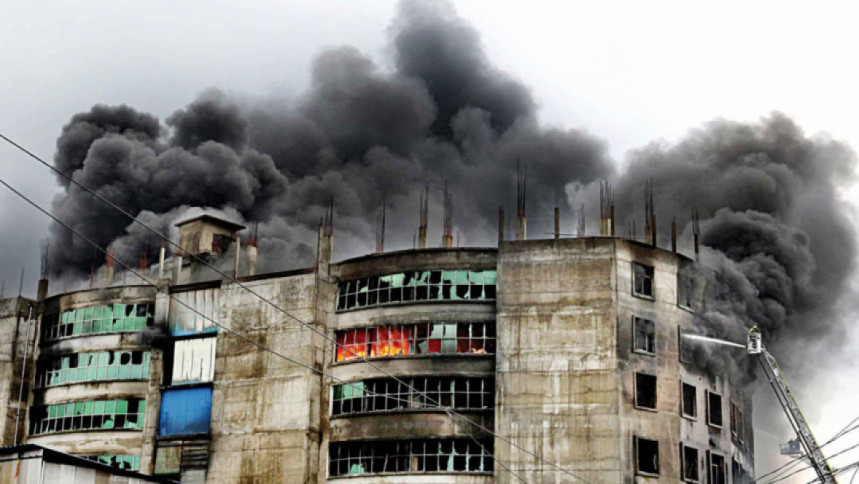 Members of Fire Service and Civil Denfence and Criminal Investigation Department (CID) yesterday recovered a human skull, tufts of hair and two bones from Narayanganj Hashem Food and Beverage Factory premises, the site of a deadly fire claimed the lives of 51 people on July 8 this year.
These were recovered from the third and fourth floors during a search operation launched following appeals from the family members of three workers who remained missing since the fire, reports our Narayanganj correspondent quoting Md Delwar Hossain, special superintendent of the Criminal Investigation Department.
"Hair and skull were recovered from the third floor while two pieces of bones were recovered from the fourth floor of the factory building," he said.
However, the CID official could not confirm the identity whose body parts were recovered, nor the number of people the body parts belonged to.
The body parts were sent to Dhaka Medical College Hospital for DNA tests, he said, adding that details would be known after getting the reports of DNA tests.
Three workers who remained missing since the fire are: Laboni, Sazzad and Mohiuddin.
At least 48 workers -- trapped on the third floor with its only exit locked -- died when fire engulfed the factory building on July 8 this year.
Three died after jumping off the six-storey factory.
Although fire officials initially said they recovered 49 charred bodies, taking the death toll to 52, police officials subsequently revised the number to 51.
Following the incident, police filed a case accusing eight persons including the factory owner Abul Hashem with Rupganj Police Station. The case is now tasked with CID.