At least 4 killed, scores hurt in Ctg depot fire
At least four people were killed and more than 100 others, including police and firefighters, were injured in a fire and explosions at a private container depot in Sitakunda of Chattogram late last night.
As of filing this report at 2:45am, police and fire service personnel were trying to douse the flames and rescuing people and sending them to hospitals. 
Several media outlets were putting the number of injured at nearly 300. The Daily Star, however, could not independently confirm the counts.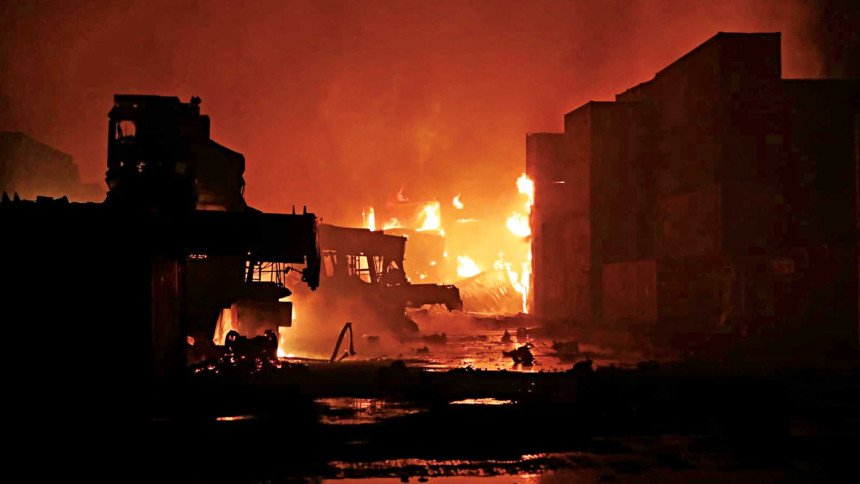 Civil surgeon of Chattogram, Mohammad Ilyas Chowdhury Hossain, urged all doctors and blood donors to be at the hospital immediately.
The fire broke out at BM Container Depot Ltd, a private inland container storage, in Shitalpur area by the Dhaka-Chattogram highway around 10:00pm.
Faruk Hossain Sikdar, assistant director of Fire Service Chattogram Headquarters, said the cause of the blaze could not yet be confirmed.
It quickly spread among containers stored there.
"While the firefighters were working, suddenly there was a massive explosion leading to the casualties. At least seven firefighters were injured in the blast," he added
At least 16 fire engines were engaged.
Sub-Inspector Nurul Islam Ashek, in-charge of Chattogram Medical College Hospital (CMCH) Police Outpost, told The Daily Star around 12:30am, "We are receiving many injured, including police, fire service personnel and locals."
Inspector Sumon Bonik of the police outpost at CMCH said at least seven policemen were injured.
Locals said the shockwaves from explosions were felt from three kilometres away. Traffic on the Dhaka-Chattogram highway was halted.
"We have sent injured firefighters to Combined Military Hospital Chattogram," Farukh Hossain Shikder, assistant director of Bangladesh Fire Brigade Chattogram, said over the phone.
"I cannot say the number of other injured people. But there are many injured," he said.
Our staff Correspondent from the spot said around 200 containers were on fire around 2:00am. Firefighters were struggling to douse the flames.
"Most of those injured were depot workers and officials of C&F agencies as they mostly work at night, he said, quoting locals.
Bangladesh Inland Container Depots Association Secretary Ruhul Amin Sikder said an export-oriented container loaded with hydrogen peroxide exploded around 9:30pm.
He suspected that the container might have been exposed to high temperatures. There were 16 to 18 such containers loaded with the chemical, said Sikder.
Hydrogen peroxide itself is not flammable but it can accelerate flames under certain circumstances.
This paper tried to reach the depot's Deputy Managing Director Nurul Akhter over the phone but failed to reach him.
Sikder said he had heard that Nurul Akhter also got hurt.
Our staff correspondents in Chattogram FM Mizanur Rahaman, Arun Bikash Dey, Mohammad Suman, Shimul Nazrul, and Dwaipayan Barua contributed to this report.