Fire at Tangail's Nasir Glass warehouse doused after 14 hours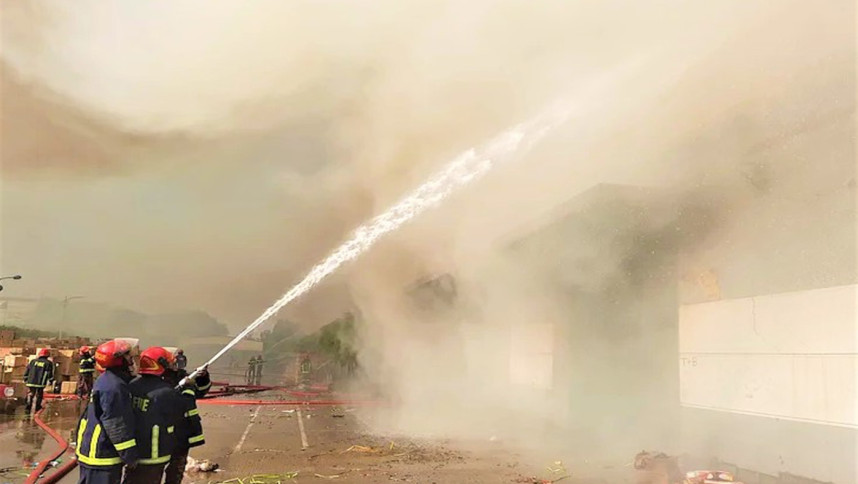 A fire that broke out at the warehouse of Nasir Glassware and Tube Industries at Gorai under Mirzapur upazila in Tangail, has been doused finally after 14 hours of frantic efforts.
The warehouse was burnt to ashes and goods worth crores of taka were damaged due to the fire, reports our Tangail correspondent quoting Rezaul Karim, assistant director Fire Service and Civil Defence in Tangail.
The fire ignited around 11pm on Wednesday night and the blaze was doused at 2pm yesterday, the fire official said.
Being informed, 10 firefighting units rushed to the spot and extinguished the fire after 14 hours, he said.
"Primarily, we suspect that the fire originated from an electric short circuit. However, it would be known after the investigation," he added.
Contacted, Joynal Abedin, assistant general manager of Nasir Glassware and Tube Industries, told The Daily Star that the fire erupted at the finished goods warehouse at the ground floor of the 2-storey building at around 11pm.
However, 150 workers of the warehouse managed came out from the fire, he said, adding that several of them received minor injuries.
"The fire was thought to be brought under control at 4am but the flame increased again and it was completely doused at 2pm," he added.
About 15 percent of the goods of the warehouse were managed to be saved while 85 percent were burnt to ashes, he said.
"We are yet to ascertain the losses due to the fire. It would be confirmed after the completion of the assessment," he informed.