Brahmanbaria boat capsize: death toll rises to 22; master, 2 helpers held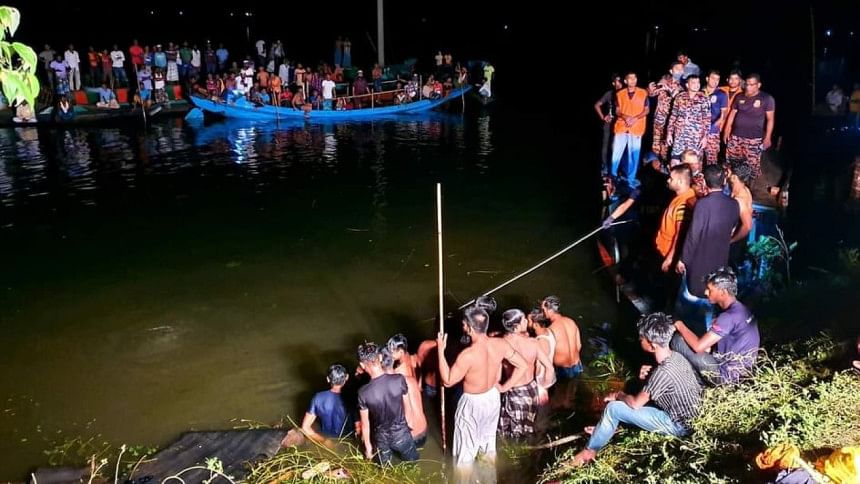 Rescue workers recovered the body of a three-year-old girl this morning, raising the death toll from the Brahmanbaria's boat capsize to 22.
Divers of Bangladesh Inland Water Transport Authority (BIWTA) recovered the body of Nasrah, daughter of Hariz Miah of Uttar Poiratola in Brahmanbaria poura area, after they resumed the rescue operation at 8:35am, said Toufiqul Islam Bhuiyan, deputy assistant of Brahmanbaria fire service.
Meanwhile, locals caught a master and two helpers of one of the two sand-carrying vessel responsible for the capsize from Char Islampur union last evening and handed them over to police, Superintendent of Brahmanbaria police Mohammad Anisur Rahman confirmed it.
The detainees are master Zamir Miah, a resident of Sarail upazila of the district and his helpers Khokon Miah and Russel Miah, reports our Brahmanbaria correspondent.
Read More: 21 die as boat sinks in B'baria
Operations of all river vessels from Champaknagar have been suspended following the accident, said UNO of Bijoynagar Rabeya Afsar Sayma.
At least 21 people drowned and around 50 others went missing as a boat capsized in Laishka Beel in Brahmanbaria yesterday evening.
Witnesses said more than 100 people were on board when the boat left Champaknagar area for Brahmanbaria town around 5:30pm.
As the boat reached Dewdona area, it collided with a small dinghy and the boatman lost its control. The boat was then hit by two sand-carrying vessels coming from the opposite direction and capsized, said survivors and witnesses.