6 lives lost in Tangail road crash
Woman, child among them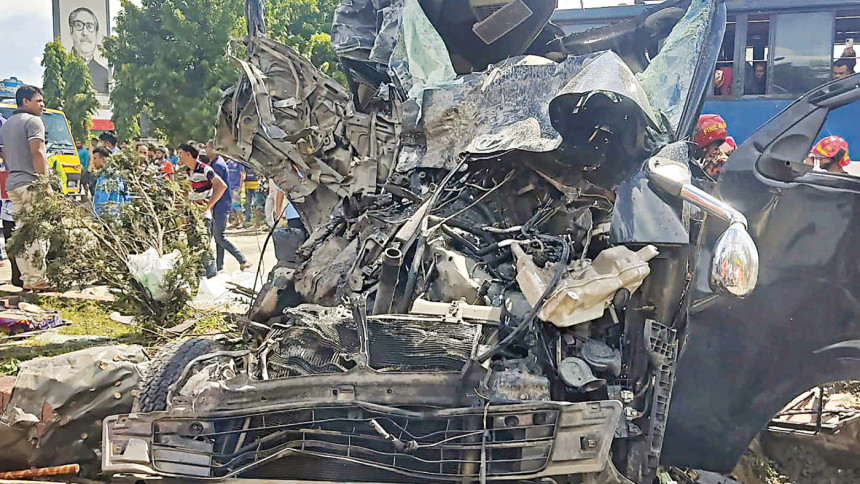 Six people, including a woman and a child, were killed as a bus collided head-on with a microbus near Bangabandhu Bridge in Tangail yesterday.
Fifteen others were injured in the accident, which occurred at the east end of the bridge around 12:30pm, said police.
Microbus driver Dulal Hossain, 50, and passenger Sushil Chandra Sheel, of Cumilla's Chandina upazila; microbus passengers Malika Banu, 65, and her son Rifat Al Hasan, 35, of Bogura Sadar upazila; bus passengers Johirul Islam, 55, of Pabna's Bera upazila, and Tahsin, 7, of Natore Sadar upazila, were killed in the accident, said Ataur Rahman, station manager of Elenga Fire Service and Civil Defense.
Three passengers of the microbus died on the spot while two of the bus died on their way to hospital. Another passed away while taking treatment at a local hospital, said Shafiqul Islam, officer-in-charge of Bangabandhu Bridge East Police Station.
The injured were admitted to Tangail General Hospital and other local private clinics, he added.
Sarkar Mohammad Kaiser, superintendent of Tangail police, said the driver of the Dhaka-bound Ekota Paribahan bus lost control of the vehicle and hit the microbus on the opposite side of the road divider.
A probe committee, led by an additional deputy magistrate in Tangail, was formed to investigate the accident.
"The district administration allocated Tk 20,000 each for the families of the dead. The money would be used for taking the bodies home and conducting their funerals. The authorities are also arranging treatment for the injured," said Atul Gani, deputy commissioner in Tangail.