Call to free Shahidul gets louder
24 nat'l, int'l bodies express concern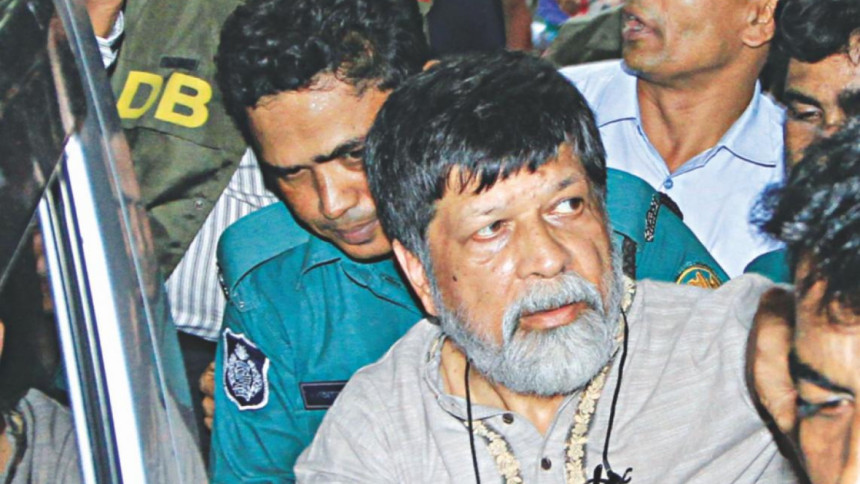 Twenty-four national and international organisations yesterday called for immediate and unconditional release of noted photographer Shahidul Alam.
They also demanded his proper medical care and dropping of all the allegations against him.
All the allegations -- "making provocative comments" and "giving false information" to media -- against him represent a blatant violation of his right to freedom of expression, said a joint statement issued by the Bangladesh chapter of ARTICLE 19, a UK-based organisation working for the freedom of expression.
Shahidul was picked up by law enforcers from his house in Dhanmondi on August 5, hours after he posted a video on Facebook and participated in an interview with Al Jazeera about the road safety protests in Dhaka, where more than 40 journalists and media workers were injured by groups of armed men, the statement said.
On August 6, a Dhaka court placed Shahidul on remand in a case filed under the controversial section 57 of the Information and Communications Technology (ICT) Act on charges of "spreading propaganda and false information against the government".
Shahidul told the court that he was tortured in custody. Police refuted the allegation.
In response to a writ petition filed by his wife Prof Rahnuma Ahmed on Tuesday, the High Court directed the authorities to immediately send him to the BSMMU and arrange his medical examination and submit a report by 10:30am on August 9.
The Bangabandhu Sheikh Mujib Medical University (BSMMU) authorities formed a four-member medical board to examine his physical and mental condition. The board's report submitted to the HC mentioned that he was physically and mentally sound.
During a hearing on Thursday, Rahnuma's lawyer Sara Hossain argued before the HC that there was no psychologist in the medical board to examine his mental condition.
After the hearing, the court directed the home secretary to arrange examination to determine whether Shahidul was tortured in custody and submit a report to this effect before the lower court concerned by August 13.
The statement said journalists and rights activists have consistently raised concerns that the ICT Act is incompatible with international human rights standards, including Bangladesh's international obligations under Article 19 of the International Covenant on Civil and Political Rights, due to its broad powers to restrict online expression.
It has been widely applied against journalists and ordinary citizens who have been arrested, prosecuted and jailed solely for their expression, the statement said.
"We further urge the Ministry of Home Affairs to immediately comply with the court's order and grant [Shahidul] Alam proper medical assistance without delay," the statement added.
It said they remain deeply concerned by the use of laws such as the ICT Act in Bangladesh to legally harass journalists and media workers and violate the right to freedom of expression.
The organisations that signed the statement are: ARTICLE 19, Ain o Salish Kendra, Acid Survivors Foundation, Bandhu Social Welfare Society, Bangladesh Adivasi Forum, Bangladesh Dalit and Excluded Rights Movements, Bangladesh Hindu Buddhist Christian Unity Council, Bangladesh Mahila Parishad, Committee to Protect Journalists, German Section of Amnesty International, Sramik Nirapotta Forum, Boys of Bangladesh, Friends Association for Integrated Revolution, International Freedom of Expression Exchange, Index on Censorship, Manusher Jonno Foundation, National Alliance of Disabled Peoples Organisations, Nijera Kori, Reporters Without Borders, Steps Towards Development, Transparency International, Bangladesh, Nagorik Uddyog, Open Society Foundations Programme on Independent Journalism and Jagriti Prokashoni.