Suu Kyi pardoned in 5 cases, still faces 14 others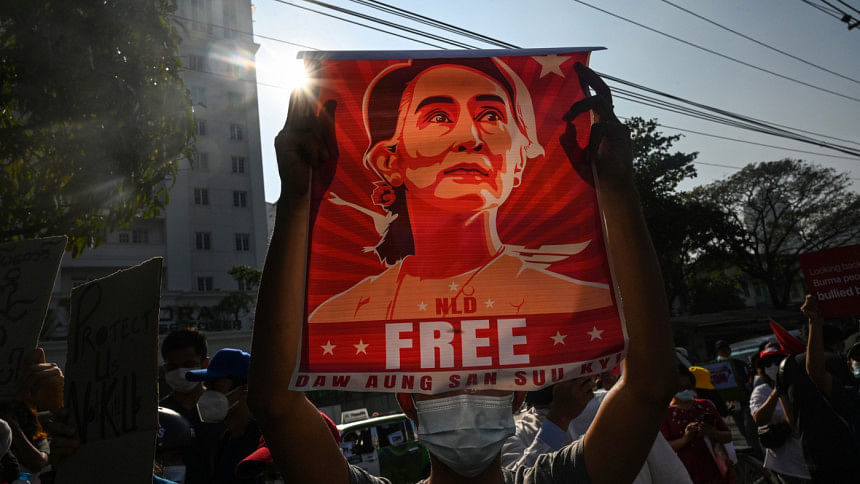 Jailed Myanmar civilian leader Aung San Suu Kyi has been pardoned in five criminal cases, although she still faces 14 others, state media said Tuesday.
A military coup in February 2021 plunged the Southeast Asian nation into chaos and widespread violence as the military junta launched a bloody crackdown on dissent.
"Chairman of State Administration Council pardoned Daw Aung San Suu Kyi, who was sentenced by the relevant courts under five cases," a state media broadcast said.
The broadcast said the 78-year-old Nobel Peace laureate still faces 14 other cases.
Tuesday's announcement was part of an amnesty of more than 7,000 prisoners to mark Buddhist Lent.
The junta announced on Monday it would extend Myanmar's state of emergency by six months, state media said, which is likely to delay elections promised for August.
Suu Kyi, who has been in detention since 2021, has been sentenced to 33 years in jail for a clutch of charges, including corruption, possession of illegal walkie-talkies and flouting coronavirus restrictions.
"She couldn't be freed completely, although some sentences against her were pardoned. She still has to face 14 cases. Only five cases out of 19 were pardoned," a legal source, speaking on condition of anonymity, said.
Former Myanmar president Win Myint, who was also removed in the 2021 coup, would also be pardoned in two cases, the broadcast said.
The announcement said 125 foreign prisoners would be released and pardoned.
An unspecified number of prisoners facing the death penalty also had their sentences reduced to life imprisonment, it said.
Health concerns
Suu Kyi has only been seen once since she was held after the February 1, 2021, putsch -- in grainy state media photos from a bare courtroom in the military-built capital Naypyidaw.
There have been concerns about Suu Kyi's health since her detention, including during her trial in a junta court that required her to attend almost daily hearings.
She was moved from prison to a government building last week, according to an official from her political party.
In July, Thailand's foreign minister said he had met with Suu Kyi, the first known meeting with a foreign envoy since she was detained.
A junta spokesman told AFP the meeting had lasted more than an hour but did not give any details about what was discussed.
Myanmar frequently grants amnesties to thousands of prisoners to commemorate holidays or special Buddhist dates.
The junta released some 23,000 prisoners after the 2021 coup in a move that human rights groups feared at the time was aimed at freeing up space for military opponents.
More than 24,000 people have been arrested since the military booted Suu Kyi's government from power, according to a local monitoring group.
Almost 20,000 remain behind bars, according to the latest figures.
Still popular
Suu Kyi remains hugely popular in Myanmar, even after her international image was tainted by a power-sharing deal with the generals and her failure to speak up for the persecuted Rohingya minority.
But many fighting for democracy have jettisoned her core principle of non-violence and taken up arms to try and permanently root out military dominance of Myanmar's politics and economy.
The military cited alleged widespread voter fraud during elections in November 2020 as a reason for its coup, which sparked huge protests and a bloody crackdown.
Those polls were won resoundingly by Suu Kyi's National League for Democracy, with international observers saying at the time the polls were largely free and fair.
Conflict since the coup has displaced more than one million people, the United Nations says.
According to a local monitoring group, more than 3,800 people have been killed since the coup, a figure the junta puts at 5,000.