Chaos in Kabul
5 killed at airport as thousands try to flee Afghanistan despite Taliban assurance; insurgents claim 'war is over', to form new govt in days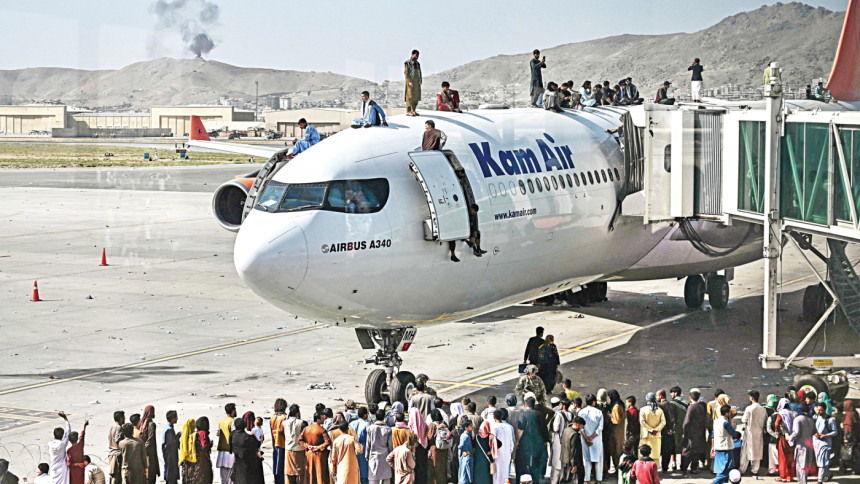 Panic, chaos and confusion gripped Afghanistan yesterday after the Taliban took control of Kabul following a lightning offensive that saw the country fall to the insurgents virtually unopposed.  
The Taliban yesterday declared that Afghanistan was under their control and the war was over after insurgents stormed the presidential palace in Kabul and President Ashraf Ghani fled the country.
It took the Taliban just over a week to seize control of the whole country and to obliterate government forces, trained for years and equipped by the United States and others at a cost of billions of dollars.
Besides patrolling the streets, in a sign of changing times, the militants with rifles slung over their shoulders also walked through the streets of the Green Zone, the formerly heavily fortified district that houses most embassies and international organisations.
After consolidating power, the Taliban sought to reassure the international community that Afghans should not fear them, and said they will not take revenge against those who supported the US-backed alliance.
But there were desperate scenes at Kabul's airport yesterday as people tried to board the few flights available to flee the country.
Crowds converged on the airport in thousands, including some clinging to a US military transport plane as it taxied on the runway, according to footage posted by a media company.
US troops fired in the air to deter people trying to force their way on to a military flight evacuating US diplomats and embassy staff, a US official said.
Five people were reported killed in chaos at the airport on Monday. A witness said it was unclear if they had been shot or killed in a stampede. A US official told Reuters two gunmen had been killed by US forces there over the past 24 hours.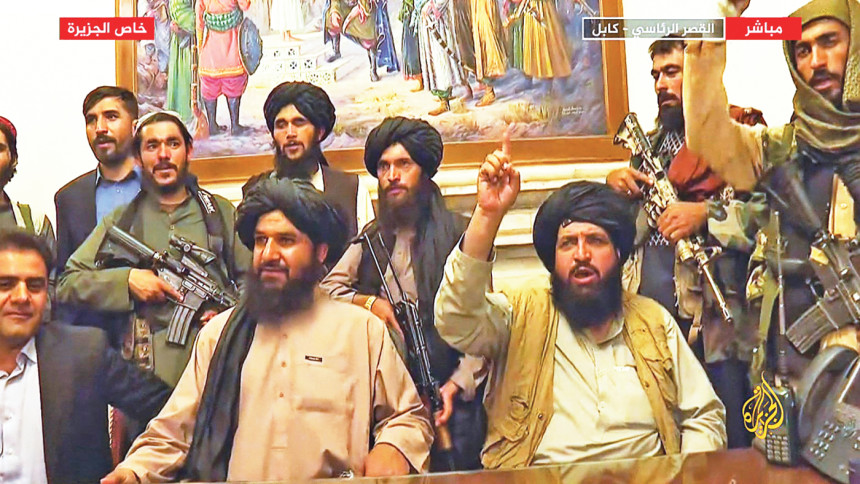 The US government yesterday said it had secured the airport, but there was still chaos. Authorities had to cancel all remaining commercial flights, citing the threat of looters.
Hours after the disruption, a US source told Reuters that the flight operation would start soon.
Summing up the desperation of people to flee from the Taliban, a footage published by Afghan outlet Aśvaka showed three stowaways falling to the deaths after clinging on to the wheels of a military plane as it took off from Kabul airport. Video posted later appeared to show residents collecting their bodies from a roof in Kabul.
"Everyone is worried," a former government employee now in hiding in Kabul said. "They're not targeting people yet but they will, that's the reality. Maybe in two or three weeks, that's why people are fighting to get out now."
The United States has sent 6,000 troops to the airport to ensure the safe evacuation of embassy staff, as well as Afghans who worked as interpreters or in other support roles. Western nations, including France, Germany and New Zealand, said they were working to get citizens as well as some Afghan employees out.
Amid fierce criticism from home and abroad, President Joe Biden was to  break his silence yesterday over the US fiasco in Afghanistan with an address to the nation from the White House, as a lightning Taliban victory sent the Democrat's domestic political fortunes reeling.
Cutting short his planned vacation, Biden helicoptered back to Washington from the Camp David presidential retreat. His speech on Afghanistan was due at 3:45pm (1945 GMT).
The United States had earlier released a statement with more than 65 nations urging the Taliban to let Afghans leave the country, warning of accountability for any abuses.
Meanwhile, the UN Security Council yesterday called for talks to create a new government in Afghanistan and an end to fighting and abuse after UN chief Antonio Guterres warned of "chilling" curbs on human rights and mounting violations against women and girls.
The 15-member council issued a statement, agreed by consensus, after Guterres appealed to the body to "use all tools at its disposal" to suppress a global terrorist threat from Afghanistan and guarantee respect for human rights.
"We cannot and must not abandon the people of Afghanistan," Guterres told the Security Council.
Suhail Shaheen, a spokesperson for the Taliban, said in a message on Twitter that their fighters were under strict orders not to harm anyone.
Earlier, Mohammad Naeem, spokesman for the Taliban's political office, told Al Jazeera TV that the Afghan people and the Taliban had just witnessed the fruits of their efforts and sacrifices over 20 years.
"Thanks to God, the war is over," he said.
Al Jazeera broadcast footage of what it said were Taliban commanders in the presidential palace with dozens of fighters.
Naeem said the form of the new regime in Afghanistan would be made clear soon, adding the Taliban did not want to live in isolation and called for peaceful international relations.
The militants sought to project a more moderate face, promising to respect women's rights and protect both foreigners and Afghans.
Afghan leaders said they had created a coordination council to meet with the Taliban and manage the transfer of the power. Mullah Abdul Ghani Baradar, the Taliban's chief negotiator who has been in peace negotiations with the Afghan government in Doha, Qatar since last year, said the Taliban wanted to build an "an open, inclusive Islamic government".
The Taliban are expected to proclaim a new Islamic Emirate of Afghanistan in the coming days.
Despite the Taliban's claims to want peace for Afghanistan, many Afghans fear the Taliban will return to the cruel and repressive practices that defined their previous period in power between 1996 and 2001. They enforced a strict interpretation of sharia, Islamic religious law, which meant women were banned from schools and workplaces and forced to cover up their face and body if they left the house, while archaic punishments such as stoning, whipping and hanging were applied to those who violated the draconian laws.
In some regions recently captured by the Taliban, women have already been prevented from attending schools and universities and banned from leaving the house without a male escort.
In Kabul, many began bracing themselves for life under strict Islamic rule. "My first concern was to grow my beard and how to grow it fast. I also checked with my wife if there were enough burqas for her and the girls," Gul Mohammed Hakim, one the city's ubiquitous naan bread makers told Reuters.
Both the United Nations and the United States said last week they had received reports that Taliban fighters were executing surrendering government soldiers.
Taliban officials said they had received no reports of any clashes anywhere in the country: "The situation is peaceful," one said.
Central Kabul streets were largely deserted early yesterday.
Meanwhile, China was the first major nation to flag support for the Taliban, stating it was ready for "friendly relations".
Russia's ambassador to Afghanistan planned to meet with the Taliban today, with recognition to be determined on how they govern the country in the near future, a foreign ministry official in Moscow said.
Indian foreign ministry yesterday said that the country will help members of Afghanistan's tiny Sikh and Hindu community to come to India.
"We are in constant touch with the representatives of Afghan Sikh and Hindu communities. We will facilitate repatriation to India of those who wish to leave Afghanistan," foreign ministry spokesman Arindam Bagchi said in a statement.
India invested millions of dollars in development projects in Afghanistan and Bagchi said the government stood by the Afghans who had partnered it in that task.
The US government has insisted in recent days that its two decades of war in Afghanistan was a success, defined by quashing the al-Qaeda threat. 
President Joe Biden said there was no choice but to withdraw American troops and he would not "pass this war" onto another president.
But Washington was left shocked by the rapid collapse of the Afghan government, and critics have said the United States' reputation as a global power has been badly tarnished.
"America's credibility as an ally is diminished," said Husain Haqqani, Pakistan's former ambassador to the United States.