Bangladesh's liberation changed the political, ideological map of South Asia: Doraiswami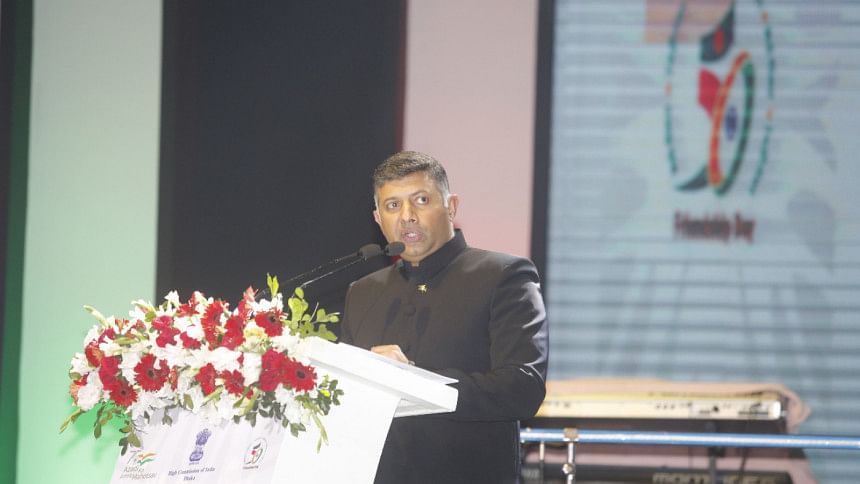 The liberation of Bangladesh changed the political as well as ideological map of South Asia, said Indian High Commissioner to Bangladesh Vikram Kumar Doraiswami today.
"Your freedom proved beyond doubt that the common bonds of culture, civilisation and language transcend the false theory that different religious groups cannot live together," he said at an event marking 50 years of diplomatic relationship between Bangladesh and India.
India recognised Bangladesh on December 6, 1971, ten days before the victory of Bangladesh against Pakistan. Pakistan was created through the partition in 1947 on the basis of religion.
"Your liberation struggle also emphasised the inevitability of the victory of truth and justice over brutality and oppression," said Doraiswami.
He said the War of Liberation and India's close alliance and partnership in freeing Bangladesh from Pakistani oppression had many components that secured the victory of December 16. These included the coordination of diplomatic and geopolitical strategies; management of domestic social stability in areas where traumatised Bangladeshi citizens took refuge; management of relief operations; and of course, tactical and strategic military cooperation.
"But our partnership went much further. Your government-in-exile, under the leadership of acting president Syed Nazrul Islam and prime minister Tajuddin Ahmad, acting on behalf of Bangabandhu, had already developed plans with Indian counterparts for the swift return of refugees, and the earliest withdrawal of Indian military units, after victory," he said.
"Preparations were also made for reconstruction and the management of supplies of essential commodities, including food, medicine, power generation and transmission equipment and for the restoration of railways and ports," added the Indian high commissioner.
He said it is an example seldom seen in history that nearly 7 million refugees went home within six weeks of the liberation of Bangladesh. Nearly all 10 million refugees were home in their independent country by March 25, 1972. Indeed, it is also an example seldom seen anywhere in the world that Indian forces supporting the Mukti Bahini were withdrawn within less than three months of the liberation, Doraiswami also said.
Bangladesh and India have achieved a lot in the last 50 years and in the next 50 years, "we will have much to do to build on the foundation of our friendship and our history together," he said.
 "We must now ensure that future generations understand this history. Because it is the youth of today who will make this partnership irreversible," Doraiswami said. "Doing so would be a truly fitting contribution to the millions of Bangladeshi martyrs who gave their all for this country. As did their Indian allies and friends, who sacrificed in the name of our friendship," he also added.
Jatiya Sangsad Speaker Shirin Sharmin Choudhury also spoke at the event that was attended by ministers, war veterans, officials, diplomats, journalists and civil society members.