A race against time to save lives
Modi to visit accident site in Balasore today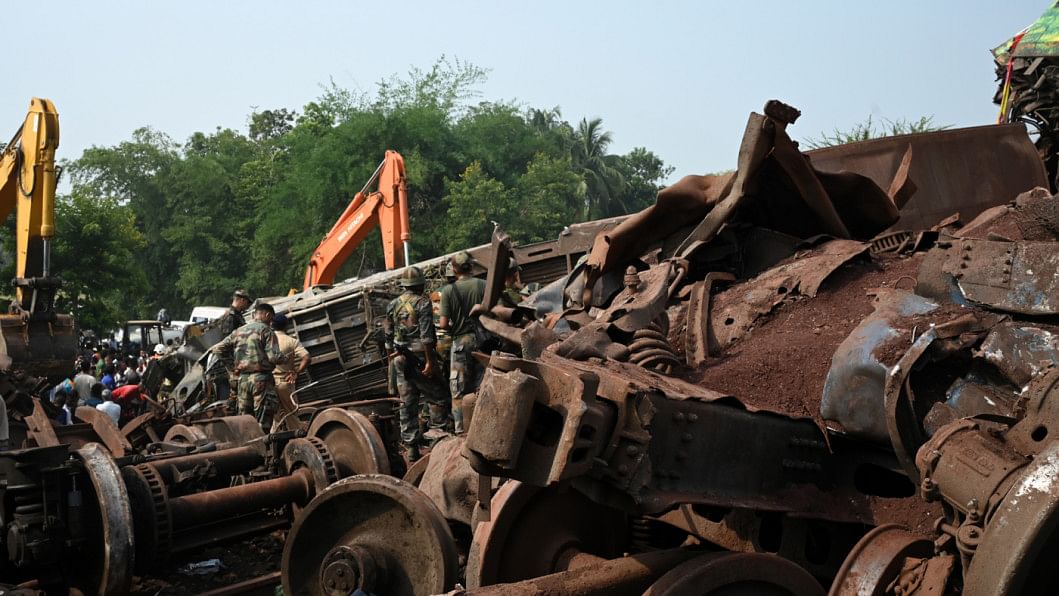 As dawn broke at Bahanaga Railway Station in Balasore district of the Indian state of Odisha today, it looked like a tornado ripped through the area throwing the rail coaches atop each other.
Nearer the ground zero, mangled steel and bloodied and disfigured bodies lay enmeshed with each other.
Balasore district hospital, where bodies and survivors were being ferried, looked like a war zone with the injured lying on stretchers in the corridor and rooms bursting at its seams with extra beds propped up, reports our New Delhi correspondent.
Red-eyed medical staff, who worked all through the night, were seen trying to assist patients as many of whom were from states other than Odisha and had difficulties in communicating.
In all, some 526 victims have been admitted to this hospital where the morgue was a pile of white shrouded bodies. Many of them were yet to be identified as relatives were yet to make their way into the town. Due to the accident, many train services got cancelled or delayed.
The train crash, the fourth deadliest in India according to available records, took place near Bahanaga Baazar station in Balasore district, about 250km south of Kolkata around 7:00pm yesterday.
More than 200 dead have not yet been identified, Balasore district officials said.
Giant cranes and bulldozers were deployed today to pull out a train coach, which has been submerged in the ground as a result of the huge impact of the triple rail crash.
Rescue workers wielded gas torches and electric cutters to pull out survivors and the dead from the mangled steel of three trains that derailed one on top of another in a horrific sequence.
Narrating the sequence of the triple rail crash, railway spokesperson Amitabh Sharma said the Coromandel Express travelling from Shalimar near Kolkata to Chennai derailed first after colliding with a freight train and its 10-12 coaches fell on the line on which the Bengaluru-Howrah Express was coming from opposite direction forcing it to jump off the tracks.
"Nine teams have been deployed at the accident site and all bogies which were affected by the accident are being searched thoroughly. A few bogies, which had tilted, are being lifted to see if any injured or body is there," said National Disaster Relief Force DIG Manoj Yadav.
Rescuers had to cut through the rail cars to ensure no one was trapped alive. By 10:00pm yesterday, all survivors were rescued and after that it was only about picking up the bodies and the limbs.
Prime Minister Narendra Modi will visit the accident site later today, then go to the hospital where the injured are admitted. Modi has also called a high-level meeting of senior railway officials.