Helicopter crash: India's Chief of Defence Staff Gen Rawat, wife among 13 dead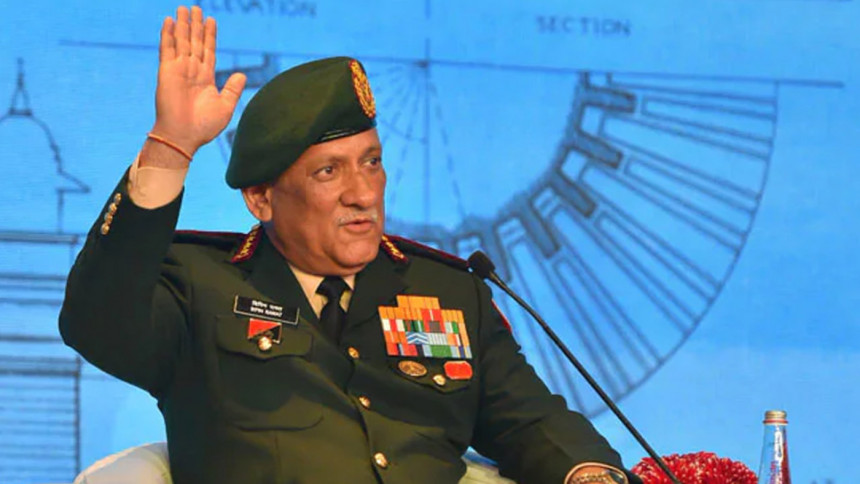 India's Chief of Defence Staff Gen Bipin C Rawat, his wife Madhulika, and 11 other people were killed today when an Indian Air Force helicopter crashed on a forested hill enveloped in dense fog near Coonoor in Nilgiris district of the southern Indian state of Tamil Nadu.
"With deep regret, it has now been ascertained that Gen Bipin Rawat, Mrs Madhulika Rawat and 11 other persons on board have died in the unfortunate accident," the Indian Air Force said in a post on its official Twitter handle.
The IAF said Gen Rawat was on a visit to Defence Services Staff College, Wellington, (Nilgiri Hills) to address the faculty and student officers of the Staff Course today."
It said the helicopter's pilot Group Captain Varun Singh with injuries is currently under treatment at a military hospital in Wellington, reports our New Delhi correspondent.
Gen Rawat was 63 years old and left behind two daughters.
The Mi-VH17 helicopter crashed in Katteri-Nanchappanchathram area in the hilly Nilgiris district and went up in flames.
The helicopter crashed nearly ten minutes after take-off and shortly before it was to have landed at Defence Staff College in Wellington, Indian media reports said.
There were 14 people on board the helicopter, including two senior army officers and his other personal staff. Only one male survived the crash, Nilgiris District Collector SP Amrith said.
The chopper was on its way from Sulur air base in Coimbatore to National Staff College in nearby Wellington where Rawat, along with Indian army chief Manoj Mukund Naravane, was slated to participate in an event later, the sources added.
The IAF said a Court of Inquiry has been ordered into the accident.
Tributes pour in
Prime Minister Narendra Modi and Home Minister Amit Shah expressed deep grief over the demise of Gen Rawat.
In a series of tweets, the Prime Minister said: "I am deeply anguished by the helicopter crash in Tamil Nadu in which we have lost Gen Bipin Rawat, his wife and other personnel of the Armed Forces. They served India with utmost diligence. My thoughts are with the bereaved families."
Home Minister Amit Shah tweeted: "A very sad day for the Nation as we have lost our Chief of Defence Staff, General Bipin Rawat Ji in a very tragic accident. He was one of the bravest soldiers who has served the motherland with utmost devotion. His exemplary contributions and commitment cannot be put into words. I also express my deepest condolences on the sad demise of Madhulika Rawat and 11 other Armed Forces personnel. My thoughts and prayers are with the bereaved families. May God give them the strength to bear this tragic loss. Praying for the speedy recovery of Group Captain Varun Singh."
Congress' Sonia Gandhi tweeted: "I extend my condolences to the family of Gen Bipin Rawat and his wife. This is an unprecedented tragedy and our thoughts are with their family in this difficult time. Heartfelt condolences also to all others who lost their loved ones."
Indian Army chief Gen M M Naravane and all ranks of the Indian Army expressed their deepest grief and sorrow over the untimely demise of Gen Rawat, Madhulika Rawat and 11 other military personnel in the unfortunate air accident.