Cheetah reintroduced to India 70 years after extinction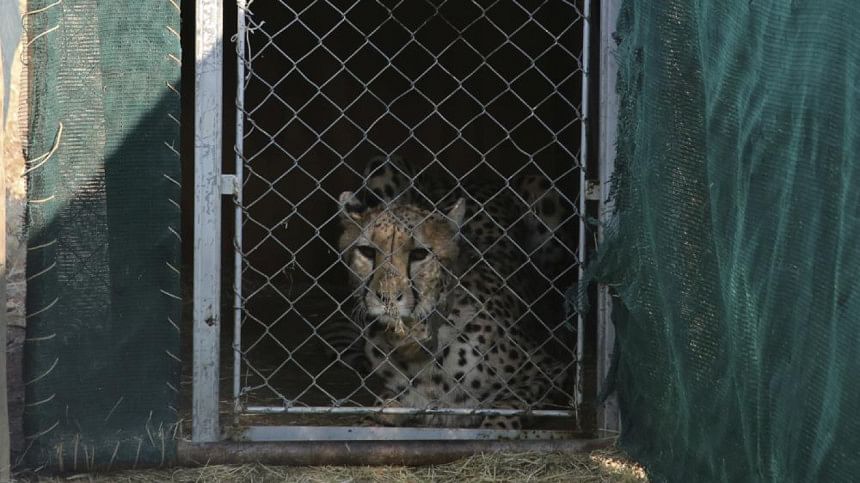 Seven decades after they went extinct in India, the country today got eight cheetahs who were flown in from Namibia for conservation and promotion of the feline in a national park.
A special cargo plane carrying the eight cheetahs from Namibia landed at an Indian Air Force base in Madhya Pradesh this morning as the state's Kuno Palpur National Park (KNP) geared to host them, reports our New Delhi correspondent.
Indian Prime Minister Narendra Modi was set to release the big cats into the Kuno national park, an official statement said.
Cheetah was declared extinct from India in 1952 and the release of the eight speedy cats in Kuno National Park "is part of India's efforts to revitalize and diversify India's wildlife and its habitat," according to the statement.
Of the eight cheetahs, five are female between two and five years of age and three are males between 4.5 and 5.5 years of age.
The cheetahs have been brought from Namibia under a Memorandum of Understanding signed earlier this year.
Among large carnivores, conflict with human interests is the lowest for cheetahs. They are not a threat to humans and usually do not attack large livestock.
Cheetah is at present found in southern African countries South Africa, Namibia, Botswana and Zimbabwe.
An analysis by Indian conservation experts found that the climatic niche of the cheetah in southern Africa exists in India with Kuno National Park having a high probability of cheetah habitat suitability.
As per the directions of the Supreme Court of India in 2020, the cheetah reintroduction in India is being overseen by the National Tiger Conservation Authority (NTCA), Ministry of Environment, Forest and Climate Change and directed by a committee of experts set up by the apex court.