Amid Agnipath protests, Modi says "reforms may seem unfair but India will be benefited"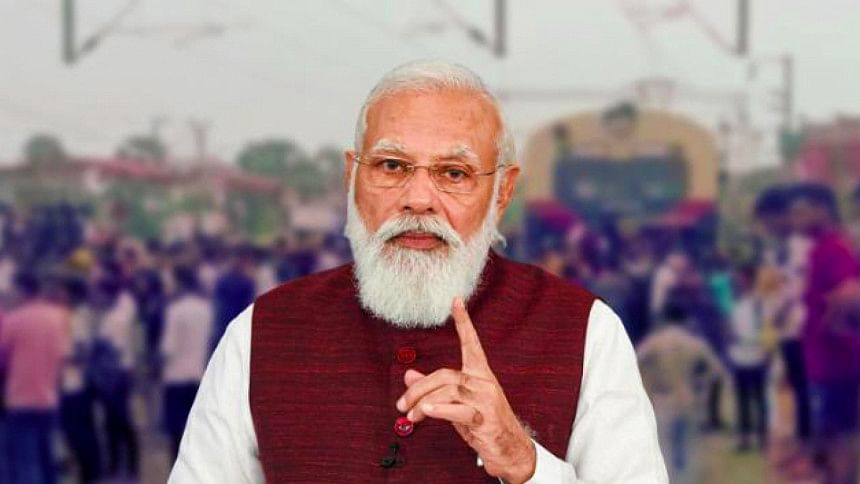 In the midst of violent protests against his government's decision to go for short-term military recruitment policy "Agnipath," Indian Prime Minister Narendra Modi today (June 20,2022) said some decisions and reforms may be unpleasant and unfair temporarily but in the long run the country will experience their benefits.
He said that the 21st century India belongs to wealth and job creators and innovators who are the country's true strength. The government has been promoting them for the last eight years.
"The path of startup and innovation is not the one with ease, and taking the country on this path for the last eight years was also not easy. Several decisions and reforms may be unfair and unpleasant temporarily, but with time their benefits can be experienced by the country," Modi said without making any reference to the Agnipath scheme of recruitment.
He was addressing a meeting after inaugurating or laying the foundation for various developmental works in the southern Indian state of Karnataka.
"The path of reforms can alone take us towards new targets and new resolve…we have opened up the space and defence sector which for decades were under government control," Modi said, our New Delhi correspondent reports.
Modi's remarks came on a day when the Indian army issued a notification for induction of soldiers under the Agnipath military recruitment scheme from July. Under it, only 25 percent of the recruits would be on a permanent basis and the remaining 75 percent would be de-inducted after four years with a lump sum amount of Rs 11.71 lakh besides regular salary.
The anti-Agnipath protesters want all recruitments in permanent military jobs with provision for life-long pension.
Over 500 trains were cancelled today in view of the "Bharat Bandh" called in parts of India against the Agnipath recruitment scheme. The Indian Railways has borne the brunt of the arson and rioting by the anti-Agnipath protesters over the last five days.