China, Britain make tentative steps to repair relations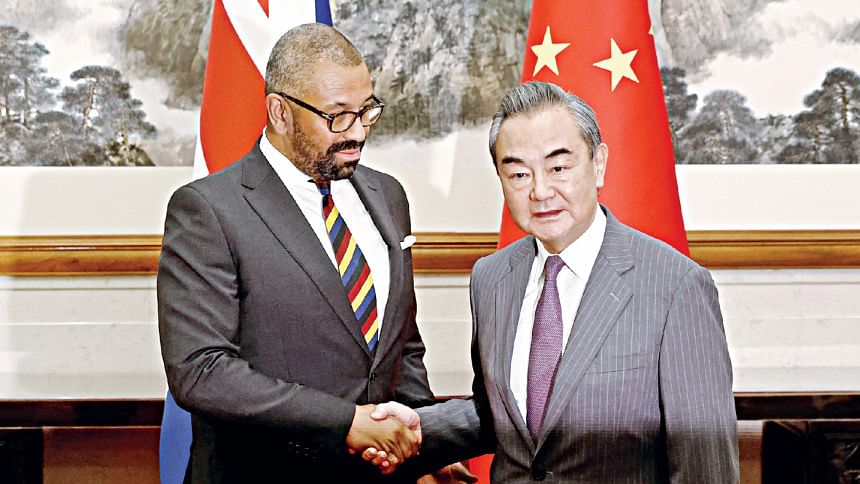 China and Britain made tentative steps to repair relations yesterday, with Beijing promising better ties if both showed "mutual respect" and London saying it wants to keep lines of communication open, including between the countries' leaders.
Foreign Minister James Cleverly is the first senior British minister in five years to visit China, a trip he hopes will reset ties between the two countries after years of tension over security, investment and human rights.
The foreign secretary has argued it would be a mistake to isolate the world's second-largest economy or tackle climate change without its input, but some Conservative lawmakers say the trip looks like an expression of British weakness.
Chinese Foreign Minister Wang Yi welcomed Cleverly and said both countries should move forward, rather than retreating, particularly in working together to boost global economy.
"I believe that as long as both sides adhere to mutual respect, equal treatment, view each other's development objectively, and enhance mutual understanding and trust, Sino-British relations will be able to eliminate all unnecessary interference and obstacles," Wang said during the meeting's opening remarks in front of reporters.
Cleverly responded by saying he appreciated having the ability to raise points of disagreement, telling Wang he appreciated him listening to them "carefully and professionally", but he also wanted to raise opportunities.
"It is important for us to maintain these channels of communication at our level as minister-to-minister, ministers in upper government departments," he said. "And, of course ultimately, it is important for our prime minister and your president to have the opportunity to speak directly as well."
A possible meeting between Chinese President Xi Jinping and Prime Minister Rishi Sunak could come at the G20 summit in India next month, but the British leader told broadcasters his schedule for the meeting had yet to be finalised.
Sunak, under pressure from lawmakers - including the former Prime Minister Liz Truss - who want London to toughen its policy on China and to declare the country a threat to British national security, defended his approach.
"It's perfectly possible to engage with China at the same time as being very robust in standing up for our interests and our values," Sunak said.