'HURTING RELIGIOUS SENTIMENT'
3 held for 'derogatory write-ups'
Placed on 7-day remand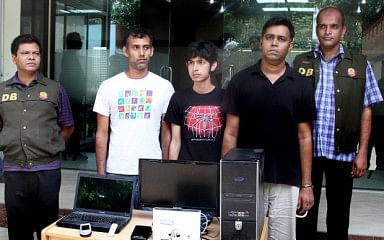 Police produce three persons arrested for "writing derogatory content about Islam" at a press briefing at Detective Branch office in Dhaka Tuesday noon. Photo: Palash Khan
Police arrested three persons, including a student of Dhaka University, from different parts of the capital from Monday night to early Tuesday for writing "derogatory contents about Islam and Prophet Mohammad (pbuh)" on different Internet platforms.
Hours after the arrest, a Dhaka court placed the trio on a seven-day remand each in connection with their 'derogatory contents'.
The arrests came hot on the heels of a campaign by radical Islamist organisations which threatened of non-stop shutdown and tougher agitation if "atheist bloggers", as the leaders of the organisations termed, are not executed.
Strong criticism keeps pouring in on different social networking website since the news of arrest broke out.
Mollah Nazrul Islam, a deputy commissioner of Detective Branch of police, identified the arrestees as Subrata Subho, 24, Mashiur Rahman Biplob, 42, Russel Parvez, 36.
Three separate teams of additional deputy commissioners led by Moshiur Rahman, Md Shahidullah and Manas Kumar Poddar conducted separate raids from 10:00pm Monday to 4:00am Tuesday and arrested the three, Islam said at a press conference at the media centre of Dhaka Metropolitan Police.
The team of detectives also recovered the laptops and desktops of the arrestees, he added.
Write-ups demeaning Islam have been found searching the hard disks of the seized laptops and computers, according to police.
Subho, who is a master degree student of Bengali Department at the DU, was arrested at Palashi. He hails from Lakshmipur.
According to the detectives, he used to write on several blogs, including 'somewhere in…', 'Amar Blog' and 'Nagarik' using the pseudonyms 'Sada Mukhosh', 'Subrata Subho' and 'Lalu Kasai'.
Biplob, who hails from Comilla, was arrested at Pallabi.
Besides writing  under the pseudonym 'Allama Satan' on Facebook, he also writes posts on 'somewhere in…', 'Nagarik' and 'Amar Blog' using 'Satan' and 'Nemesis'.
Meanwhile, Parvez, who teaches at a private school, was arrested at Monipuripara.
He writes in Amar blog using the name 'Russel Parvez' and 'somewhere in…' as 'Apobagh'.
The three were arrested ahead of a long march towards Dhaka on April 6 by radical Islamist organisation Hefazat-e-Islam demanding punishment to those who are writing items that demean Islam and Prophet Mohammad.
On March 31, a group of Muslim clerics submitted to the government a list of bloggers who they think are involved in writing such derogatory contents.
Earlier, the government asked Bangladesh Telecommunication Regulatory Commission (BTRC) to set up a monitoring cell for blocking instantly the blogs which carry derogatory contents about Islam and Prophet.
REMAND
Metropolitan Magistrate Tarek Mainul Islam Bhuiyan granted the seven-day remand after Detective Branch (DB) of police produced the trio before his court.
The trio were shown arrested in a case filed for making ''derogatory contents about Islam and Prophet Mohammad (pbuh)"on different Internet platforms.
Sajjad Hossain, investigation officer of the case, said detectives will question the arrestees to find out vital clues about their alleged involvement in different Internet platform contents defaming Islam and the Prophet.
PROTEST
Aggrieved by the arrest, bloggers and online activists announced that they would form a human chain in front of Raju Bhashkarja of the DU at 5:00pm.
They will hold a press conference at Modhur Canteen at 4:00pm.