Fatwa leads to 303 whips
Widow hospitalised; 6 held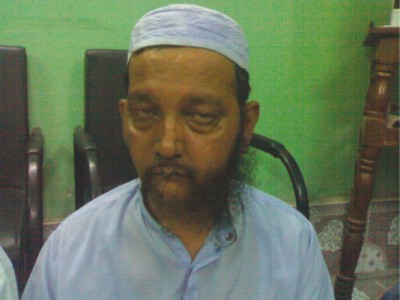 Piara Begum, a widow of 40, and Mamun Miah, 25, fell victim to fatwa (religious edict) and were whipped before hundreds of people at Khaiyar under Debidwar upazila of Comilla Saturday night for their alleged involvement in anti-social activity.
Police, in this connection, arrested six people including a local religious leader who issued the fatwa. The conditions of the victims were stated to be critical.
The arrestees are Dakhil Madrasa Assistant Super Moulana Mohammad Manirul Islam, Dudmiah, Ibrahim, Wahed, Jalil and Mamun, the victim.
Dudmiah presided over the village arbitration while Wahed and Jalil executed the whippings, locals said.
Piara Begum filed a case with the Debidwar Police Station under the women and children repression prevention act accusing eight persons including the arrested six and 10 to 12 unidentified people.
ABM Atiqur Rahman Bashar from Devidwar reports: At the arbitration Piara was whipped 202 times and Mamun 101 times. They were also fined with Tk 30,000 each.
Piara, mother of five children, fell unconscious soon after the lashings and was taken to the Upazila Health Complex. The on-duty doctor ANM Bashir Ahmed said her condition was critical and she needed better treatment.
Deputy Commissioner of Comilla Manjurur Rahman and Superintendent of Police Shafiqul Islam visited the place.
Meanwhile, the six arrestees were produced before the Comilla court.
Dudmiah, acknowledging the fact, said, "I executed the fatwa issued by local religious leaders; I was given the task as a senior villager."
Officer-in-Charge of Debidwar Police Station Md Jahedul Islam said they had already arrested six people and are trying to arrest the rest involved in the incident.
The High Court in 2001 declared fatwa illegal.