Int'l Mother Language Day observed in Paris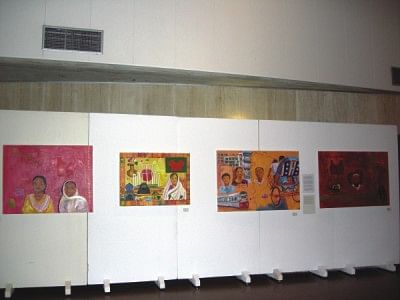 UNESCO Headquarters hosted celebrations on the occasion of International Mother Language Day this year, says a press release. The Director-General of UNESCO, Koïchiro Matsuura, opened the celebrations. Enamul Kabir, Ambassador of Bangladesh to France and Permanent Delegate to UNESCO, participated in the opening session.
As part of the celebration of International Mother Language Day, UNESCO presented a special exhibition of paintings, "Reflection/Narration: Where Are We Going?," by Bangladeshi artists Monica Jahan Bose and Imtiaz Shohag.
Monica Jahan Bose is an artist and activist from Bangladesh who lives and works in Paris. Her paintings often incorporate passages of Bengali writing, in part as an expression of her intense attachment to her mother tongue. Many of her works navigate the confusion and complexity inherent in our multicultural world, and seek to question what is "home" and our conscious or unconscious longing for that place. Her "Mother Tongue" paintings explore her relationship with the Bangla (Bengali) language, as well as women's literacy and political issues in connection with the language. Though she was born in England and spent most of her life outside Bangladesh, she learned her mother tongue from her parents. She has also taught her mother tongue to her children. Her parents were involved in the struggle to make Bangla an official language in East Pakistan, which later became the independent nation of Bangladesh. The paintings include images of the Shaheed Minar, the symbol of Bangladesh's mother language movement. Her "Water" series also includes Bangla writing and comments on global warming in Bangladesh.
Imtiaj Shohag is a painter from Barisal, who currently resides in Paris. He received his BFA from the Institute of Fine Arts in Dhaka. He was awarded a scholarship to the Ecole Nationale Supérieure des Arts Décoratifs in Paris and completed his MFA there. Many of his paintings reflect his roots in Bangladesh. His recent works focus on global warming and its impact on Bangladesh.