Chalachchitracharya Alamgir Kabir's birth anniversary celebrated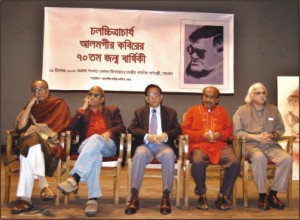 On the occasion of the 70th birth anniversary of the pioneer film society movement activist and filmmaker, late Alamgir Kabir (1938-1989), a discussion and screening of movies was held at the Shawkat Osman Auditorium, Central Public Library on December 26. Alamgir Kabir Film Centre (AKFC) was the organiser of the programme. Eminent cultural personalities discussed on the life and works of Alamgir Kabir at the programme.
Noted filmmaker and director of AKFC Morshedul Islam delivered the inaugural speech. Jayanta Roy read out a brief biographical sketch of Kabir. Filmmaker and teacher Manzare Hasin Murad, film historian and critic Anupam Hayat, noted poet and Kabir's Dhaka Collegiate schoolmate Syed Shamsul Haque and eminent theatre personality Professor Momtazuddin Ahmed spoke at the programme. Mahbub Jamil, special assistant to the Chief Adviser, presided over the programme.
Alamgir Kabir was born on December 26, 1938 in Rangamati. He studied on films at the British Film Institute. In 1966, he came back to Dhaka and began his career with film journalism. Kabir established Dhaka Film Institute in 1969. During the Liberation War he was an English news presenter on the Swadhin Bangla Betar Kendra. The Liberation War based film "Dhirey Bohey Meghna" was his debut work. His other notable feature films are-- "Surja Konya", "Shimana Periye", "Rupali Shaikatey", "Mohona" and the Sharat Chandra adaptation "Parineeta".
Along with a group of young compatriots, Kabir initiated the film society movement in the early 1980s. Kabir was always regarded as a mentor by his young companions because of his innovative thinking on cinema.
"Alamgir Kabir always emphasised the importance of academic film studies. He thought that a better film atmosphere could be established only through sound knowledge about cinema," said Manzare Hasin Murad at the programme. Murad also proposed initiating an award after Kabir's name for young filmmakers.
"Kabir wanted to create an innovative film language. But many of his fellow film personalities could not grasp his concept," said Kabir's student and film historian Anupam Hayat.
Besides filmmaking, Kabir wrote several books on film and also edited several cine-magazines along with Zahir Raihan. His "The Cinema in Pakistan" is considered one of the first film-based books of pre-1971.
On January 20, 1989 Kabir died in a tragic accident at Nagarbari ferry terminal on his way back to Dhaka after attending a film related programme in Bogra.
Alamgir Kabir's feature film "Shimana Periye" was screened at the venue after the discussion.