Bangladesh Shilpakala Academy's tribute to Nurul Momen
"Nemesis" staged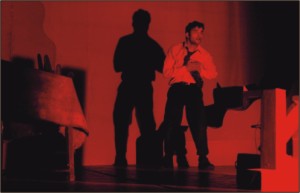 Department of Theatre and Film, Bangladesh Shilpakala Academy (BSA) organised a special programme in memory of Nurul Momen (1908-1990), one of the pioneering dramatists in Bangladesh, on April 23 at the Experimental Theatre Stage. The programme included a discussion and staging of Nurul Momen's play Nemesis.
Director of the Department of Theatre and Film Abul Kamal Shafi Ahmed delivered the welcome speech. Former Director of the department S.M. Mohsin and Nurul Momen's youngest son Dr. Mahmud N. Momen were the discussants. The discussion was presided over by Director General of Bangladesh Shilpakala Academy, Bhuiyan Shafiqul Islam.
Discussants at the programme focused on Nurul Momen's contribution from the late 1930s. He was one of the pioneers who introduced Dhaka University based theatre practice in the 1950s. Moreover, the discussants pointed out his progressiveness -- working towards developing the theatre scene at a time when the performing art form was highly discouraged by the Muslim community. They also discussed on his mastery as a dramatist.
Nurul Momen had also made immense contribution to radio and television plays. He was also a broadcaster on BBC Dhaka. According to the renowned critics such as Malcolm Muggeridge, Ashutosh Bhattacharya and Mohit Lal Majumder, Nurul Momen was the "father of modern Bangla drama" in the post Rabindranath era. Momen had won several prestigious awards including Bangla Academy Award in 1961, Sitara-e-Imtiaz in 1967 and Ekushey Padak in 1978. His plays Rupantor (1943) and Nemesis (1944) are studied at public universities.
The discussion was followed by the staging of Nemesis by the students of Department of Theatre and Music, University of Dhaka.
Nemesis, a one-act drama, was first directed and enacted by Nurul Momen himself. Later, legendary actor Golam Mostafa performed in the play.
On April 23 evening Faridul Islam Fardeen, a fourth year DU student, performed the character of Shurjit Nandi in the monodrama. Nemesis, is contemporary in the sense that it features people suffering in a state of famine, created by corrupt businessmen for their self interest.